There's no question that real estate websites are essential for any real estate agent. However, choosing the right real estate website builder can be difficult. In this article, we'll outline the top real estate website builders in 2022.
The right real estate website builder can make your job much easier. You can customize the website to match your unique brand and marketing strategy. You can also easily connect with potential clients and market your services. Which real estate website builder is best for you? In this article, we'll outline the top real estate website builders in 2022.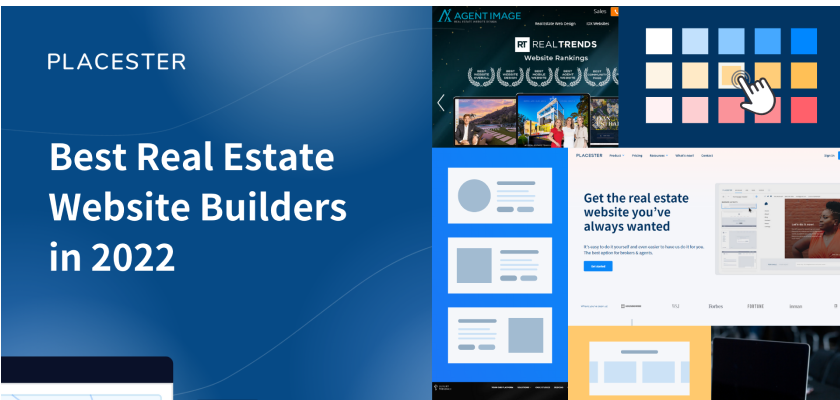 List of Best Website Builders
1. Placester
At Placester, you get access to real estate templates that are not only beautiful but also allow you to customize your website to make it unique. These templates are perfect for making your website stand out from the rest.
This platform offers a unique brokerage management software that is simply the best on the market, allowing you to support up to 1000+ agents in online activities. This will save you hours each day, as this real estate brokerage back office software can be tailored to meet your specific needs.
What sets Placester from the rest is that they have developed software that is easy to use and deals with everyday back office management tasks. The Agent Manager tools are scalable. At present, you can manage multiple agent profiles from one convenient location and can make changes in your back office with just a few clicks.
You can invite onboarding real estate agents, align with their branded websites, reset passwords, send reminders, and duplicate any number of websites with brand-compliant website templates. Placester has a handy agent roster management center where you can display agents, organize, and assign tasks.
Pros:
Capability to add MLS listings
Simple to create branded agent websites
Real estate website builder with IDX
Cons:
Limited customization without knowing to code
2. Weebly
Weebly is one of the most popular website builders out there, powering over 50 million websites worldwide. We tested over 50 different platforms and we feel confident saying that Weebly sits very firmly in our top five website builders.
Weebly is a good option for those who want to build a free website, thanks to its generous free plan. However, it's more outdated than a lot of other platforms, with limited customization options and few of the tools necessary for long-term growth. That said, it's good for beginners who need step-by-step guidance, particularly for SEO.
One of the great things about Weebly is that it's very user-friendly and perfect for anyone who may not be as tech-savvy as others. Its drag-and-drop editor is pretty basic, but that's intentional so that anyone can build an IDX website once they've got a hang of the basics.
It might not look as flashy or modern compared to its competitors, but Weebly has everything you need in the best website builder for real estate. It can create websites that are fully functioning without breaking the bank. In some areas, it may be outdated compared to others, but at the end of the day, it gets the job done which is why it's a favorite for many people.
Pros:
Free plan
Provides search engine optimization guides
Affordable premium packages
Cons:
Limited drag-and-drop options
Poor mobile formatting
Website template updates limited
3. GoDaddy
If you're looking for an affordable and easy way to get your web property up and running, GoDaddy is a great option. The company offers domain names, hosting, and templates for building your site – all at a low price point.
While it's best known for domains and email hosting, it also offers virtual and dedicated servers with a real estate website creator. And, if you're looking to use WordPress for your site, you can choose from a pre-built template or managed WordPress services.
GoDaddy is a global hosting provider that offers users fast load times, industry-leading security, and support. They also offer a free domain when you sign up for an annual plan. They have become a go-to host for millions of users worldwide because they maintain an ever-expanding network.
Pros:
9% website uptime guaranteed
Website for realtor
Fast loading speeds
Cons:
Critical features not included in the base plan
Dedicated support needed for real estate websites
Poor customer service
4. Builderall.com
Builderall is an all-in-one tool that helps you build a website and market your business online, giving you the digital tools you need to succeed as an entrepreneur or small business owner. It's filled with a wide selection of features to help you grow your fledgling business, or start a new project from scratch.
Builderall's 3.0 release included new features, upgrades and more options for a wider selection of users. This release provided real estate agencies and agents a platform for website building, email marketing, social media marketing and improved designing capabilities.
With its latest 4.0 version of the website builder, Builderall has added new functions and features. Builderall 4.0 includes over 30 features to give its users even more tools in their real estate agent website builder to help promote their listings.
Pros:
New tools and added features
Comprehensive website builder
Easy to use
Cons:
Needs some practice to use all the tools
No free plan
Complicated interface
5. Bluehost
If you're looking for a WordPress real estate website, then Bluehost is a popular website builder that helps you control your flexible content management system within WordPress pretty well. If you need extra help building a website, the Bluehost Website Builder gives you the tools to make dependable, attractive real estate pages, with photos from its in-built library.
All tiers of service with Bluehost include shared hosting, more than 300 templates, access to an image library, blog post management, email marketing, and a free Secure Socket Layer (SSL). If you want more high-powered hosting for your real estate websites for agents, consider Bluehost's VPS or dedicated hosting plans.
Pros:
Offers alternate website builder
Efficient customer service
Provides library of photos
Cons:
Image editing is limited
Fixed template options
No free joining option
6. SquareSpace
If you're looking for a website builder that's simple to use, comprehensive in its features, and affordable, then you should definitely check out Squarespace! They've been around for a few years now and their platform is only getting better and better.
In 2022, Squarespace will be offering a website builder that is even more user-friendly and inclusive, making it easier than ever for anyone to create a website. So if you're ready to take your online presence to the next level, be sure to check out Squarespace!
Pros:
Easy to use, even if you're not familiar with website building tools
customize your website to look exactly the way you want it
Can be used for both personal and professional websites
Cons:
Limited customization options:
Can be a little slow sometimes when creating a website
Fewer features than some of the more complex website builders
Conclusion
The best real estate website builders in 2022 will be those that are able to provide innovative and cutting-edge platforms that help buyers and sellers connect with each other more easily and efficiently.
They will also be able to provide valuable tools and resources that will help real estate professionals get the most out of their online presence.
Source of Article