Having a website is crucial for businesses because it creates your company's online presence and allows you to market your business online. After all, how can you build a properly designed and professional-looking website? Getting help from a web design agency may be one of the first ideas that come to mind.
What is the importance of website management?
Creating a website requires expertise and know-how. Once you find the web design agency that will guide you and provide help with best practices, you need to keep in mind your business strategy as well. Starting the journey with them will make the process more trustworthy and increase the possibility to reach a successful result.
The power of design can lighten up your marketing strategy. Thus, the creativity of your partner agency can lead to a brand-new design that you need.
Finding a professional that fully understands your business vision is another important thing while creating a web design. Whether it is a redesign or a whole new development, the aim is to establish and carry on long-term positive experience.
Your web design shows who you are. Therefore, the first impression of your users is also essential for your brand. A positive one can make you gain more customers and retain the existing ones for a long time.
Your cooperation with your web design agency will continue for so long, not just one time. So, when you decide to make a change to your pages, you should get suggestions from your partner agency. Because, even adding an extra photo, or video to your website can change the user experience. That's why the touch of an expert will make a great difference in a positive way. In the end, collaborative decisions can enable you to create a better impression for your brand and take your business farther.
Best Web Design Agencies in Toronto
Keep reading to discover the top web design agencies in Toronto and check out their inspiring portfolios to find the perfect company that suits your business' needs.
Major Tom is a full-service agency in Toronto that provides custom web development services. Their team of experts builds efficient platforms that are tailored to the client's needs.
The bakery chain COBS Bread wanted to update their digital presence and engage their customers better. So, Major Tom update their website and create an amazing digital experience. The new website has helped to attract +40% year-on-year traffic with +30% spike in new users since its launch.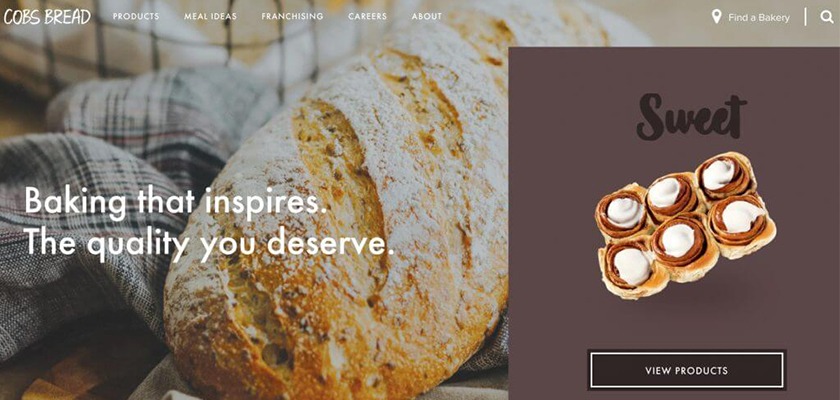 ---
Crowd is also a top digital agency in Toronto that provides web design services. The experienced team of Crowd focuses on clients' needs to design their websites.
Amoena – the leading mastectomy care brand collaborated with Crowd for a campaign named 'Supporting Confidence'. So, Crowd built a platform to take those affected by breast cancer on an explorative journey. This campaign drove 1.2 million engagements from our target audience and significantly raised Amoena's international profile in the process.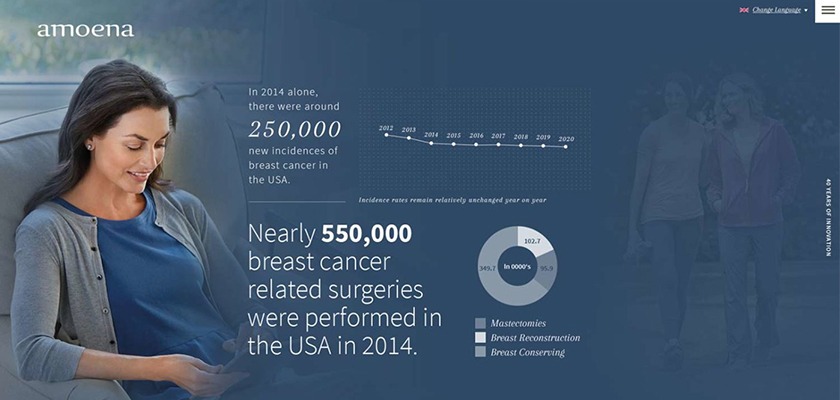 ---
Toronto-based Search & Gather is an experienced agency in helping startups to grow. They are focused on creating responsive and elegant landing page designs. Search & Gather's custom landing pages successfully drive online conversions and improve their clients' conversion funnel.
Their landing page design for the designer Amy Migicovsky is a lovely example from their inspiring portfolio. This simple and colorful page is a successful project that converted traffic to sales.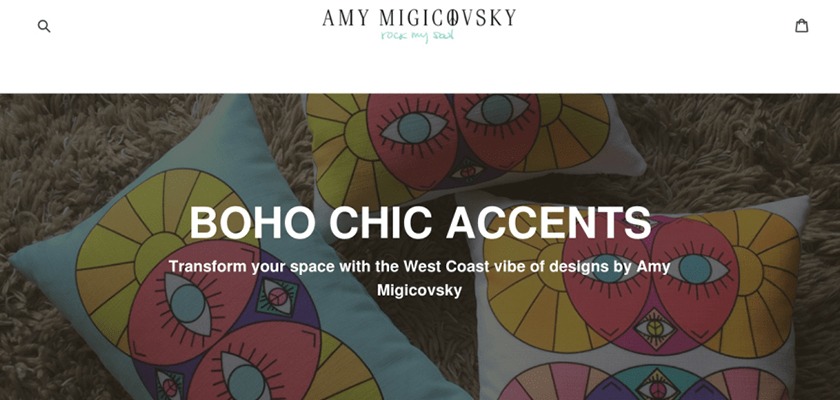 ---
Bookmark is another top marketing company in Toronto because they are experts at engaging consumers, driving sales and transforming brands
Air Canada collaborated with Bookmark for a gamified loyalty platform named "Earn Your Wings" that engages and rewards loyalty members when booking flights. This successful project has won seven loyalty and gamification awards and has consistently resulted in a 500% to 800% return on investment for each edition. In 2018, Air Canada's program saw a 41% increase in registrants.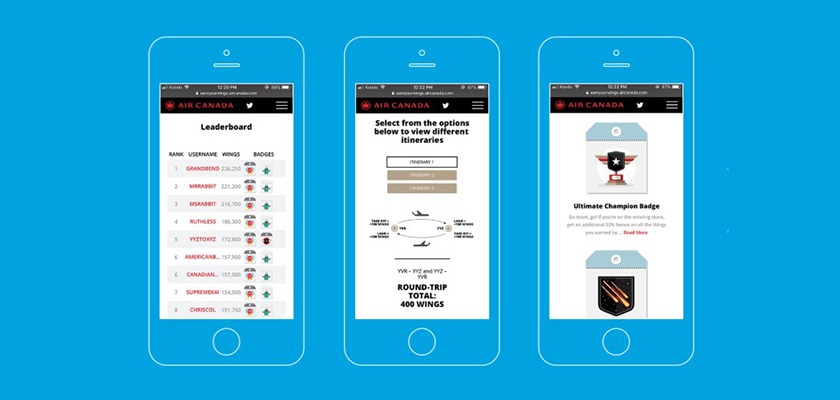 ---
Headquartered in Toronto, Brand & Mortar is an award-winning full-service marketing agency. Brand & Mortar creates unique websites that deliver results.
One of these websites is their project for the influencer marketing platform BiiZ. They redesigned BiiZ's website to be more engaging and developed it to maximize SEO. As a result, they saw a 200% increase in site traffic, which is above the client's expectations!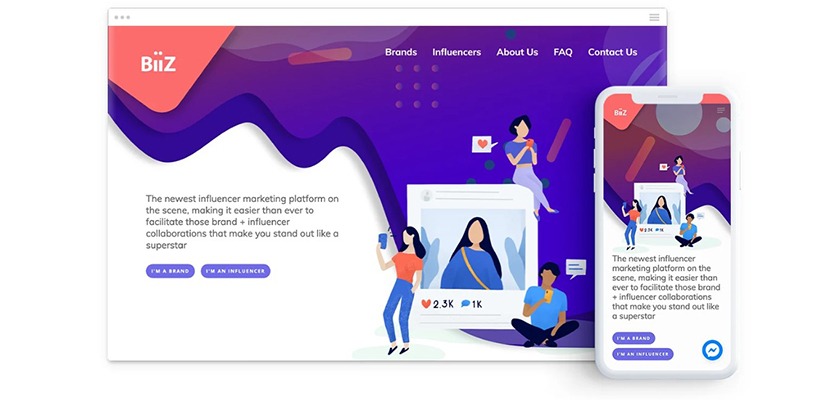 ---
Toronto and Vancouver based digital agency Pound & Grain delivers successful results with high-level strategy and creative thinking. They bring ideas to life with design experiences, making brands happier. They can help you carry the message to the right audience with their marketing strategies.
BigSteelBox approached them to make a complete redesign of their website. Customers had trouble finding the correct information on pricing. They solved the problem by focusing on the redesign. Finally, they reached a great result with a user-centric website.
---
Award-winning creative agency Reflektor Digital specializes in digital design, development and interactive experiences. Their practical idealist team also produces cinematic and emotionally engaging work. You can benefit from their collaborative work that makes sense for your audience.
For example, Spy Films partnered with them to create a website design with the aim of showcasing their various projects. As a consequence, the user can easily find a director's work by clicking on their individual page.
---
Toronto based digital production agency Pixelpusher has 17 years of experience. In addition, they specialize in design consultancy with a team experienced in design and its practical application.
They created a custom-built website for Mosaic using clever videos and interaction. According to the need, the newly designed website was well received by clients and the public.
---
KRFTWRK is a product marketing agency focusing on high-quality design prototypes & marketing process. As a professional digital design and marketing company, they are dedicated to driving change. You can get rapid prototyping and growth marketing tactics from them.
Fusion Pharmaceuticals wanted a website that reflects the complex science behind their project with a colourful and clear copy as well as interactive visuals. So, KRFTWRK helped them by adding movement and clickable elements to each page.
---
BrandLume is the Amazon of Agencies with various services; PR, branding, hosting, domain registry, SEO, SEM, social media and website design.
They can provide you support if you are looking for the best all-inclusive custom website design company with complete website development services. In addition, those services also include functionality, latest SEO techniques & design to grow your company's business online.
---
How can you create a web design correlated with your marketing strategy?
Carrying your marketing campaign to the next level can be an achievement of your website design. With a successful website design in every aspect, you can manage to turn leads into customers. On this occasion, you should focus on optimizing your marketing strategies with your web design agency.
As your website design is related to conversion, any detail on it can improve your marketing campaigns. Moreover, both the content and any design change on your website can have an impact on your SEO. So, structure, content, and aesthetics are all important for a good design.
User experience is also another necessary point. A fast, easy to use website with simple navigation can enable your users to live a good experience.
You can get help from your web design agency to maintain the quality of your website. A unique, inspirational and effective design that tells the story of your brand is all you need.
---
So, we have gathered 10 web design agencies in Toronto for everyone looking for a great company to work with. Also, we have selected some of their successful projects to make your selection process easier. Hopefully, our guide helps you to choose an amazing agency for your company.
Check out our list of digital marketing agencies located in Toronto to discover other great companies to work with!
Source of Article