At Cryospain we engineer, design, manufacture, install and commission custom-made flat bottom cryogenic tanks.
We have extensive international experience in this type of low-pressure liquefied gas storage tanks for industrial applications.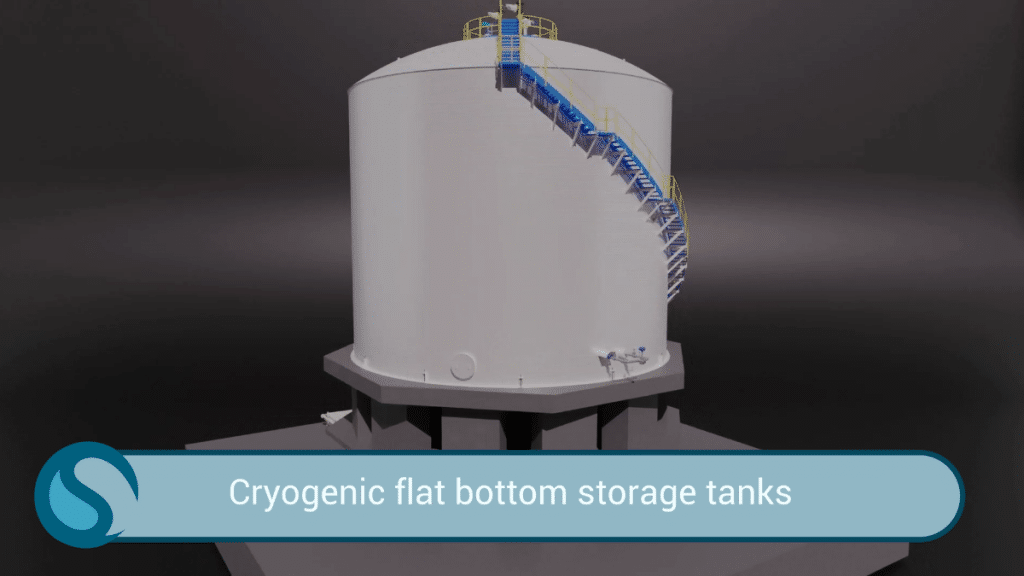 Our technical office designs and supplies turnkey cryogenic tanks adapted to our clients' projects.
Liquefied air gases (LIN, LOX, LAR), with capacity from 500 m³ to 15.000 m³.
LNG, LPG and liquid ethylene, with capacity from 1.000 m³ to 30.000 m³.
Our technical department has the technological potential to develop the cryogenic flat bottom tanks, by means of computer assisted design (CAD) programs. These specific softwares are used to draw 2D layouts and render the tank in 3D.
One of the great advantages of rendering these designs is the possibility of showing the result that the tank will have before production and installation labors begin. It allows us to visualize where all the cryogenic pipes should be located and that there is no interaction with other equipment.
In the video of this article you can see different elements that make up a flat-bottom storage tank:
Control panel: Located at the side of the tank, the different valves and monitoring systems are installed to check the operation and control of the tank.
Piping: Cryogenic pipes that transport cryogenic liquid or gas.
PSV (Tank Safety Elements and Valves): Located in the upper area of the tank. They control the tank grip and regulate it safely.
Cryogenic Liquid Collection Basket: Collects excess cryogenic liquid in an environmentally safe manner.
Tank filling pipe: carries out the transmission of the liquefied gas to the interior of the tank.
Outdoor ladder: This spiral ladder around the tank is used to climb up to the top of the tank.
Vaporizer: It realizes the function of safely transforming cryogenic liquid into gas.
Tank actuated Valve: The video shows how this equipment operates.
In Cryospain, we are specialists in the production of cryogenic tanks, with more than 18 years of experience in the sector. All the cryogenic storage equipment we produce complies with the most recognized and demanding international quality and safety standards.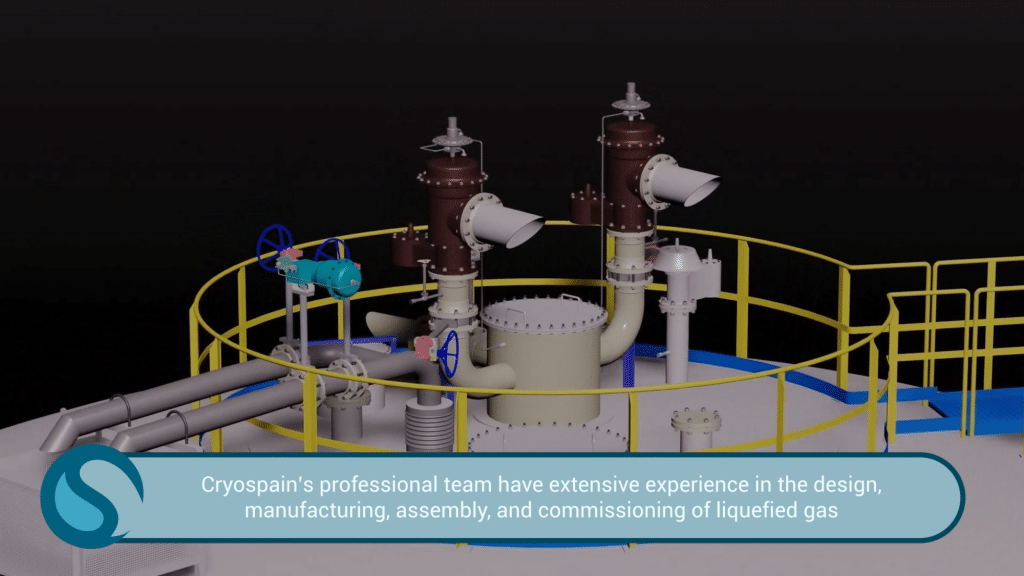 Here you can consult all the flat bottom storage tanks that we have installed around the world: cryospain.com/storage.
Click here for more informationClick here for related articles and newsSearch for storage tank builders in our equipment guide
Sign up for Fluid Storage E-Updates

We work to provide our clients with cryogenic engineering solutions that are specifically tailored to the needs and requirements of their projects and which allow them to face new and greater challenges. Our specialized, highly qualified technicians guarantee the viability of the installation and infrastructure projects all over the world, currently …
Source of Article