Short on time? Here's the best antivirus for gamers in 2020:
BullGuard: Game Booster mode which significantly improves CPU performance for optimized gameplay. It also has great malware scans and 24/7 tech support. Game Booster mode is included in the cheapest BullGuard plan.
Most of the top-tier antivirus programs have a gaming mode in their package, but which ones are actually effective and which ones are just clever marketing?
Gaming modes are specific antivirus engines designed to keep your computer secure without slowing down or interrupting gameplay. While most gaming modes are pretty similar, there are only a few companies that offer high-quality features designed to heighten and improve the overall gaming experience.
I've tested over 50 cybersecurity products, and I have pretty high standards of what a good antivirus should and shouldn't include. I also happen to be a pretty serious PC gamer. I've put the biggest names in cybersecurity to the test to build this list of the top five antivirus software for gamers.
Here's a summary of the top 5 best antiviruses for gamers in 2020:
How I Picked the Top 5 Antiviruses for Gamers in 2020:
Gaming computers have special needs that regular systems don't. I need a strong Windows antivirus that won't ruin my gaming experience with annoying notifications, CPU-intensive scans, or overprotective firewalls. Here is what I tested for:
Optimization. This is my top criteria. Is this software going to slow down my rig? By measuring framerates and cross-referencing with other third-party performance tests, I placed the lowest CPU hogs at the top of my list.
Protection. I want to keep my computer safe when I'm browsing, when I'm online shopping, and when I'm deep in a battle royale. I looked at the depth of the malware database, the strength of the protection offered in different gaming modes, and the effectiveness of active scanning engines to find which programs are actually protecting me and which ones are just pretending to.
Ease of Use. I'm trying to level up, not waste my time digging through endless menus. All the programs on this list have intuitive layouts, helpful customization options, and responsive tech support that can help when something goes wrong.
Good Value. If I'm going to be diverting funds away from my Steam account, it's going to be for a good reason. These antivirus programs all pack in a wide variety of features, they run across different operating systems, and paying for them is a simple, up-front process.
Extra Features. Different antiviruses offer different things depending on what you're looking for. Whether you're gaming online or offline, using multiple screens on a dual boot Macbook, or streaming live to Twitch, there is an antivirus with features specific for your needs. I zeroed in on the programs which offered a wide variety of extra features to make sure all gamers can stay protected, regardless of specific requirements.
Top Brands That Didn't Make The Cut:
Not all antiviruses cater to the gaming community, and some actively ignore gamers altogether. I was surprised to learn that there were some big name antivirus brands which didn't perform as well as I'd expected them to.
Bitdefender. Bitdefender was really close to making my list. It's always running in Autopilot mode, which means I'm never going to be interrupted while gaming, and there are three different gamer modes, which means a lot of customization. The main factor keeping it off my list is the price — there are cheaper products out there with similar features. But there's a great 30-day free trial which you can take advantage of and see if Bitdefender's world-class protection is right for you.
McAfee. McAfee entered the market recently with Gamer Security, a new antivirus product designed specifically for gamers. They clearly did their homework, and the product is definitely optimized for gaming with its Auto Game Boost feature that significantly improves CPU performance during gameplay. Unfortunately, McAfee went overboard streamlining this product — it missed some malware when I tested it, and it doesn't have some of the extra features of other McAfee products for the same price.
Avira. Avira has a great antivirus product, but their gaming mode just didn't cut it when I tested it against the others on this list. That said, if you're on a budget, Avira provides a great free antivirus for Windows. But keep in mind that you get what you pay for — Avira may show you annoying pop-ups in the middle of a game.
🥇1. BullGuard — Best Overall Speed and Performance for Gamers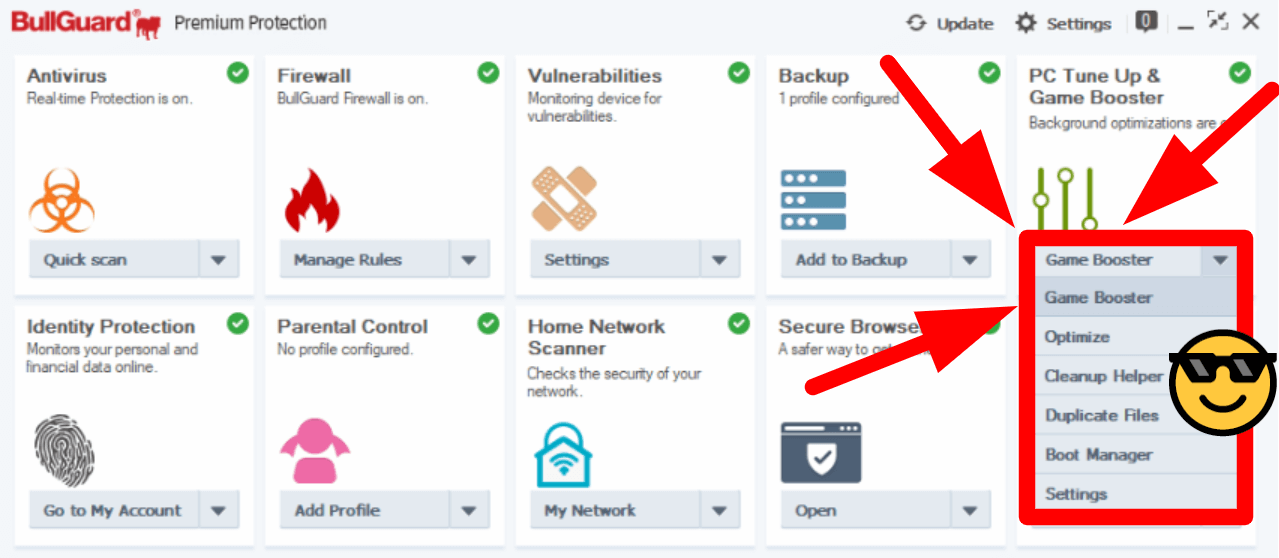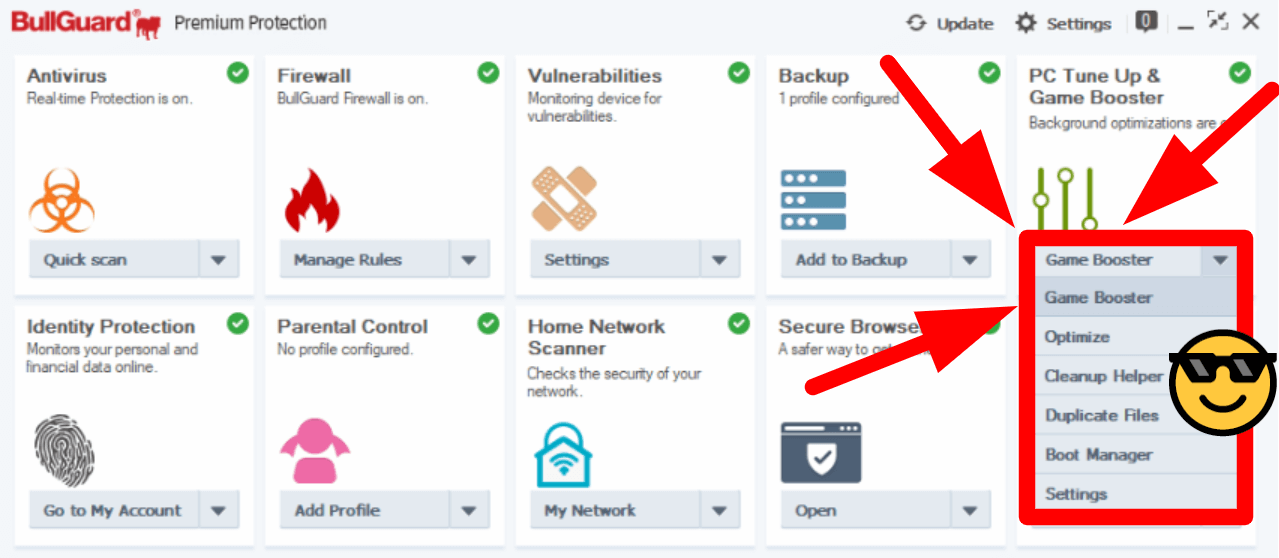 BullGuard maintains its reputation as the best antivirus for gamers looking to optimize performance without sacrificing protection.
There's a reason this software outperformed the competition in all of my graphics and framerate testing — the Game Booster feature allocates processing to increase your entire rig's speed. By optimizing memory usage and rerouting background apps, your games will actually play more smoothly with BullGuard running.
One cool thing is that I can create a custom game profile which automatically adjusts my settings depending on which game I'm playing. I can schedule updates, specify which folders to scan, and customize my firewall to keep certain ports open. BullGuard already has some custom game profiles set for many of the most popular games, rolling out updates alongside major releases.
What's more is that everything I've come to expect from a premium antivirus is here:
Extensive malware detection.
Identity theft protection.
A high-quality VPN.
Customizable family settings.
BullGuard is always looking to improve their user experience, and they've been earning great customer satisfaction ratings for years. Not many other antivirus companies have an active community forum and 24/7 technical support staff.
Bottom Line:
This is the best antivirus to buy if you're serious about high-performance gaming. The powerful Game Booster speeds up CPU performance, and customizable game profiles automatically optimize games. There's also a responsive 24/7 customer support team which helps troubleshoot and solve any problems. I expect this company to stay at the cutting edge of gamer security for years to come.
Read our full BullGuard review >
🥈2. Norton — Best for All-Around General Protection
Norton 360 clocked in with the second smallest drain on my framerate during testing. I was impressed to see such fast performance, especially from a company with a past reputation for slowing down gameplay. But as we found out in our last review, they've made some serious improvements with their 360 product line.
When I tested my games across the 360 Deluxe plan, Norton automatically reduced CPU load as soon as I started a gaming session by activating one of two performance modes:
Quiet Mode gets triggered automatically by programs that use a high CPU load, and Silent Mode engages when any application goes into full screen mode. And there are plenty of intuitive menus which allow me to customize each of these modes.
Norton's family protections are also great, and their parental controls function really well for parents of younger gamers. You can monitor usage, set limits, and flag sensitive content to help keep your kids safe.
Malware detection is the cornerstone of Norton's product, and the company's long-term consistency is a big part of why we chose them as our number one overall antivirus in 2020. Norton 360 flagged down 100% of the malware that I threw at it during my testing.
Norton offers a lot of great features, all of which are easy to use because of the program's intuitive interface. I especially appreciate the Norton Performance Graph — letting me see firsthand how my computer is running and giving me easy steps to tidy up and optimize my performance.
Norton 360 offers all the features I want in an antivirus. The only thing lacking is a dedicated "Game Booster" like BullGuard.
Bottom Line:
Not only is Norton 360 the best all-around antivirus on the market, it runs faster than almost every other antivirus program out there. Automatic Quiet and Silent Mode keeps the software from interrupting gameplay. And with great family protections, Norton offers a lot for parents and gamer families. If you need a powerful antivirus which doesn't get in the way, Norton is a great choice.
🥉3. Panda — Best Family Protection for Young Gamers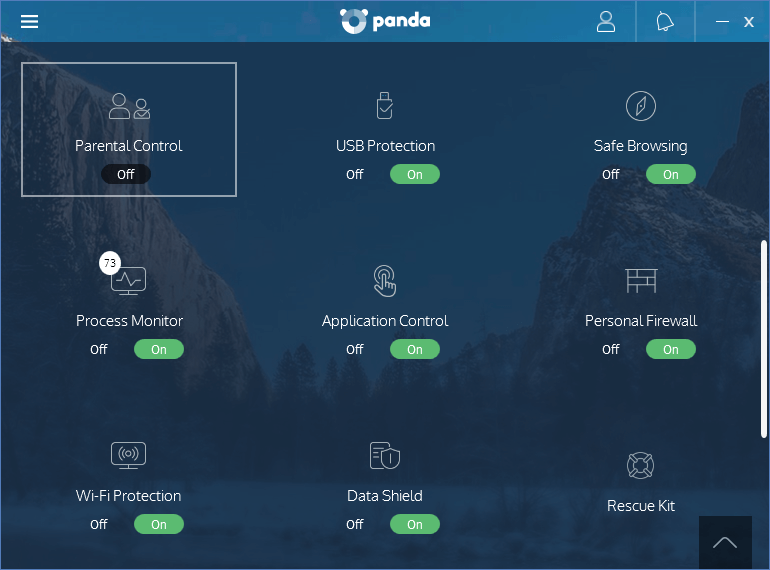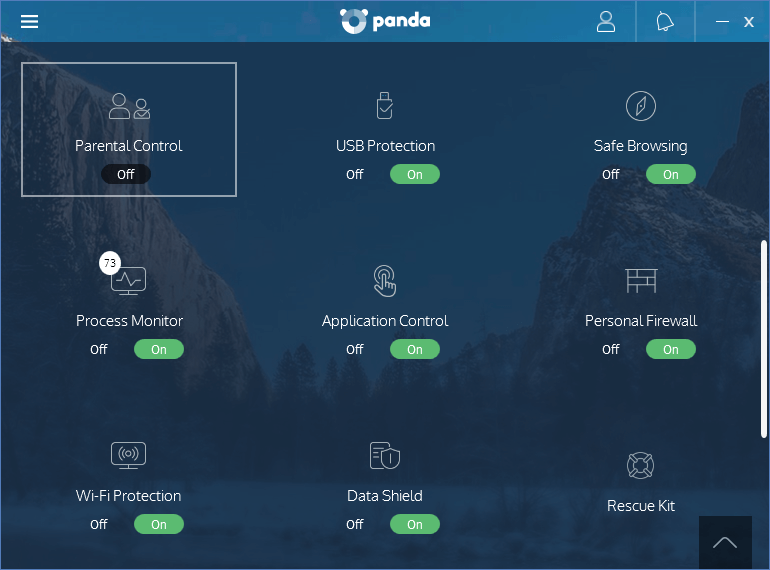 Panda is the best antivirus for parents like me who are concerned about their kids joining the online gaming community. Not only can I monitor computer usage, limit certain apps, and get notifications about dangerous internet activity, I can even track my child's location. There's support across multiple devices, so I can keep track of where my child's quest for the latest Pokemon Gym will take them.
Panda gets special points from me for offering a wide variety of products at different prices, as well as a flexible monthly payment system. These pay-as-you-go plans are perfect options for anybody gaming on a budget.
Similar to Norton's Quiet and Silent Modes, Panda's Multimedia Mode activated whenever I entered full screen, and background scanning, updates/notifications and firewall settings can all be fine-tuned. And I really like the look and feel of Panda Dome — it's a fun and attractive user interface. I only had to click through a few submenus to customize my settings.
I was also impressed by Panda's real-time antivirus scanning. It turned up every piece of malware I tested. And because it's a cloud-based feature, it didn't slow me down too much during a heated bout of Apex: Legends.
Unfortunately, the lower-priced versions of Panda Dome do not offer the same great family protections as the higher-tiered premium versions. While testing the cheaper versions, I was interrupted by notifications requesting me to upgrade.
Bottom Line:
Overall, Panda is a great choice, and if you buy one of the top two tiers, this antivirus program delivers some of the best protection for gaming families. Cloud-based scanning won't slow down gameplay, and it automatically enters Multimedia Mode when a game starts up. For people who struggle with complicated menus and setup, Panda Dome's interface is extremely user friendly. If you want to keep your family secure without sacrificing game performance, this is the antivirus for you.
4. Webroot — Best Lightweight Antivirus
Webroot recently released a new version of their Secure Anywhere antivirus specifically for gamers. Webroot's Secure Anywhere Antivirus for PC Gamers is the best product for gamers looking to economize disk space. It is significantly smaller than any other antivirus — you only install about 4 MB of data on your computer, and the rest of the program is hosted by the cloud.
Antivirus for Gamers offers a lot of great features. It protects your webcam from malware hijacking — which is great for Twitch streamers — and the system optimizer automatically clears up your background files to free up RAM. There's no need to turn on a gaming mode, because this product is designed to stay in the background
Secure Anywhere scanned my files in a manner of minutes. This is a huge improvement over the other antiviruses on this list, which can take as long as a couple of hours. Not only is the scan lightning fast, it tested well in my malware and phishing tests.
Bottom Line:
Webroot is perfect if you're looking for a simple and lightweight antivirus. Secure Anywhere hardly takes up any disk space, and scans only take a couple of minutes. If you don't mind digging through a lot of menus, this program offers a lot of options. Secure Anywhere also offers multiple pricing tiers, which makes it ideal for folks on a budget.
Read our full Webroot review >
5. Kaspersky — Most Extra Features for Gaming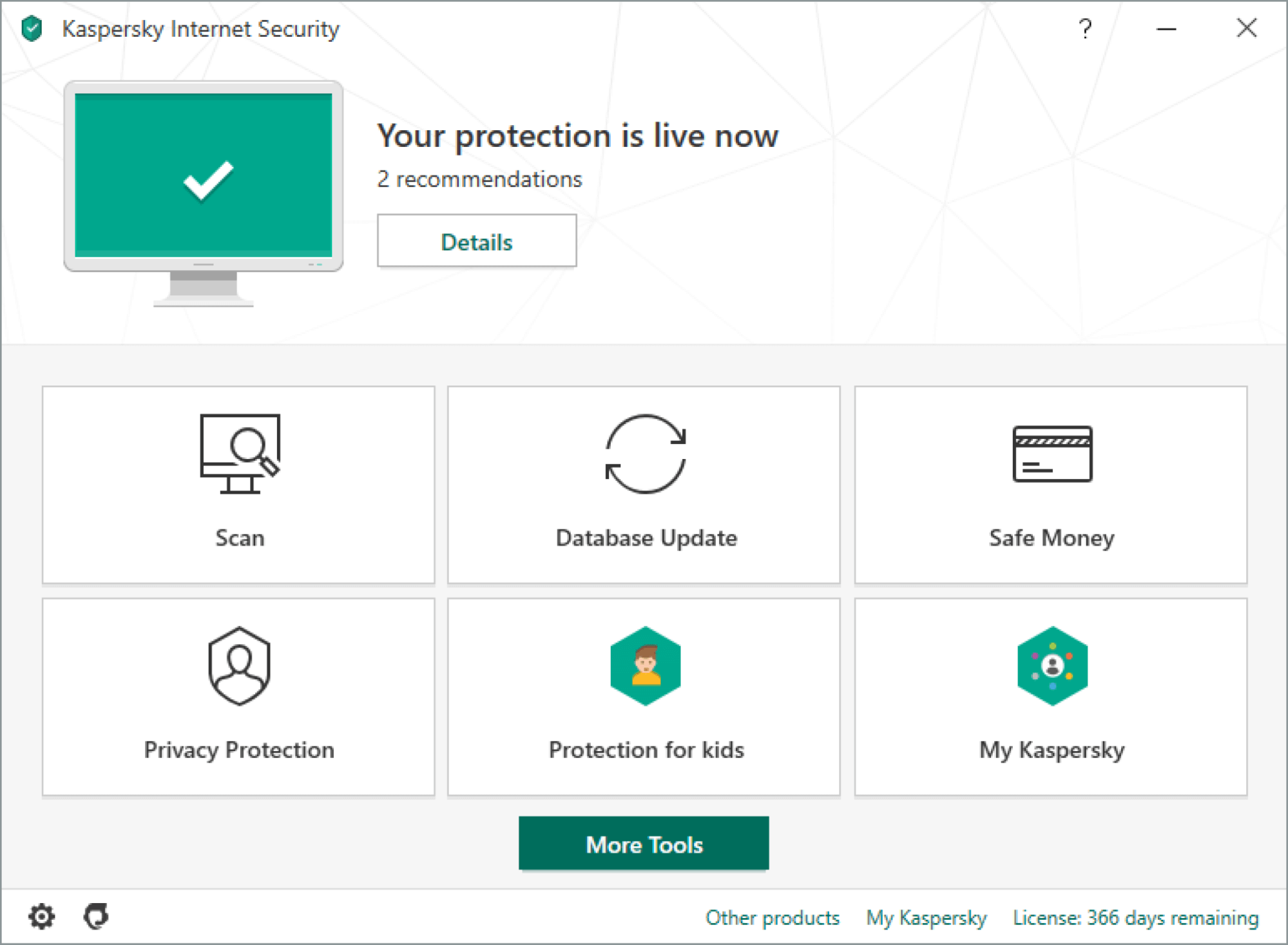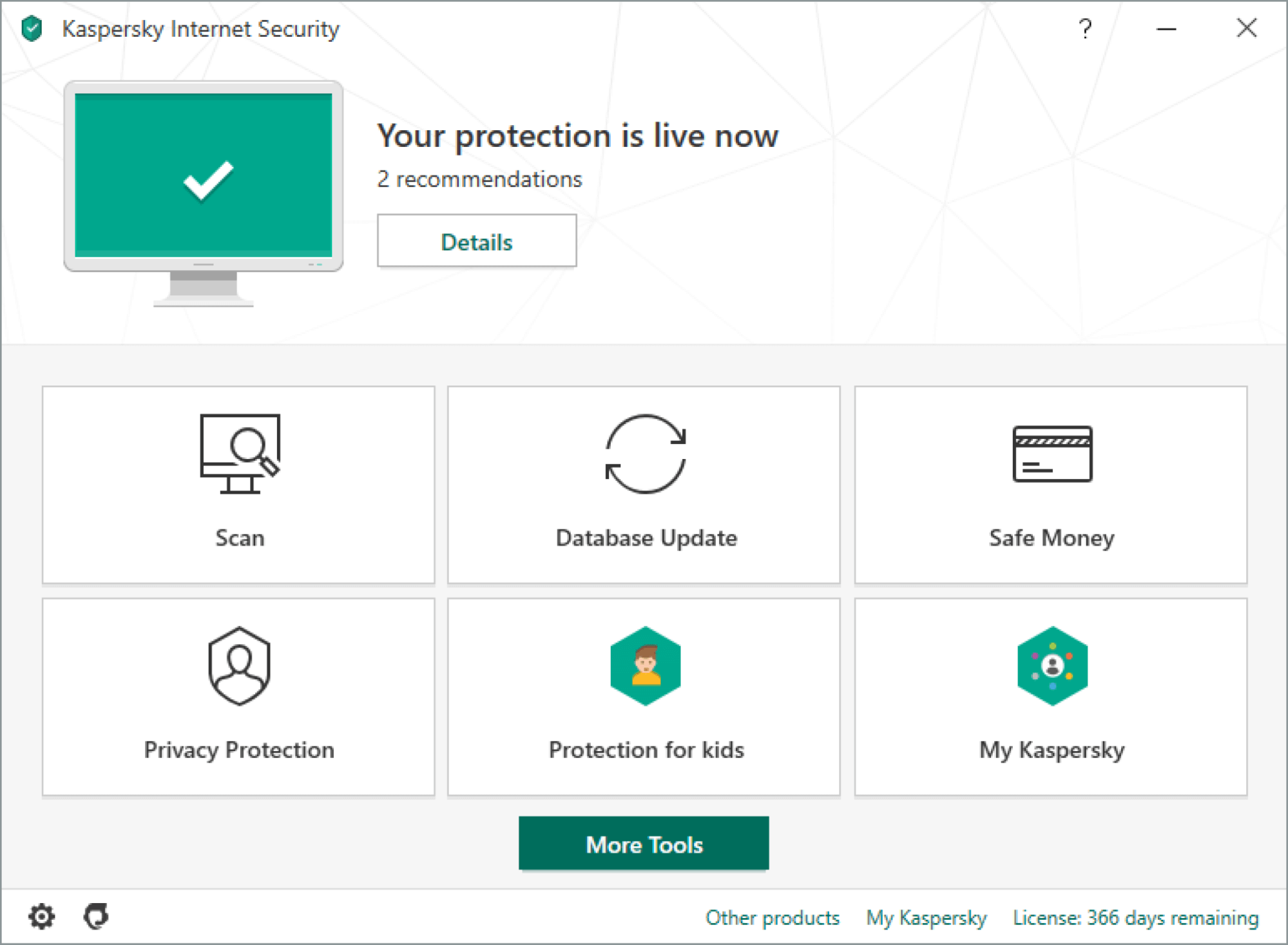 Kaspersky delivers a truly impressive product that does everything I expect from a premium antivirus suite.
There's:
Malware detection.
Financial protection.
Password management.
A VPN.
PC clean-up.
…and lots more.
It also includes a gaming mode that turns on automatically in full-screen mode. It will suspend notifications and scans, but it doesn't offer the same level of customization as the others on this list. If you're looking to configure game modes for specific games, look elsewhere.
But I do really like the Safe Money feature. If you're making a lot of online purchases, especially through third parties, then Kaspersky is a good choice. Safe Money opens a unique, secure window whenever you're entering a payment portal. This keeps you 100% safe from keylogger hacks, and it runs on any web browser. If you're particularly interested in the password management feature, you may also want to look into Dashlane.
I was a little frustrated to see that the Safe Kids feature is only included with the expensive top-tier package, and as noted in our latest review, that plan isn't as good of value as Kaspersky's discounted middle-tier package.
Bottom Line:
Kaspersky has made huge strides in making a fully featured antivirus suite that also performs well with high-intensity games. The program's gaming mode is a little bit short on features, but it gets the job done. This is a great product for anybody looking for solid antivirus software with useful extra features and excellent malware protection.
Read our full Kaspersky review >
Antiviruses for Gamers — Frequently Asked Questions
🕹️ Will an antivirus affect my gaming?
Most of them will, yes. Pop-up notifications will jump on screen at bad moments, and virus scans are notorious for their high CPU load. If your antivirus starts scanning files while you're gaming, it can cause noticeable lag and other performance glitches.
But the best antiviruses — like BullGuard and Norton — won't affect gameplay at all.
🙅‍♂️ Can I just turn off my antivirus while my games are open?
You can, but hackers are expecting you to do this. Malware that can detect when you're in full screen mode and hacked mods that deploy when you run a game are just a couple of the many dangers of gaming without an antivirus.
The reality is, gamers are a huge target for cyber attacks because of their reputation for connecting to the internet without protection. When you have so many gaming-optimized antivirus options, there's no reason why you should ever turn off your antivirus, even during intense gameplay.
💻 Are all gaming modes in antivirus software the same?
Yes, and no. Many of the top tier antivirus programs now include a "game mode" which will suspend notifications and scans while you're in full screen mode. But then there are some — like BullGuard — which will boost your PC's performance and your processing power will actually improve.
Furthermore, customization options, ease of use, and the overall drag on performance are all unique to each program.
🆓 Is there a free antivirus that offers a Game Mode?
Unfortunately, all the best antiviruses make you pay for their game modes. But if you're a gamer on a budget and really need a good free antivirus, I would recommend Avira. It offers fast, high-performance anti-malware protection, even though you'd still need to sacrifice a fair amount of convenience to keep yourself protected.
Source of Article