A Volkswagen California camper van with a built-in charcoal grill – what could possibly exemplify "summer" and "great outdoors" better than that? Perhaps a VW California with two charcoal grills. Belgian company Calicamp has prepared an impressive add-on kitchen system specifically for VW vans. Its modular kit installs inside the tailgate and folds out into an outdoor kitchen fit for a mountain luxury home. The metal-and-wood space packs multiple gas or charcoal cookers, loads of prep space and organized storage, turning the most scenic spot you can find to pull over into an unforgettable five-star meal.
The versatile, modular design of Calicamp's kitchen products reminds us a lot of Snow Peak's Iron Grill Table, albeit built to slide and fold out of the back of a camper van. More specifically, Calicamp builds its storage and cooking systems around the Volkswagen T5, T6 and T6.1 Multivan and California lines. The full kitchen seems particularly useful for models that don't come with their own standard kitchens, such as the Multivan and California Beach Tour, but can also provide more cooking space and an integrated grilling option for full-blown California camper vans with indoor kitchens.
Each Calicamp kit starts out with a slide-out storage drawer sized to fit below the van's bed. In the Multivan and California Beach, the large box takes up most of the width of the van and offers 280 L of storage. In complete California camper models, it slides between the passenger sidewall and rear wardrobe, storing 200 L.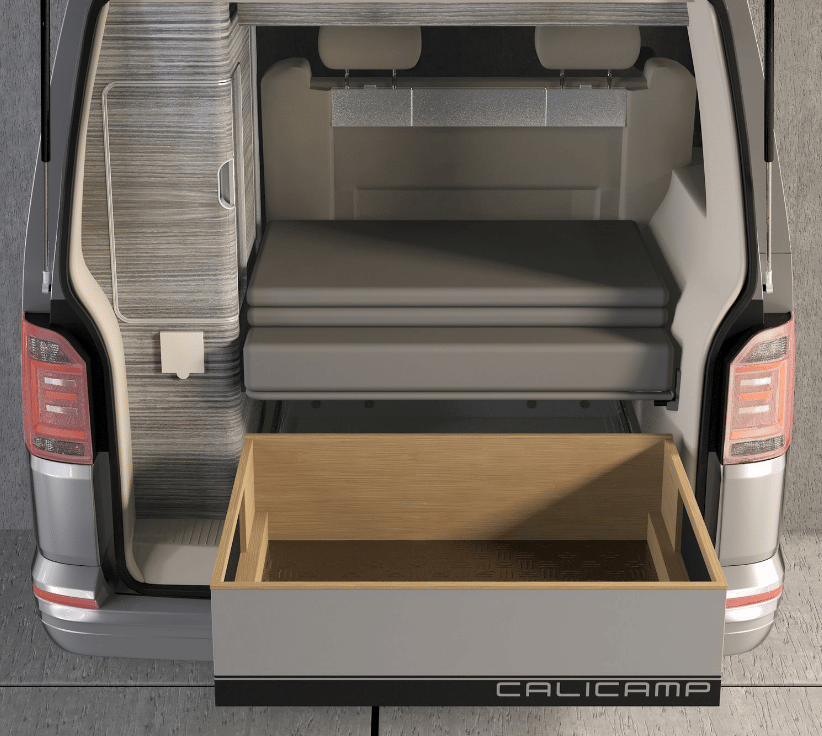 A hinged wood lid turns the Calicamp drawer into a storage box with large worktop. Campers could always use their own portable stove, cutting board and other cooking gear on top, without buying into the full expandable kitchen system.
The kitchen system does look well worth considering, though. The main frame packs neatly atop the storage drawer, hinged at the side. It folds out to the side upon arrival, supported by a set of adjustable legs. The skeletal frame includes an open center that campers can fill out with mix-and-match modules, including up to three gas or charcoal cooking units. Buyers can also fill out some of that space with cutting board/worktops and storage bins and add in other options like windscreens.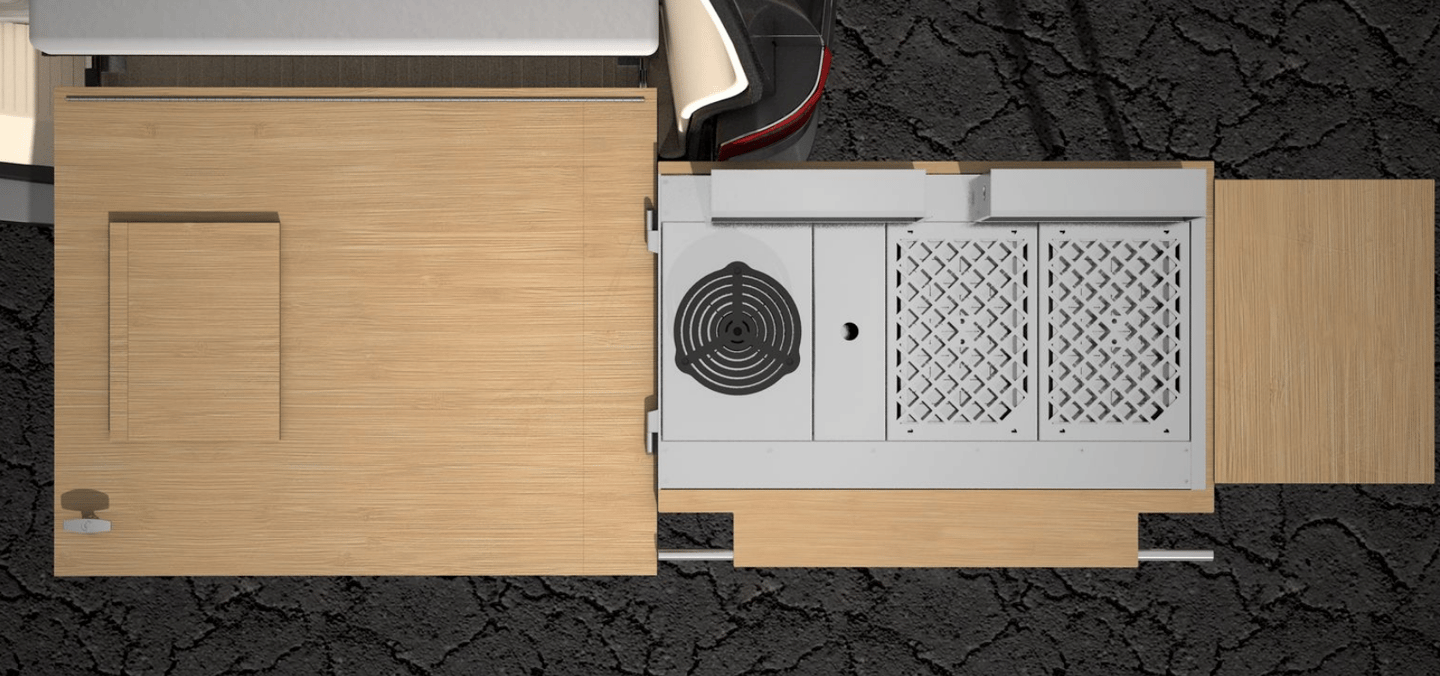 One of the available worktops can fit either inside the frame or attach to the end of the fold-out. The kitchen design also leaves the entirety of the storage box cover as a separate work area, making the kitchen far more multi-cook friendly than the average slide-out tailgate galley. It also includes a pair of rods for hanging utensils or towels.
The fold-out kitchen takes only a minute or two to set up upon arrival. Calicamp components don't require any permanent modifications to the vehicle and can be removed within a few minutes' time.
One key feature not shown in Calicamp's photos or renderings is a sink. The company does mention that it offers the option, though.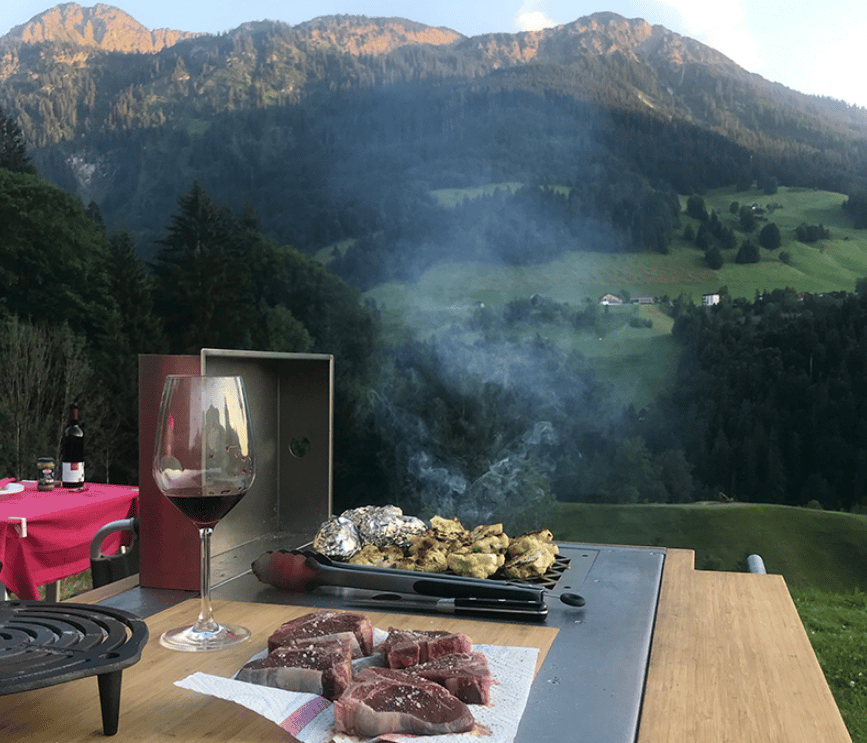 Like so many RV products and accessories, Calicamp was born from on-road experience. On a family camper van trip through Italy, founder Sven Baumann, an engineer and woodworker, found himself loading up on world-class ingredients at local markets. Upon returning to their Volkswagen T6 California camper, the family then faced a dilemma: how to treat those fresh Italian ingredients with all the love and respect they deserved while preparing them on a tiny kitchen block inside a cramped van. Baumann envisioned a better way and set about creating it.
It's not hard to see how cooking over gas or charcoal on an expandable, modular galley under the blue sky or emerging stars promises an experience that much better matches the grade of ingredients you might hunt down at a local market, forage in the wild or pull out of a lake or ocean while on a van trip. And even if they're just basic groceries stuffed away in an ice-packed cooler, they'll almost certainly smell and taste better when cooked on a Calicamp versus an in-van galley. Plus, there'll be no stains or residual smells left behind inside the van.
Rather than selling all its components a la carte online or in a shop, Calicamp works with clients to develop custom setups around their needs. It encourages interested parties to contact it to discuss options. Prices will vary based on the specifics of the build, but Calicamp lists 2023 pricing starting at €1,295 (approx. US$1,450) for the slide-out storage drawer alone and €2,880 ($3,200) for the storage drawer with kitchen system. The company hand-builds each unit for local installation at its workshop in Antwerp and plans to make roughly 20 per year.
The video below shows how the Calicamp opens and sets up in a number of different configurations.
How to cook outside a VW California or Multivan
Source: Calicamp
Source of Article