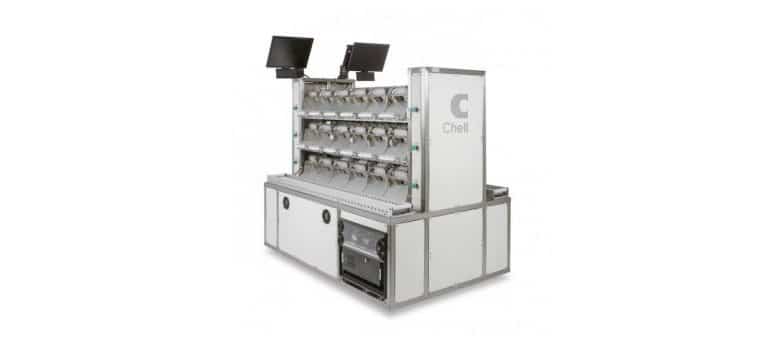 Chell Instruments knows how vital gas-flow measurement is to its international customers. Their flow meters and calibration equipment can be found within systems used by aerospace, motorsport, pharmaceuticals and many other global sectors.
Jamie Shanahan, Sales Director for Chell Instruments, says "Along with temperature and pressure; flow forms the holy trinity of gas measurement and control. The research and development of our own products is very customer led, so when our clients need to resolve a specific challenge, we pride ourselves on coming up with a strong solution."
With over 40 year's mass flow measurement experience, Chell have developed one of the most comprehensive ranges of solutions incorporating both their own products and those from other leading manufacturers.
A recent example of Chell's product development is their GMCS Gas Meter Calibration System.
With the accuracy of domestic gas flow metres paramount to their performance, calibration is an equally essential element of their manufacture. The GMCS is designed to maximise the production rate of gas meters whilst still achieving calibration laboratory levels of uncertainty.
Jamie adds "Calibration is often the most challenging part of manufacturing anything which controls or measures gas flow. The GMCS can calibrate up to 36 gas meters simultaneously. Now used by a number of global manufacturers, it's greatly enhanced not only their production rate but the accuracy of the meters they produce."
The GMCS is joined by the GMTR, a multi-channel bench-top system that allows simultaneous testing of the functionality, accuracy, stability and leak integrity of up to four domestic gas meters.
As well as their own innovations, Chell Instruments also select products from other leading manufacturers to create the most effective systems to satisfy their client's need.
As a leading partner with Fluke Calibration, Chell Instruments utilise their Molbox and Molbloc instrumentation into custom systems for calibrating a variety of meters and controllers over a wide range of gas flows. The range includes the Molbox1+ Flow Terminal which offers the lowest commercially available gas flow measurement uncertainty of ± 0.125%.
Chell's own products are designed and manufactured at their UK headquarters. To validate measurements, they also have their own ISO17025 calibration lab with some of the lowest uncertainties available in the UK.
Jamie concludes "Whenever you measure or control gas flow, you need confidence the readings you take are accurate. Over almost five decades we've understood that accurate measurement is all about dependability and trust."
Chell manufacture and calibrate gas pressure, temperature and flow equipment used in areas including pharmaceuticals, Formula One and aircraft design. They are a strategic supplier to many industry leaders and known for creating innovative solutions to both common and individual measurement challenges.
Click here for more informationClick here for related articles and news
Sign up for Flow Control and Measurement E-Updates
Source of Article