In a surprise move, Meta Platforms launched its new social media and networking app Threads on June 5 and 6, depending on time zone.
"Let's do this. Welcome to Threads," Meta CEO Mark Zuckerberg wrote, adding a fire emoji, in his first post on the app. He also boasted that Threads had more than five million people sign up within hours and he expects tens of millions users to download the app in the coming days.
Threads is linked to Meta's Instagram, which means you need an Instagram account to sign up. As of now, Threads is only usable as a phone app; the website will just give you a nifty three-dimensional space-like logo you can rotate around (for some, this will be probably more enjoyable than the platform itself).
Essentially, Threads is a text-based, off-the-cuff, thought-dump and real-time discussion platform much like Twitter, but with a more contained, controlled audience based on your existing Instagram connections and people you allow to interact with you.
Like Instagram, you can add hidden words to filter out replies to your threads, you can unfollow, block, restrict or report a profile, and any accounts blocked on Instagram will be blocked on this app too.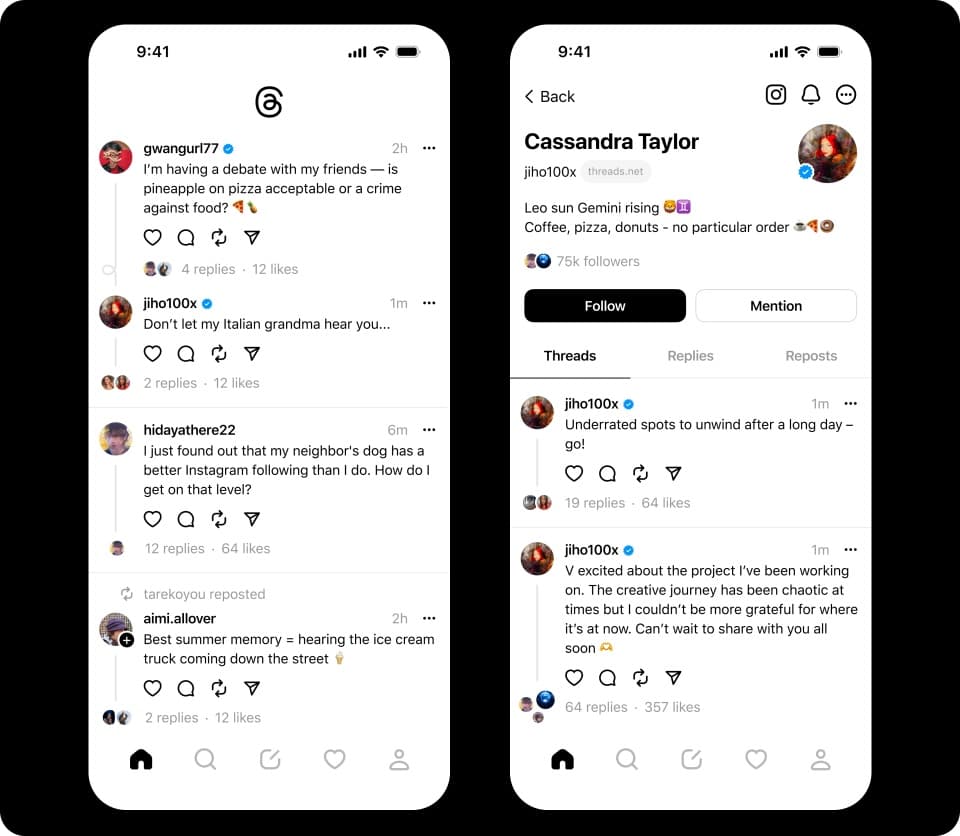 However, there have already been complaints from users surrounding the main feed of posts, which are sorted via algorithm rather than chronology. Throw into the mix some 'suggestions' of people and accounts, famous and otherwise, to follow based on your existing list and the experience is a little confusing and muddled.
We'll put this one down to a work in progress as it finds its feet in the coming months.
Twitter boss Musk, meanwhile, stayed on brand, laugh-reacting to suggestions Threads is a copy job from his platform, and tweeted: "It is infinitely preferable to be attacked by strangers on Twitter, than indulge in the false happiness of hide-the-pain Instagram."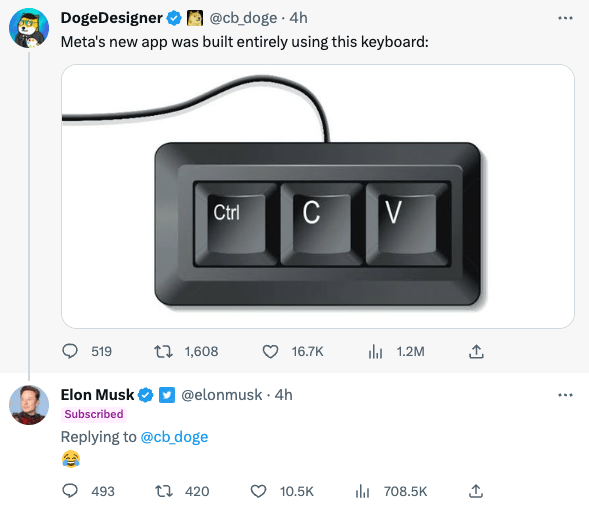 Threads has a few more differences aside from negating the abuse hurled from anonymous keyboard warriors. Users can post text up to 500 characters in length (Twitter remains at 280 characters unless you're a Blue subscriber, with 10,000 at your disposal), which is also the same length offered by fellow networking platform Mastodon.
Interestingly, there are moves to make Threads compatible with ActivityPup, which could mean the platform would work with other apps such as Mastodon.
As with Twitter, there are several sharing options, but of course threads can be posted instantly to Instagram stories. Posts, or threads, can include video of up to five minutes in length, web links and up to 10 photos per post.
"What may give Threads an edge is that it's a text-feed platform that looks and feels like Twitter; it's linked to Instagram, so will enable people to use their same username; and people will be able to engage with their Instagram followers directly," said Professor Lisa Given, Enabling Impact Platform Director, Social Change, Research & Innovation Capability at RMIT in Melbourne, Australia.
"This last point is critical," she added. "People are not just looking for something that offers similar functionality to Twitter. They want a platform where they can quickly find people they're already engaging with so they can maintain social connections and not have to 'start over' to build their community when they transition to a new platform."
While Meta is rolling out Threads to more than 100 countries for use on Android and iOS devices, many will not be at the launch party. Due to ongoing conflicts with the European Union over privacy, data sharing and the EU's Digital Markets Act, it won't be launching in the region for the foreseeable future.
Of course, the cons of Threads go without saying if you've followed any of Meta's business practices over the last decade-plus. The company has long been accused of "buy-or-bury" tactics to acquire new technology to then absorb into the far-reaching Metaverse.
In February, Meta attracted the ire of the Federal Trade Commission (FTC) once more, but it was unable to stop the tech giant from purchasing virtual-reality company Within.
In April, Meta won an appeal in a case brought to the courts by 48 US attorneys general in 2022, which claimed it was unfairly monopolizing tech and disadvantaging startups, with the acquisition of Instagram (2012) and WhatsApp (2014) key in this lawsuit.
The case was originally tabled in 2020, along with a parallel FTC lawsuit that was dismissed in 2021.
"As the Court of Appeals rightly recognized, this case fundamentally mischaracterized the vibrant competitive ecosystem in which we operate," a Meta spokesperson said, in a statement on the April ruling. "The court noted that this enforcement action was 'odd' because we compete in an industry that is experiencing 'rapid growth and innovation with no end in sight.'
"Moving forward, Meta will defend itself vigorously against the FTC's distortion of antitrust laws and attacks on an American success story that are contrary to the interests of people and businesses who value our services."
Threads looks to have promise, and it should, with more than one billion active Instagram users engaging with the image-driven platform each month. However, if you're not already stuck to the sticky web of the Metaverse through Facebook and Instagram in particular, it could be a difficult leap.
"We built Threads with tools to enable positive, productive conversations," read the official launch statement.
We admire the optimism, and we will be pleasantly surprised if Threads does deliver its "positive, productive" community long-term.
Source: Meta Platforms
Source of Article