Squeezing a usable interior layout into a tiny house is always a challenge, but the Elevate, by Canada's Acorn Tiny Homes, tackles this issue by using an elevating bed, creating a flexible room that doubles as both a light-filled study area and a bedroom.
The Elevate is based on a double-axle trailer and measures 24 ft (7.3 m) in length. Power comes from a standard RV-style hookup. The interior is furnished with Ikea cabinetry and closets, which were chosen instead of custom units to help keep costs down.
To focus on the most interesting part of the tiny house's interior first, much of the Elevate's floorspace is taken up by an open and light-filled study space that has a desk and chair. However, when it's time to hit the sack, the owner pushes a button and a double bed slowly lowers down from its stowed position near the ceiling, turning the space into a bedroom. It works using a pulley system that raises and lowers the bed on all four corners using rails and an electric winch motor that's mounted on the exterior of the house. In a nice touch, some curtains are attached to the pulley system, so as the bed moves, so do the curtains, ensuring privacy at bedtime.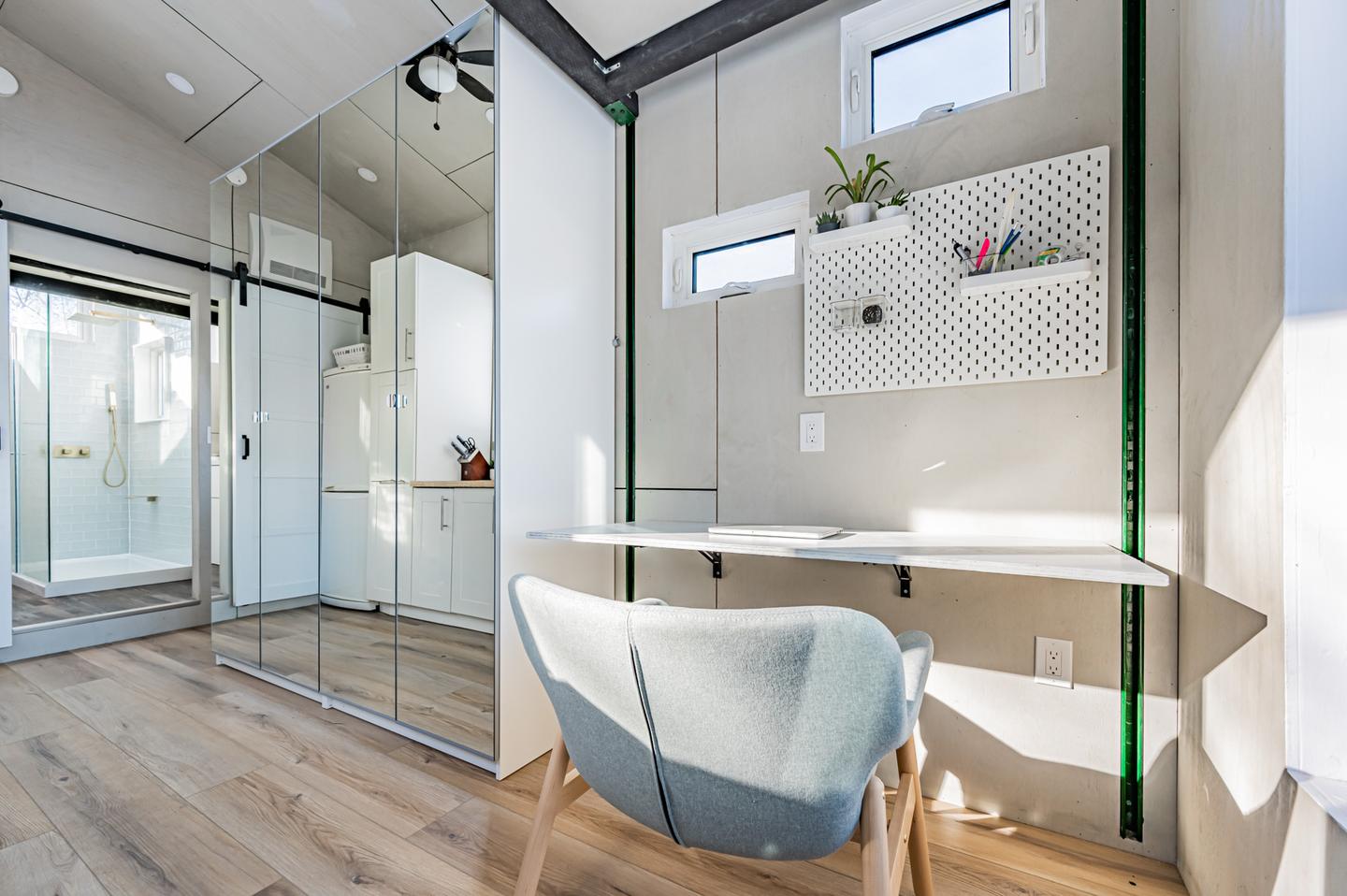 The rest of the tiny house is arranged on the same floor. Near to the study area/bedroom lies the kitchen. This contains a fridge/freezer, electric stovetop, microwave, sink, and cabinetry, plus a large mirrored storage unit. The bathroom, meanwhile, is accessed via a sliding door. This is actually relatively spacious for a tiny house and takes up a full 30% of available floorspace. It contains a shower that's topped by a skylight, as well as a sink and a toilet.
The idea for the Elevate came about when its current occupant had plans to attend law school abroad ruined by COVID-19 travel restrictions. Deciding to study online instead meant a secure and private space at home was required, and though living with parents was an option, the situation wasn't ideal, so the parents decided to fund a tiny house build instead. Once it's no longer needed, it'll be used as a rental property.
Pricing for a similar Elevate model starts at CAD120,000 (roughly US$89,000).
Source: Acorn Tiny Homes
Source of Article