The strongest winds tend to be higher up, but as this 2022 study shows, higher-mounted turbines catching stronger wind doesn't necessarily equate to the lowest cost of energy. Indeed, once you factor in the costs of stronger foundations and taller, sturdier towers, anything above about 120 m (394 ft) tends to result in more expensive electricity – and in a market as price-sensitive as energy, that's bad news.
Somewhere around half the Levelized Cost of Energy (LCoE) in an average commercial wind energy installation comes directly from the cost of the wind turbines themselves, according to the NREL. Of that, nearly half of the money's in the nacelle at the top, and the remainder is split between the rotors, which contribute around 13.7% to the LCoE, and the tower itself, at around 10.3%.
But as towers get bigger, their share of the upfront CAPEX (capital expenditure) increases disproportionately. A 110-m (361-ft) tower might account for 20% of a project's CAPEX, while a 150-m (492-ft) tower becomes 29% of the cost. And that's not to mention the additional logistical issues involved in dealing with massive machinery like this.
Keystone says it's got a tower-making solution that brings the price of large towers down so low that it "make[s] wind energy the lowest cost power source available, not just in the open plains, but throughout the world."
The idea is simple enough; instead of creating a number of cylindrical "cans," trucking them to the turbine site and welding them together to create the final tower structure, Keystone proposes rapidly building small manufacturing facilities on-site, then trucking in coils of steel in bulk, or even flat sheets, which can be welded together to form longer strips. These coils or strips are fed into angled bending machines that bend them into a spiral shape, which is welded together along the join line continuously as the steel is turned. Much of the process is automated, as you can see in the video below.
The result, says Keystone, is full-length towers, or shorter sections if that's logistically easier, churned out 10 times faster than a standard factory can do them, using up to 80% less manpower. There may be savings as well in the foundations used for spiral-welded towers. The factory can be ready to go within about a month, and building on-site means that you can make the kind of large-diameter sections that simply couldn't fit under bridges if you were to make them in a factory and ship them.
This transport restriction, according to Reuters, currently keeps maximum diameter down to 4.3 m (14 ft) – limiting tower height to around 80 m (262 ft). Keystone's technology can scale to produce towers over 7 m (23 ft) in diameter, for towers up to and beyond 180 m (590 ft) high. So onshore wind farms can run taller towers, with longer blades, driving bigger turbines and producing more energy.
Spiral welding is a well-established technology when it comes to making pipelines, so the process of creating and quality-inspecting these long tube sections is already proven. Keystone says it also results in "better fatigue and buckling performance," enabling towers of a given height to be made using less steel. And since the manufacturing plant is essentially mobile, it's easy enough to pop one temporarily next to a dock and shoot out dozens of sections or entire towers for offshore installations.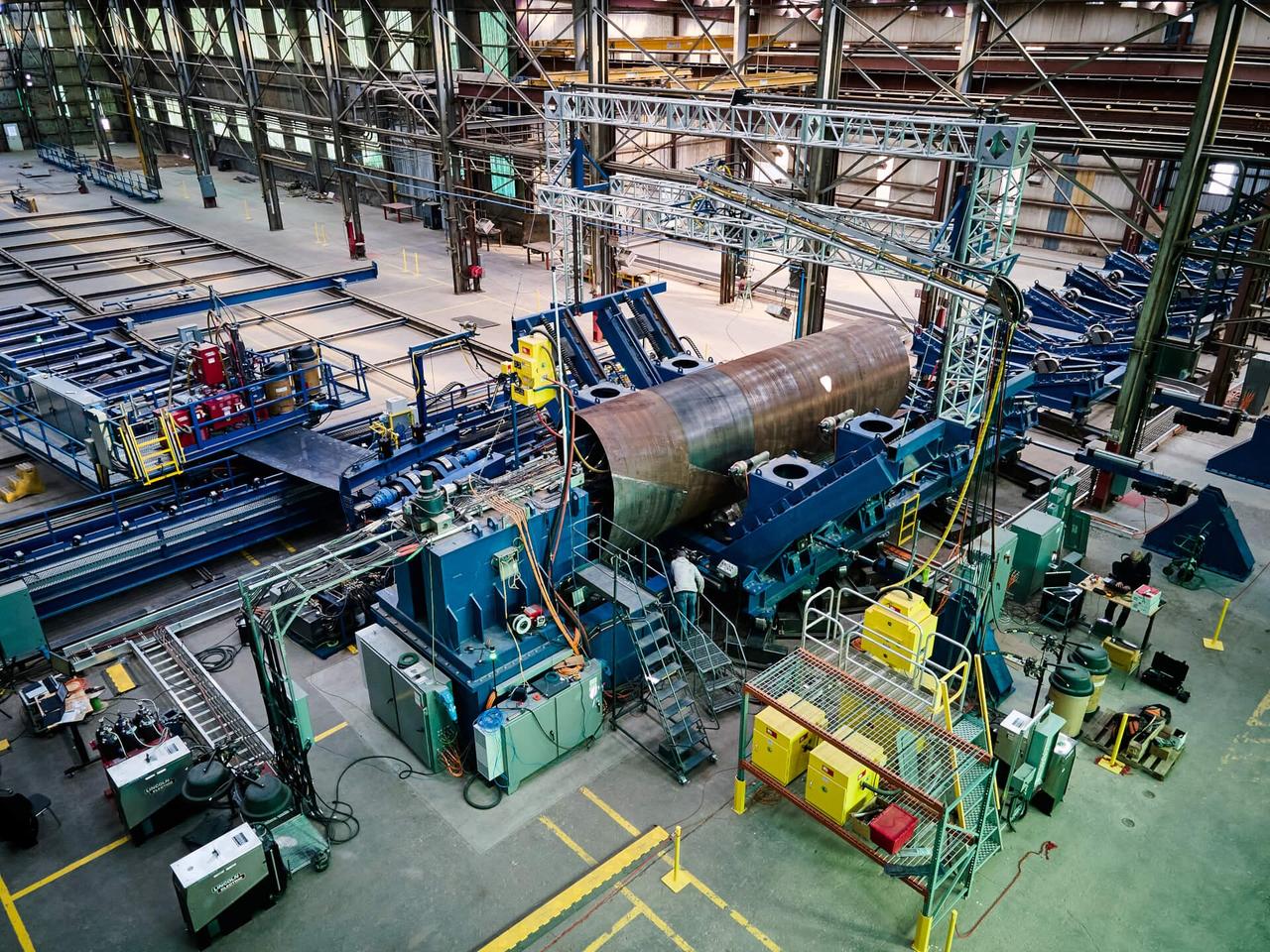 While the mobile factory unit is a key part of Keystone's play, it's also set up its own manufacturing facility in Texas, and from this factory it produced the tower for its first live installation, working with General Electric Renewable Energy.
This first product is an 89-m (292-ft) spiral-welded tower for GE's 2.8-127 turbine. Certified for a 40-year lifetime, the tower is designed to be a simple replacement for GE's standard towers. It'll presumably provide a good commercial-scale case study from which to proceed.
Certainly, Keystone is a small operation at the moment, surviving largely on US government grants. In this kind of manufacturing, you need economies of scale to kick in before you can start promising big savings to customers. But the tower is clearly a significant part of the cost of a finished wind turbine, as well as a restricting factor in the size vs power equation, so Keystone's spiral welding technique could yet become a strong lever with which to move renewable energy costs.
Source: Keystone Tower Systems via Recharge
Source of Article