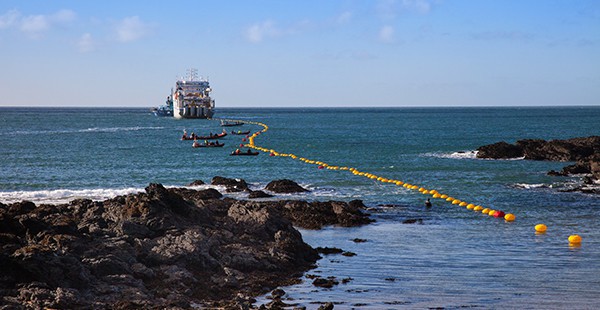 Google and Facebook have teamed up to build the largest-capacity trans-Pacific undersea internet cable to date, between Los Angeles to Hong Kong.
The 12,800 km Pacific Light Cable Network (PLCN) will have an estimated cable capacity of 120 Tbps once completed in 2018 – double the speed of FASTER, which is also backed by Google.
Google said in a blog post that it will use the PLCN's capacity to serve its Google Cloud Platform customers; at these speeds, it would be able to accommodate 80 million simultaneous high-definition video conference calls between the continents, or transport every book ever written in the space of a few seconds.
Why invest in infrastructure?
"Video-heavy data links are precisely what the world's biggest tech companies are preparing for, and why they'll continue to own more of the internet's infrastructure," wrote Joon Ian Wong.
The PLCN, a joint project with Pacific Light Data Communication and TE SubCom, is part of a continued "attempt to boost the speed and reliability of their own internet services," writes James Titcomb. It is the sixth investment in submarine cables for Google and the third for Facebook, which recently announced its investment in the transatlantic MAREA cable, together with Microsoft.
Today, the world's fiber optic undersea network transports over 95% of the transoceanic voice and data traffic. They are expected to carry 132 billion gigabytes per month by 2018, up from 51 billion gigabytes per month in 2013.
According to Gartner analyst David Smith, it makes economic sense for companies to invest in their own infrastructure due to the rapid and growing need for bandwidth, as more people come online and we move towards a cloud-based Internet of Things future.
Efforts to increase connectivity
This continued push for better broadband infrastructure plays a large role in helping the UN achieve Sustainable Development Goal (SDG) 9 (c), which aims to make the Internet universally affordable and accessible in the world's least developed countries.
Both companies have invested in a variety of other infrastructure projects with the aim to increase global connectivity. Facebook launched Project Aquila, a solar-powered internet drone, earlier this year to bring the Internet to remote locations. Google, meanwhile, has been experimenting with balloons to deliver broadband connectivity through Project Loon.
Source of Article