Be it a reluctance in enacting enabling policies or disparities in the implementation of available ones, Nigerian telecommunications companies (telcos) and Internet service providers (ISPs) have weathered the storm of several regulatory hurdles.
In terms of laxity, one can easily point to the Critical National Infrastructure Bill — meant to protect telecom infrastructure from vandalism — which was never implemented before the expiration of Nigeria's 8th National Assembly.
In 2013, Nigeria's National Executive Council (NEC) made a resolution to make Right of Way (RoW) charges to a uniform price of ₦145 per metre ($0.9 in 2013, and $0.37 with today's exchange rate). But state governments have been disparate in their implementation of the charges, with most charging between ₦300 ($0.83) and ₦500 ($1.38).
Despite pleas from telcos, ISPs, and Nigeria's communications minister for the states to comply with the 2013 resolution, about 14 of them — Lagos, Kano, Anambra, Ondo, Cross River, Kogi, Osun, Kaduna, Enugu, Adamawa, Ebonyi, Imo, Gombe, and Kebbi — hiked the charges to between ₦3,000 ($8.27) and ₦6,000 ($16.54).
Advertisement
Last week, Ekiti became the first to announce a reduction in RoW charges with a slash from ₦4,500 to ₦145. Since then, three states — Katsina, Imo, and Plateau — have pegged RoW charges at the uniform price of ₦145, Kaduna completely waived charges altogether.
The implication according to Nigerian telcos and ISPs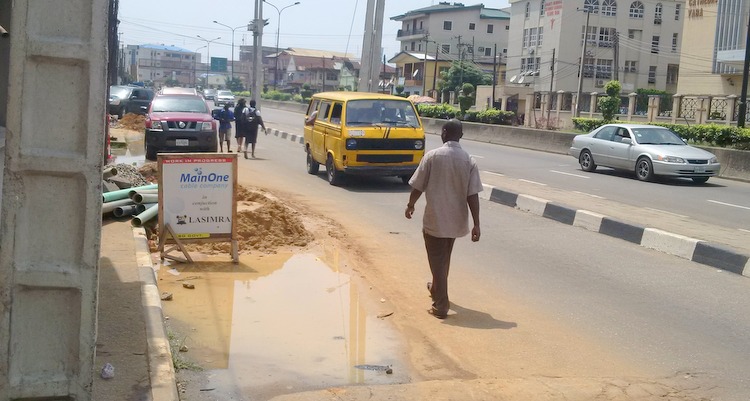 As we find in our discussions, the move has been met with great excitement by various telcos and ISPs in Nigeria as some of their representatives indicated that this will have pervasive effects for the states and the country at large.
Gbolahan Awonuga, Secretary of the Association of Licensed Telecommunications Operators of Nigeria (ALTON) maintains a similar view, stating that these governors are now realising the long-term benefits instead of the "kobo kobo" change they will get in the short term.
"About 70% of the cost of deploying infrastructure in various states is spent on RoW charges. What is used to deploy a single infrastructure in Nigeria, can be used to develop two or more in Ghana," Awonuga claims.
He further explains that the high cost of deploying fibre compelled the use of microwave technology — a line-of-sight technology that uses high-frequency beams of radio waves for wireless communications.
"This technology is relatively expensive and could become unstable with the weather, much like your cable TVs, but fibre could bring seamless, point-to-point network connections that are cheaper for network operators and will make calls and data tariffs cheaper for their users."
In a statement, the Association of Telecommunications Companies of Nigeria (ATCON), an umbrella body featuring the likes of MainOne, IHS, Airtel, MTN, Spectranet, etc, insists that these states are finally coming to terms with the fact that their socio-economic development will be influenced by broadband and ICT infrastructure development.
According to ATCON, the new directives will, through a multiplier effect, attract several developments to their respective public and private sectors. A scenario that will increase employment and reduce rural-urban migration.
"The new prices will ease the process of deploying broadband infrastructure and the people of these states can now leverage on uninterrupted telecommunications services which they have not been enjoying before now," says ATCON.
For Awonuga, the bigger picture is that when more states harmonise RoW charges, the benchmarks for the National Broadband Plan such as 70% broadband penetration by 2025, can be realistically achieved.
In the meantime, Ajibola Olude, Executive Secretary for ATCON states that with the new RoW charges, telcos might start implementing pricing for their call and data tariffs on a state-by-state basis.
For instance, at ₦5,000 ($12.82), 18 km of fibre (the length of Lagos' coastline) will cost ₦90 million ($230.7 million) in RoW charges, but at ₦145, it will only cost ₦2.6 million ($6,667). For the former amount, a fibre cable could be laid along Lagos' coastline 34 times.
"As a result of these disparities, telcos and ISPs will likely beat down costs of calls and data in states where they spend ₦145 per metre, compared to states that charge ₦5,000," Olude says.
However, according to Awonuga, though tariffs might become cheaper than they currently are, the activities of vandals might render any new installation of telecom infrastructure useless. This can only be mitigated if vandalism is criminalised.
Among the key metrics to help achieve Nigeria's National Broadband Plan is the harmonisation of RoW charges and the declaration of telecom infrastructure as critical national infrastructure. The directives of the past week have set the ball rolling, and a few more will benefit telcos, ISPs and Nigerian citizens at large.
---
Nigerian startups raised $55.4m in Q1 2020; over 99% of which came from foreign sources. Find out more when you download the full report.
---
Subscribe to the Techpoint Africa Newsletter for weekly updates
---

Comments
Source of Article