Tasmanian builder of high-speed catamaran ferries Incat has announced that it's aiming to deliver the world's largest battery electric passenger ferry to Argentina-based operator Buquebus by 2025.
Plans for the ninth Incat vessel to join the Buquebus fleet were originally revealed back in 2019, with the 130-m-long (426.5-ft), 32-m-wide (105-ft) ferry intended to serve ports on the Rio Plato between Argentina and Uruguay.
That original design called for two aluminum hulls connected to a bridging section, a passenger capacity of 2,100 (including crew) and enough room for 226 cars. It's four dual-fuel engines would burn LNG and its top speed was expected to be around 37.5 knots. But now Buquebus has asked for Incat to look into replacing the LNG powerplant with batteries and electric motors.
"The customer wants this to happen, Incat wants this to happen, and whilst there are matters to be finalized, I am extremely confident that Incat can deliver this ground-breaking ship," said Incat Group founder and chairman, Robert Clifford. "In my experience unless we see something come in from left field, this is a done deal."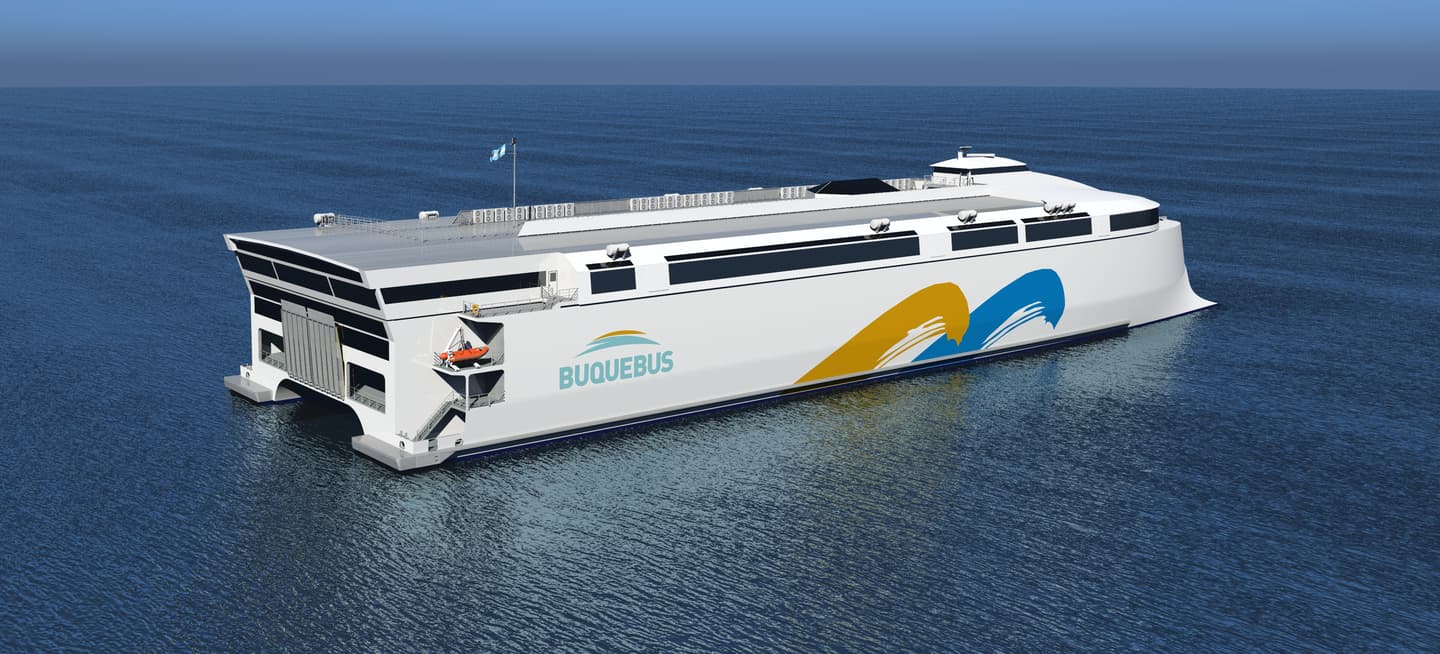 Few details have been released at this stage of development, but the Hull 096 vessel is shown as "in construction" on Incat's website, and Riviera Maritime Media reports that the vessel has a target top speed of 25 knots.
The new ferry will include multi-fuel generators as an interim measure until shore-based charging solutions are in place, at which time the fuel container/generator modules will be removed and the vessel will operate as electric only. Retractable charging cables will be installed port and starboard, which are expected to support 30-to-40-minute fast charging as well as overnight top-ups.
The battery banks and motors are reported to be in development with Incat's suppliers, and if all goes to plan Buquebus can expect delivery of "the world's largest, zero emissions, lightweight ferry" some time in 2025.
Source: Incat
Source of Article