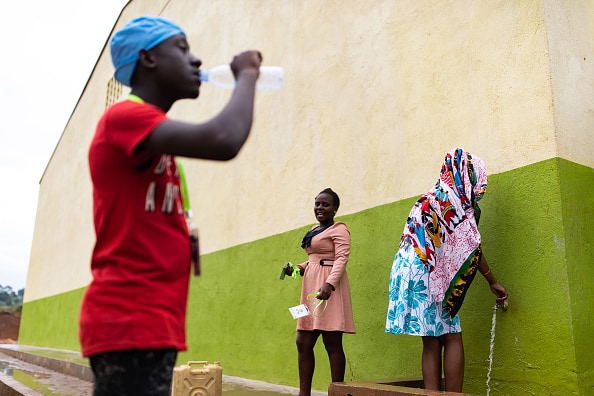 If clean water came out of your tap when you turned it on this morning, consider yourself fortunate. Some 40 per cent of the world's people face water scarcity.
And the problem is getting worse. It is projected that one in four people will encounter and go through recurring water shortages by 2050.
Achieving United Nations Sustainable Development Goal (SDG) 6 – "ensure availability and sustainable management of water and sanitation for all" – requires radical investment in adequate infrastructure as well as protecting and restoring water-related ecosystems.
But there is some hope.
Thanks to a water monitoring system developed by ITU Innovation Competition winner Denis Ogwang, Uganda is on its way to achieving SDG 6.
Uganda's water crisis
In Uganda, millions of people lack access to safe water. Water-borne diseases such as diarrhea, typhoid and cholera are common throughout the country, adversely affecting children under the age of 5.
Clean water pumps are commonly distributed throughout the country to provide rural and remote communities – which make up more than 80 percent of the population – with access to safe water. But they often break down and are difficult to fix without the right equipment, leaving many in a state of disrepair for several weeks or months.
After watching his friends suffer from preventable water-borne diseases while growing up in rural Uganda, Denis Ogwang decided to do something about it.
His idea? "To make sure that the community always has access to clean and safe water and in the event that there is a breakdown in the water supply system, all the development partners and stakeholders can be informed in real time," said Denis Ogwang, a 2019 ITU Young ICT Leader Forum participant, and the Founder and Technical Lead of WaterKit.
How does it work? Community-generated data for clean water resources
The WaterKit mobile app gathers real-time, community-generated data, recording and monitoring the daily functioning, hygiene and reliability of local water resources such as water pumps and boreholes.
Volunteers from the community are trained to use the mobile application and perform a simple water quality test and monitoring of the water points. "It was easy for our agents to actually start using this application right away," Ogwang said.
This information is then uploaded to WaterKit's cloud-based storage platform to help governments and humanitarian organizations make real-time policy decisions for better planning and action.
"We have this constant and near real-time data that tells us about the quality of this water coming from this water source and how effective is the management of this water source," Ogwang said. "The results have been good. At the numbers that we are seeing, this could actually create a big change."
WaterKit is currently monitoring 1,227 water points in Northern Uganda. During the COVID-19 pandemic, WaterKit identified 47 broken boreholes and water pumps – 60 per cent were fixed as a direct result of WaterKit's monitoring and reporting system.
Ogwang hopes that the project will quickly expand throughout the country. While current monitoring and reporting is done remotely, Ogwang has developed a patent-pending Internet of Things solution that is powered by solar energy and to remotely monitor the water points.
"Our target is to cover almost all the boreholes and water pumps in Uganda in the next two or three years," he said.
The impact of ITU's Innovation Challenges
Ogwang admits that he is not a naturally business-minded person – but participating in ITU's Innovation Challenges "changed his mindset."
"The ITU experience, the Summit and Forum, was an eye-opening opportunity for me and a very big opportunity for the life of WaterKit," said Ogwang. "From the Forum, the sharing and training that we went through, I was able to think of how I could model WaterKit into what business that can be self-sustainable that can live beyond me and my dream."
---
The ITU Innovation Challenges bring together all stakeholders needed to nurture an inclusive digital world. We call on innovators, entrepreneurs, small- and medium-sized enterprises, policymakers, ecosystem builders and resource partners around the world to put forward their innovation, or idea for innovation.
Visit this page for more information about the 2020 ITU Innovation Challenges.
Photo by Luke Dray via Getty Images.
Source of Article