Finding itself with a steady supply of offcuts, Lithuanian kitchen maker Konga hit upon a clever idea: why not incorporate the surplus material into its own line of prefabricated tiny houses? The result is an attractive non-towable dwelling that can either run on or off-the-grid and has a relatively low starting price of roughly US$59,000.
It's important to note that Konga isn't suggesting the dwelling's entire structure is made from offcuts, but rather used, logically enough, in the construction of the tiny house's kitchen.
The cabin's overall design comes from Danish architect Mette Fredskild, and it's finished in charred wood, which is meant to protect the wood from insects and preserve it, while lending it a distinctive appearance. It features generous glazing, much of which is operable. According to Konga, it's also well insulated and will handle cold weather and snow loads.
The interior looks to be finished to a high standard and measures 28 sq m (301 sq ft), all on one floor, most of which is taken up by a shared open-plan living space. The walls are clad in wooden oak veneer panels, with oak flooring, and appears to be filled with natural light thanks to all that glazing.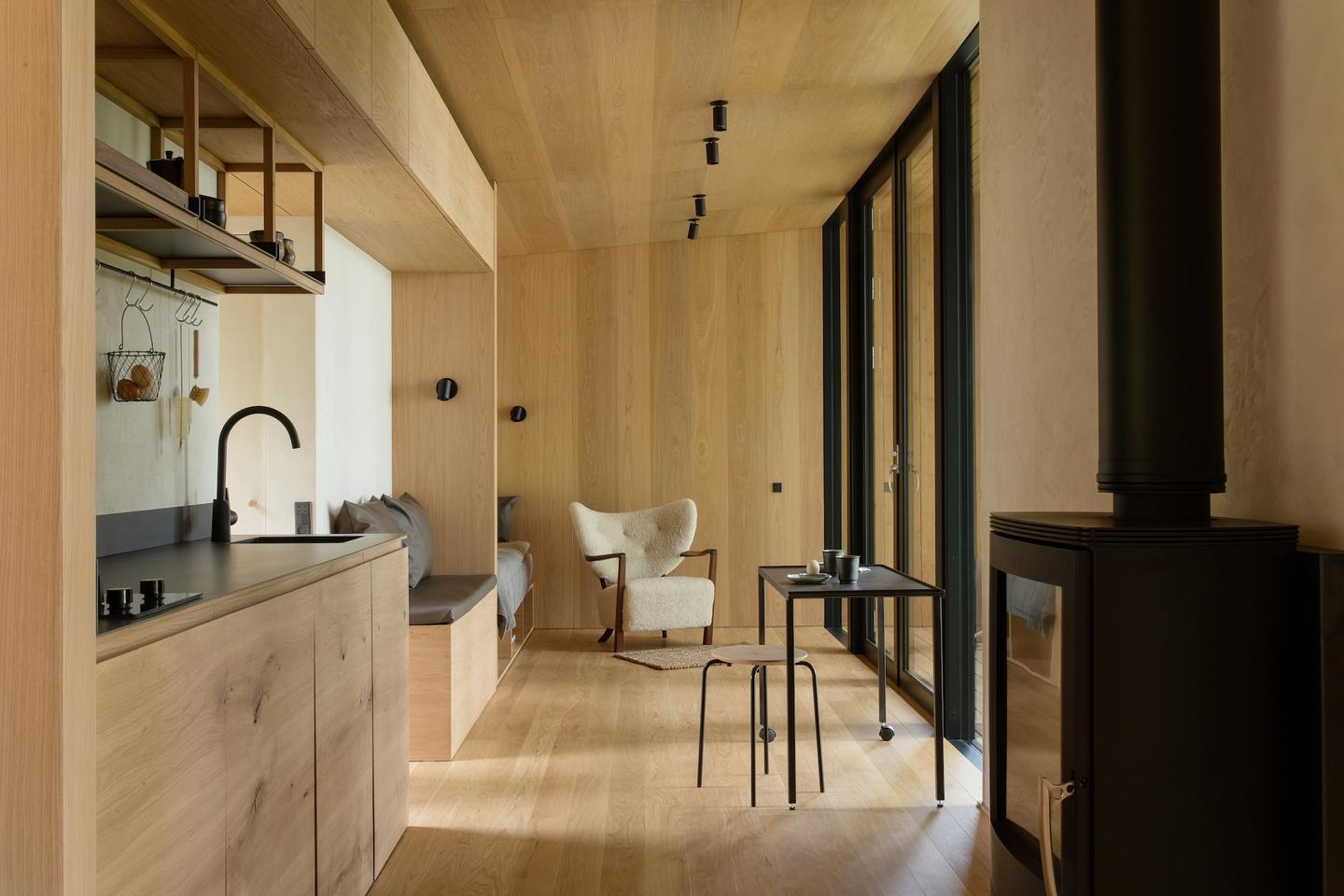 As you'd expect, the kitchen is feature-packed, and boasts a fridge, propane-powered gas stove, sink, and lots of cabinetry and shelving. Nearby is a living room area with a sofa, plus there's a wood-burning stove for warmth and a small dining table. There are two bedrooms, which are located at each side of the kitchen. One of the bedrooms can optionally be turned into a home office and sliding doors can also be added to them for privacy, but it's all open as standard.
The toilet and bathroom with shower are located in separate rooms, and there's also a small utility room and a few storage nooks tucked away throughout the tiny house.
Despite having "off-grid" in its name, the cabin actually runs from a RV-style grid hookup as standard but buyers can choose to cut the cord with an optional rooftop solar panel setup and rainwater collection system. A hot water system can be connected to the wood-burning stove too. Interestingly, instead of the ubiquitous composting toilet, it has a freezing toilet. We've never actually seen one of these used in a tiny house before, but essentially it freezes waste, ensuring it remains odorless.
Though pricing starts at around $59,000, the off-grid gear increases the cost to approximately $73,000. As of writing, it's only available in Europe but Konga is working with US architects to ensure it meets local regulations and standards. The firm expects its first unit to be sold in the US in May.
Source: Konga
Source of Article