Tyler Cross
Published on: February 14, 2023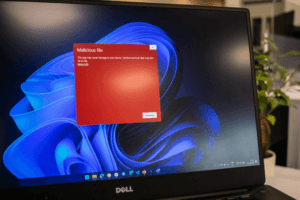 Malwarebytes has announced a new feature called Application Block, which is a module for Nebula and OneView for MSPs. Nebula and OneView give you full control over what applications can run on your network.
While online hackers target businesses with phishing scams and malware attacks, one of the easiest ways they can gain access to a company's data is through embedding malicious code in legitimate-looking websites.
Hackers can also exploit known security vulnerabilities on your network that haven't been patched. Most often, these virus-ridden apps are downloaded by employees who are unaware of what they're installing onto their work network. An employee might download a file or application and inadvertently open a backdoor for any threat actors to gain access to their system.
Malwarebytes is seeking to address this issue with Application Block, which essentially lets you create and control a blocklist for websites or applications that you don't want running on your network.
Dealing with online threats isn't the only benefit being offered, either. The popular antivirus program is able to blocklist certain apps, allowing users to filter out applications they don't want running in the workplace (like a video game service).
Malwarebytes announced the following features would be included in Application Block:
Log and monitor blocked application activity on endpoints. This is done from the Software management tab.
Block device access to specified software applications, though this does not include cloud applications.
Block list rules are created and applied to policies across the console or sites. You'll also be able to customize rules for individual apps or programs. For example, you can prevent the use of a VPN or stop employees from torrenting.
Dashboard and reporting for blocked applications. The Nebula interface provides an intuitive overview of your blocked application and information like a 30-day activity log.
Source of Article