Tyler Cross
Published on: March 3, 2023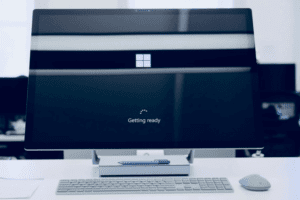 Microsoft is rolling out an update to Windows 11 that promotes Bard, the company's new AI chatbot for Bing.
Bard utilizes OpenAI's artificial intelligence capabilities to help answer questions and optimize the company's search engine in an attempt to gain an edge over its competition.
This feature is only available to users who have access to the new version of Bing, which has only been made available to just over 1 million people so far. While it's only a fraction of the users that ChatGPT is currently seeing, Microsoft plans on rolling it out on a larger scale in time.
"It's a new day in search," Microsoft CEO Satya Nadella said at a recent event. "It's a new paradigm in search."
The addition of the Bing chatbot to the taskbar is part of this new paradigm in search. It will appear as a link next to the Start button on the taskbar for Windows 11 users who have access to it.
While Bing isn't a very popular search engine, adding a link to the updated Bing chatbot on the taskbar could be a significant step forward for Microsoft, as it seeks to compete with Google.
Though a recent survey showed that only about 17% of people who tried it out are planning on making Edge their default browser, that still puts Microsoft in a position to earn a much larger chunk of the search engine market share.
The company generates revenue from ads that appear in search results and stands to gain $2 billion in revenue for every percentage point of market share it can claw out from competitors.
"We're reimagining what I think of as an increasingly AI-powered Windows for the future," Yusuf Mehdi, Microsoft's head of consumer marketing, said during a recent interview with The Verge. "This is a very important feature, today the search box is used by over half a billion people on a regular basis."
Source of Article