Dub Arquitectura was commissioned to design a retreat for a visual artist who loves to paint in a picturesque rural spot in Argentina's Buenos Aires province. Recognizing that natural light is extremely important to an artist, the firm designed the project around this need and produced an unusual cabin that's topped by a novel translucent fabric roof.
Bringing to mind the somewhat similar Das Glashaus, Atelier-A measures 30 sq m (roughly 322 sq ft), which is actually taken up by two separate single-story cabin sections, both of which are clad in reclaimed wood sourced from a neighboring vivarium.
The main cabin's interior serves as the space for creating art and it includes some tables, storage areas, a sink, and a relaxation area. The retreat can be opened up to the outdoors with operable mirrored glazing and there's also a deck area for painting outside when the weather suits. The smaller cabin section next to it hosts a bathroom, as well as a storage room.
The roof itself is supported by a steel framework and made up of some kind of tensioned UV-protected fabric, which Dub Arquitectura told us was carefully arranged to ensure that water will drain properly, resulting in its undulating form. Judging from the photos at least, the translucent material helps to fill the interior with pleasantly filtered daylight.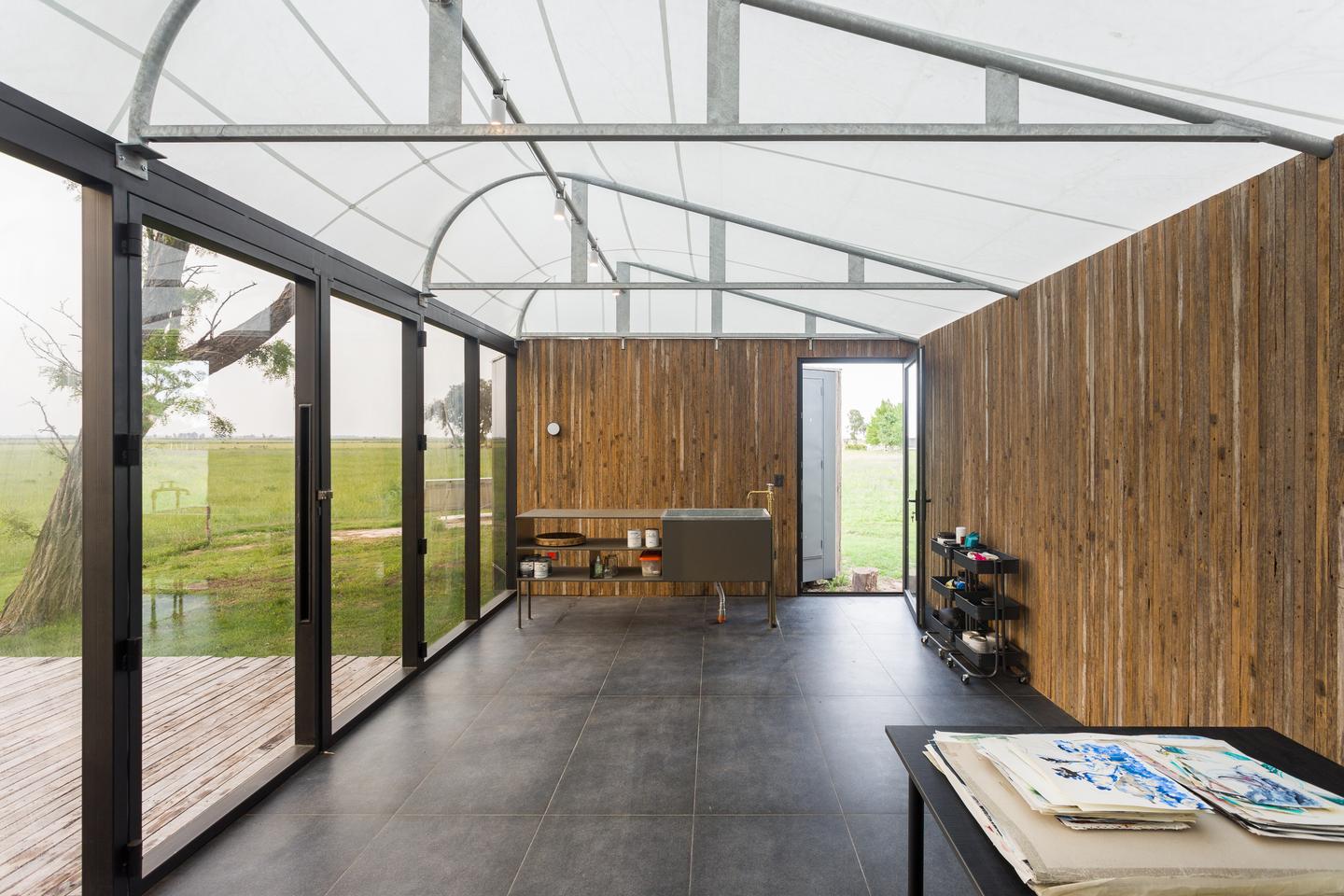 "The building is set in a large rural area near the town of 25 de Mayo, surrounded by crops and polo horses," explained Dub Arquitectura. "The landscape is widely perceived from the interior: not only by the beautiful views granted by the wide, glazed facade, but also by the movement of leaves, wind and birds that show on the roof. Overhead, sieved, natural lighting is a constant, allowing creativity to flow in the space as the day passes. In the evening, the roof lights up and acts as a lantern and a guide for anyone approaching the building or the farm."
Despite its fabric roof, Dub Arquitectura says that the cabin is well insulated and requires very little energy to heat and cool and that it runs fully off-the-grid. We've no word on where water is sourced from but power comes from a nearby solar panel array that's installed on the ground.
Source: Dub Arquitectura
Source of Article