The Bjarke Ingels Group (BIG) is on fine form when it comes to skyscraper design and, following its extraordinary Telus Sky Tower and Vancouver House, the influential firm has now revealed a pair of eye-catching towers slated for Shenzhen, China. The buildings will feature shimmering prismatic forms that are broken up by lush greenery and taper as they rise.
The Qianhai Prisma Towers will be part the Qianhai Bay development, a burgeoning financial and cultural center on Shenzhen's waterfront. The tallest of the two buildings will be a supertall, with a height of 300 m (984 ft), and will host residential space, while the other will rise to 250 m (820 ft) and contain office space.
The residential tower will be made up of three rectangular forms that rise to different heights, creating rooftop gardens. The office tower will have a similar design, but slightly more streamlined. Both buildings will host greenery filled terraces, from the ground level up to the top.
The surrounding landscaping will be significant too and will include a pedestrian bridge that will double as a canopy to provide shade and protection from the rain while connecting to retail areas and the surrounding neighborhood.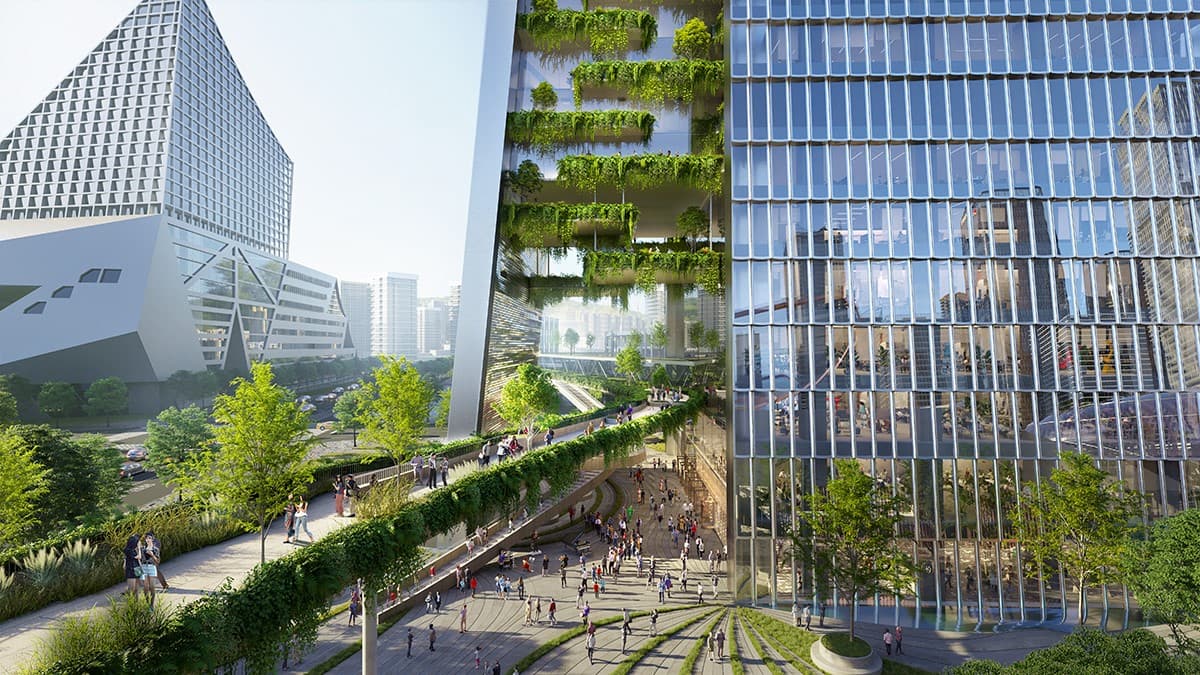 "Both towers are conceived as simple prismatic building envelopes split open to make room for public space on the ground where they stand," explained Bjarke Ingels, founder and creative director at BIG. "The open seams and gaping corners allow the green spaces to ascend from the ground to the sky leaving wedges for outdoor gardens and terraces for the life of the people living and working within. With its timeless simplicity and inviting openness – the architecture of the two towers is firmly rooted in the urban values underpinning Shenzhen – a vertical modern city of 1,000 parks."
The extensive greenery on the skyscrapers' exteriors will be matched with some green design too. Rainwater will be collected and used for irrigation systems. Additionally, solar panels will be integrated into the office tower's exterior. The residential tower's units will also have operable ventilation to help keep the interior a comfortable temperature.
The Qianhai Prisma Towers project was selected following an international architecture competition and is expected to begin construction sometime in 2025. Its actually BIG's second major design for the city and follows the Shenzhen Energy Mansion.
Source: BIG
Source of Article