UNStudio recently completed an extensive renovation of a former bank headquarters in Eindhoven, the Netherlands. The firm has vastly improved the aging building's energy efficiency while rearranging its interior layout to be suitable for use as a modern office.
The building, named Fellenoord 15, could no longer accommodate an expanding workforce due to an outdated interior layout that meant colleagues had to work apart from one another.
Though a new building was considered, on inspection UNStudio realized that the basic structural shell itself was sound and could be retained and improved. According to the firm, carrying out a renovation produced around 40% of the CO2 footprint compared to a totally new build.
The building features an eye-catching metal mesh exterior with generous glazing and measures 32,000 sq m (roughly 340,000 sq ft). Most of this is given over to government offices, though there's also a large light-filled atrium and a canteen. Its floor plans have been totally transformed, maximizing views and daylight, and increasing productivity.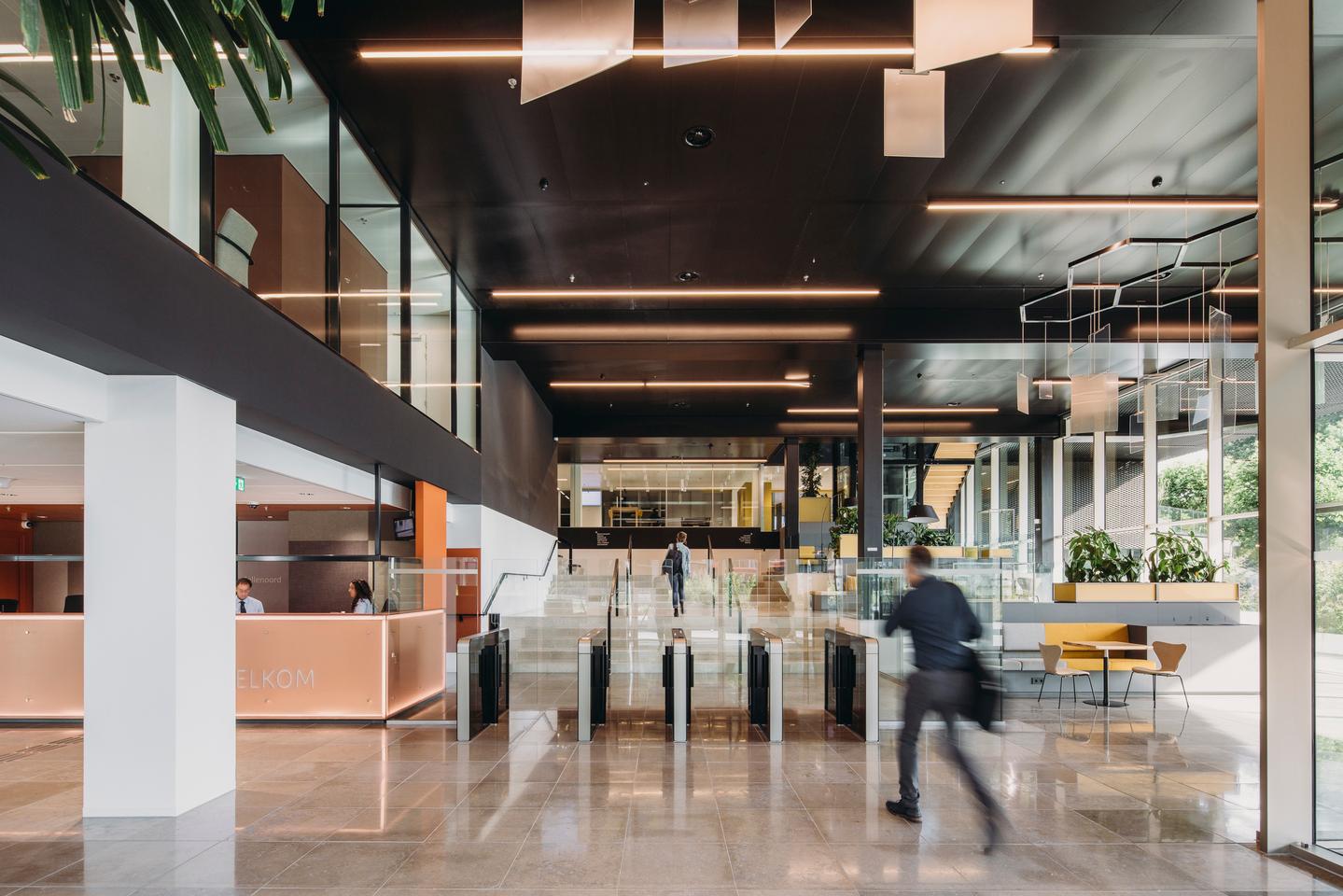 "From a distance, the building has an unassuming appearance that is enhanced by large details such as voids, windows, roof articulation and a clearly recognizable entrance," explained UNStudio. "The new office floors are designed based on the idea of a gradient of activity: the central heart of the interior bustles with activity, while quiet workplaces are located alongside the facades on all floors, creating an ideal workplace for a wide variety of employees' needs."
The building features energy efficient geothermal heating and cooling systems, with a climate ceiling (this passes hot or cold water through pipes to help heat and cool the area like chilled beams) to help it maintain a comfortable temperature.
Roof-based solar panels provide roughly 35% of its electricity needs and a series of sensors are also installed throughout, enabling the monitoring of real-time energy usage. Additionally, Fellenoord 15 features significant landscaping and the choice of plant species, alongside insect hotels, bat boxes and nesting boxes, all help improve local biodiversity.
Fellenoord 15 has received a BREEAM-Excellent green building rating for its energy efficiency.
Source: UNStudio
Source of Article