Renewable energy is taking off at exponential rates, putting global clean power "in line with ambitious net-zero scenarios." A new report suggests fossil fuel demand in the energy sector has already peaked, and "will be in freefall" by 2030.
"The fossil fuel era is over," claims the report, titled X-Change: Electricity – On Track for Net Zero and published by the Rocky Mountain Institute (RMI) – a non-partisan, non-adversarial sustainability research and consulting organization headquartered in Colorado. The report was put together in partnership with the Bezos Earth Fund.
While only about 12% of global electricity generation is sustainable in today's energy landscape, the report forecasts solar and wind alone reaching one-third of global generation capacity as early as 2030. As a result, the current fossil fuel demand of the electricity sector is expected to drop between 16-30% by the end of the decade.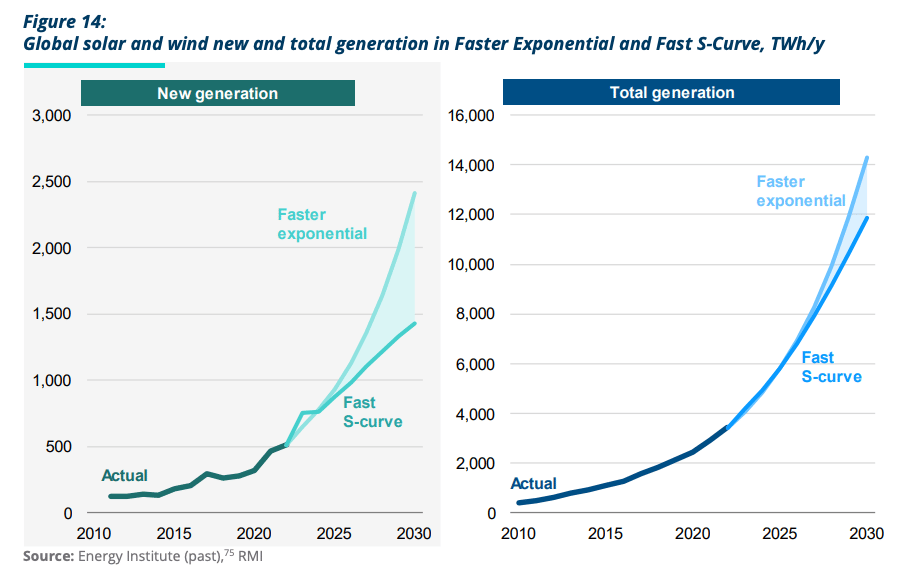 Previous models, claim the report's authors – including those by the International Energy Agency (IEA) – have assumed the shift to renewables would proceed at a linear pace rather than the exponential curves seen in wind and solar over the last 20-odd years. This error has caused these models to overestimate continuing demand for fossil fuels in the sector.
There are many factors causing this rapid and accelerating shift. Governments around the world have rallied around the net zero goal, to the point where by 2022, 90% of the global economy had signed on to a goal of net zero by 2050. Subsidies and targets were powerful drivers to initial growth, and now the focus has shifted to grid regulations, permitting and deployment.
Also, the war in Ukraine has galvanized rapid recent action in Europe, as the continent has quickly come to view its dependence on Russian fossil fuel exports as an enormous security issue.
Improvements in technology – particularly around grid-level large energy storage projects – have quickly provided a range of different solutions for the fact that renewables generate power when it's possible, not when it's needed, and that's quickly redefined what's possible.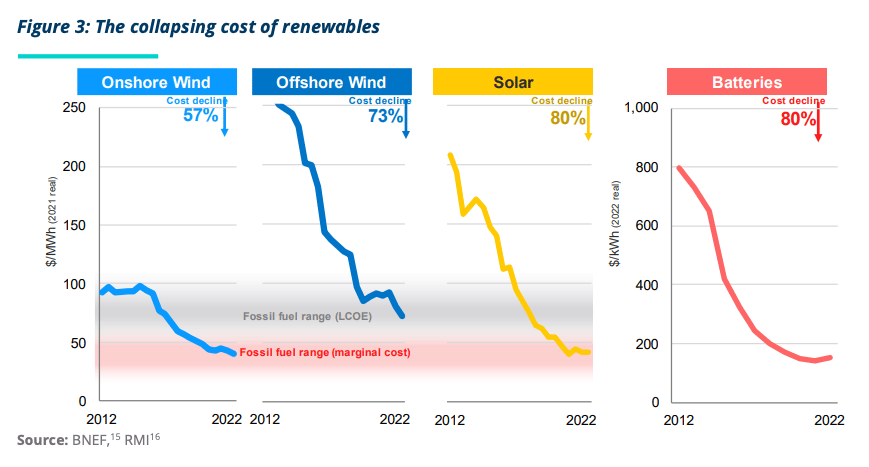 But perhaps most significantly, costs have plummeted to the point where the economics are overwhelming. Solar and onshore wind costs dropped by 80% and 57%, respectively, between 2012-2022. In the first half of 2023, the levelized cost of energy (LCoE) from solar and wind was a little over US$40 per megawatt hour – about half the price of coal or gas-fired energy.
At current prices, renewables are already the cheapest new sources of electricity you can build in 82% of the world – and this figure will continue to rise as renewable energy costs continue to fall. Conservative estimates place the projected 2030 price of solar at $25-28/MWh, but this report suggests those estimates are based on learning rates (cost decline per doubling of cumulative production) considerably lower than what's actually been seen in the market thus far, and it projects prices closer to $15/MWh for solar and $20/MWh for wind.
Interestingly, the report highlight's China's contributions in leading the energy transition – China doesn't have significant domestic oil or gas supplies, say the authors, and as such its government has been able to drive rapid change and innovation without having to appease the powerful fossil fuel lobbies that have slowed progress elsewhere.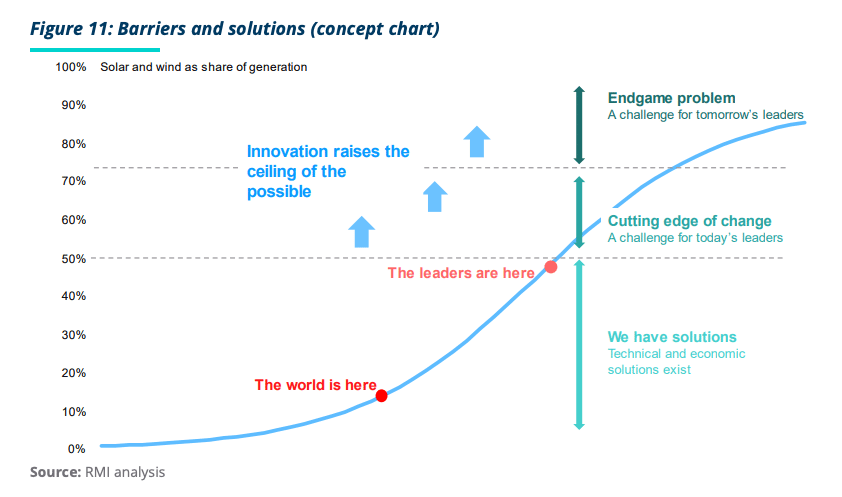 Rich countries won't necessarily lead this transition, either; the report highlights a broad range of countries, from Denmark and the Netherlands to Uruguay, Palestine and Namibia, which have all achieved impressive and sustained renewable energy growth rates that wold be consistent with a global push to limit global warming to 1.5 °C. This is despite the fact that their GDP per capita ranges between $4 and $67,000 per year.
"Exponential growth of clean energy is an unstoppable force that will put more spending power in the pockets of consumers," says Kingsmill Bond, Senior Principal at RMI, in a press release. "The benefit of rapid renewable deployment is greater energy security and independence, plus long-term energy price deflation because this is a manufactured technology – the more you install, the cheaper it gets."
Source: RMI.org
Source of Article