It wasn't too long ago that Ram showed up with a couple of teaser pics when the other big American truck makers were preparing actual production and concept electric pickups. The newly debuted Ram 1500 Revolution BEV concept truck doesn't make up all that lost ground, but it's certainly a step in the right direction, and a very fun showpiece.
The AWD concept boasts mid gate-mounted third-row seating, a fully autonomous slow-roll feature, a transformable interior workstation and 10-minute charging … with or without the accompanying battery-boosting robot. Oh, and Ram will presumably launch a production version before the Ford Lightning makes it to Generation 2.
We know CES is a huge show overflowing with flash, but the 1500 Revolution BEV still feels weighed down with too much conceptual fluff – Ram using smoke and mirrors to conceal the fact it's been entirely behind the eight ball in developing an electric pickup to battle the already launched Ford F-150 Lightning and soon-to-launch Chevy Silverado EV. Some of the concept's features are pretty damn cool and a potential upgrade in the real world but some are just the usual concept fodder – B pillar-less coach doors, an unnecessarily huge touchscreen display, cameras subbing in for all rear-view mirrors, etc.
The lack of major details like range and motor size doesn't help Ram's case, nor does a press release drenched in corporate buzzwords like "leading-edge" and "disruptive." But at least this time Ram has an actual truck to show. And it's quite a rig.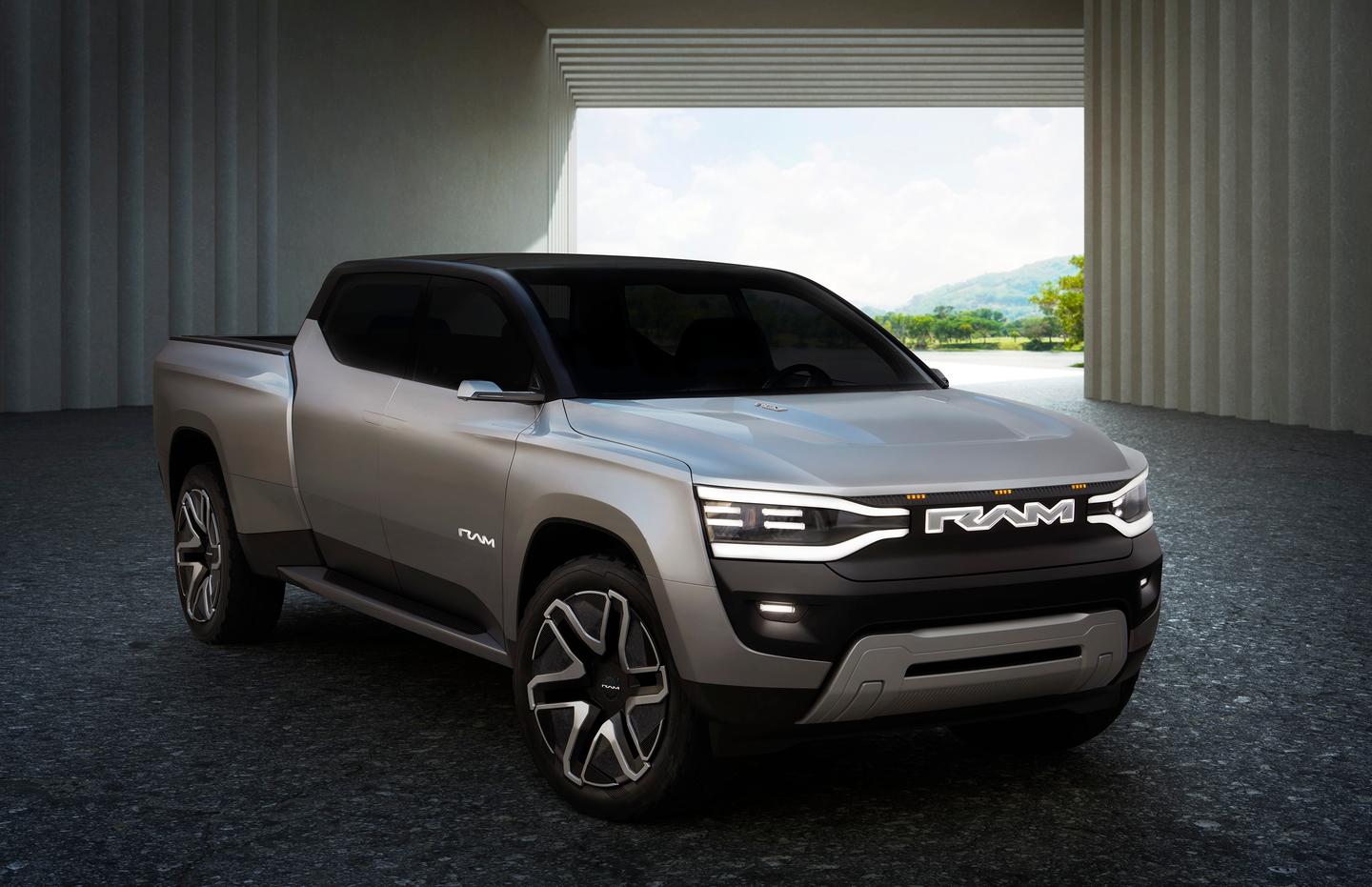 Styling-wise, it's like Ram was trying to split the difference between the strong, traditional look of the F-150 Lightning and the lighter, more rounded sport utility truck styling of the Silverado EV. Thick, level fender lines and a sturdy, squared pickup box are tempered by a more rounded front-end brought to life by a large, illuminated all-caps badge and "tuning fork" LED headlights.
It strikes us as a successful design, save for the overly defined, uneven division between cab and bed, which looks to us like the truck is splitting in two. The visual upward push of the lower body cladding adds to the suboptimal aesthetic of a truck being broken in two.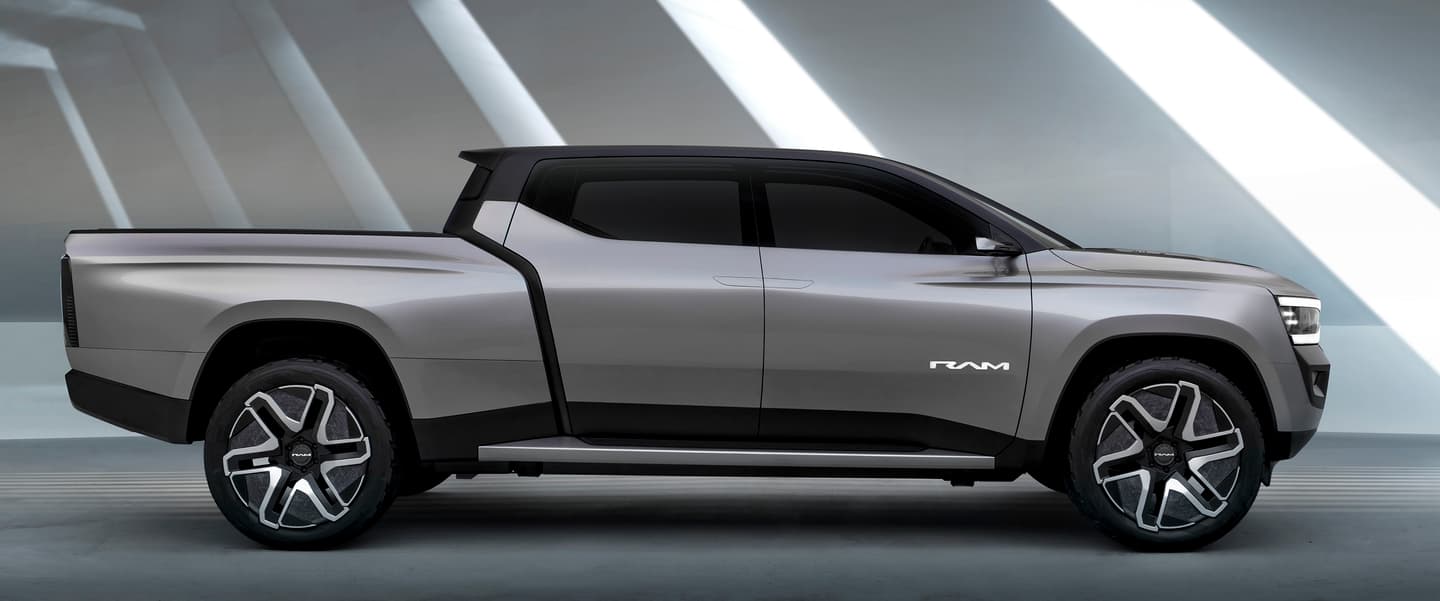 While not particularly pretty, that cab/bed division does highlight one of the 1500 Revolution's defining features. The concept follows the Chevy Silverado EV in utilizing an adjustable mid-gate for full passenger/cargo flexibility. Ram ups the ante with a set of mounted third-row jump seats that add extra passenger capacity and can be removed and used outside, such as for tailgating. When lowered, the power mid-gate also clears a full tailgate-to-frunk path for extra-long cargo measuring up to 18 feet (5.5 m). The multifunctional split tailgate and extendable bed also help accommodate oversize loads, keeping everything contained.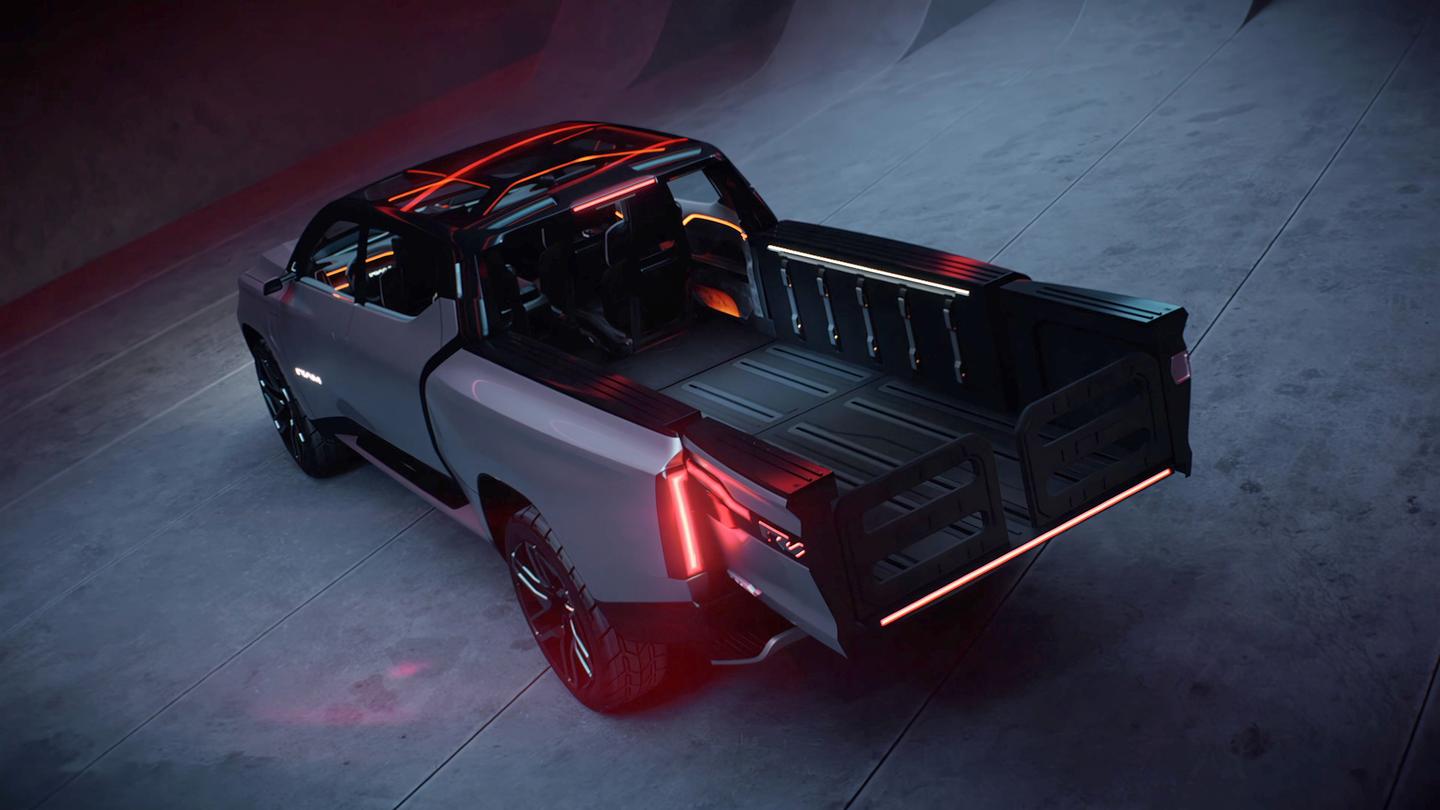 As far as key specs like battery capacity and payload, Ram is satisfied to say the, "Ram 1500 BEV will be the leader in a combination of areas customers care about the most: range, towing, payload and charge time." It previously cited an ambitious 500-mile (805-km) range target, so we'll have to stick with that for now.
The Revolution concept truck is powered by front and rear drive modules for an all-electric AWD layout. All-wheel steering delivers up to 15 degrees of articulation for increased maneuverability and high-speed stability. The adjustable air suspension has self-leveling capabilities and aero, off-road and ingress/egress modes.
Beyond regular point-to-point driving, the 1500 Revolution's powertrain can be tasked with unmanned short-range shadowing, serving as something of a high-tech wagon. The truck is meant to utilize its Level 3+ sensor suite to autonomously follow the driver via voice command, useful for situations in which it's easier to just roll the truck along like a grown-ass-man wagon than it is to get in, power up and drive – picking up supplies a few meters across the job site, for instance.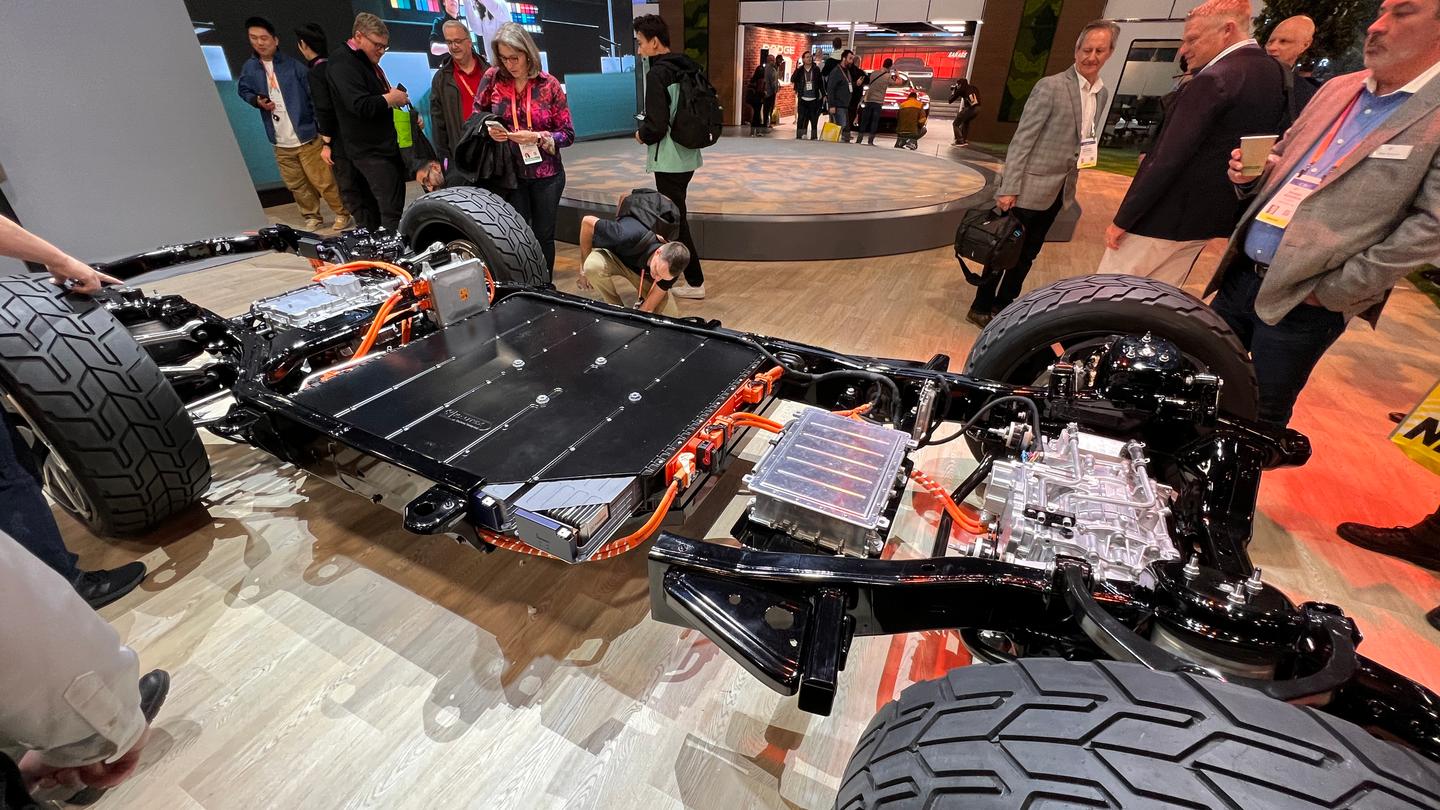 The 1500 Revolution BEV's mystery-capacity battery pack gets integrated into the frame portion of the STLA body-on-frame full-size EV architecture. Ram estimates a 350-kW 800-V fast-charging time of 10 minutes for 100 miles (161 km) worth of power.
Ram has also developed a prototype robotic induction charger to go along with its concept truck. The Ram Charger looks like a hard-plugged autonomous vacuum or mower and automatically detects the truck and its level of charge, sliding below the chassis, lining up and delivering inductive charging when necessary.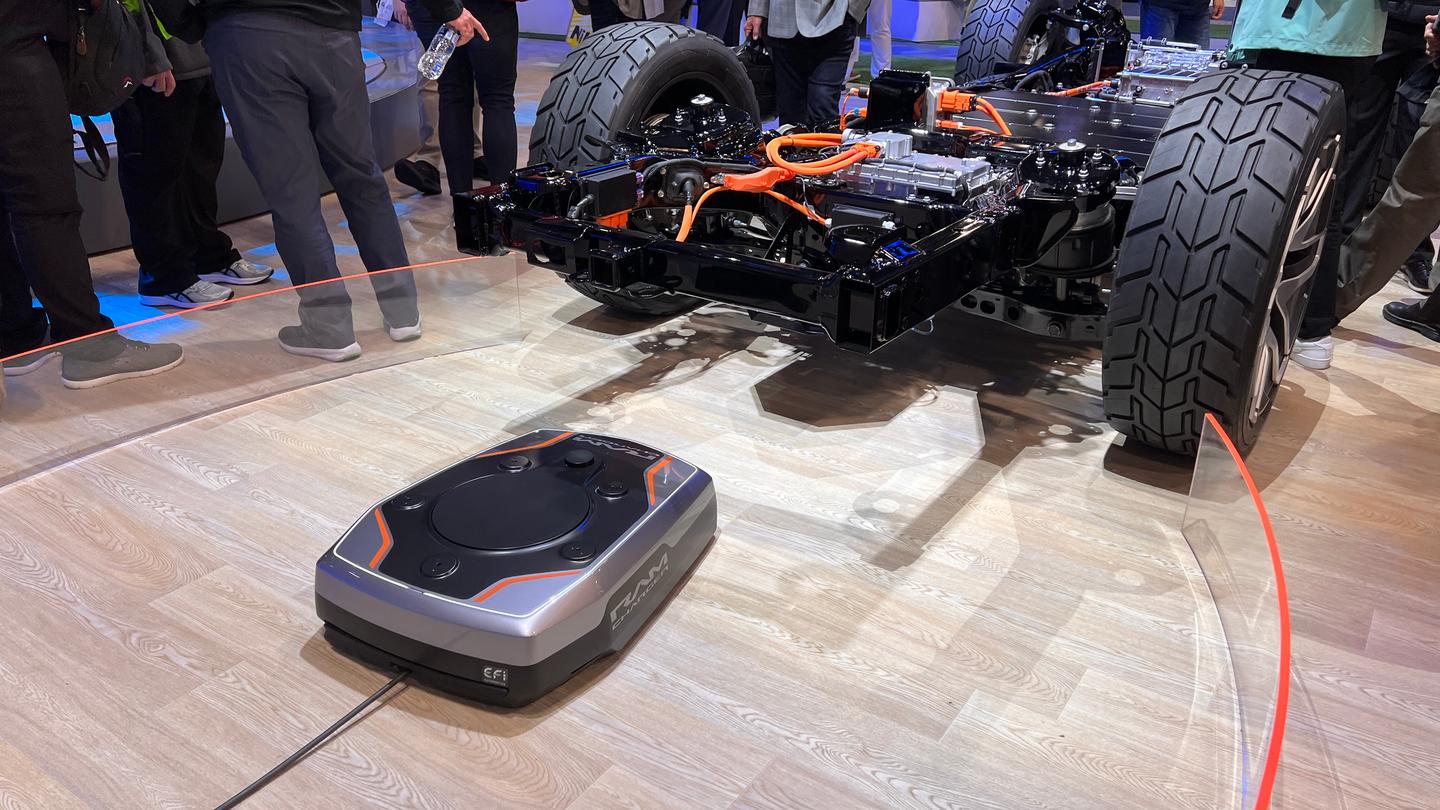 Thanks to the compact electric powertrain and EV-specific architecture, the Revolution crew cab adds an extra 4 inches (10 cm) over the ICE truck while maintaining the same bed size. So the passengers enjoy plenty of legroom and can rearrange things to meet their needs. For instance, the convertible center console flips open into a laptop workstation, adding some versatile work site utility up front to go along with what's in back.
The giant dual infotainment touchscreen measures larger than the TVs some of us grew up watching as kids, offering up to 28 inches of screen space. The removable lower screen can be pulled off and used around or outside the truck, including on the aforementioned work station.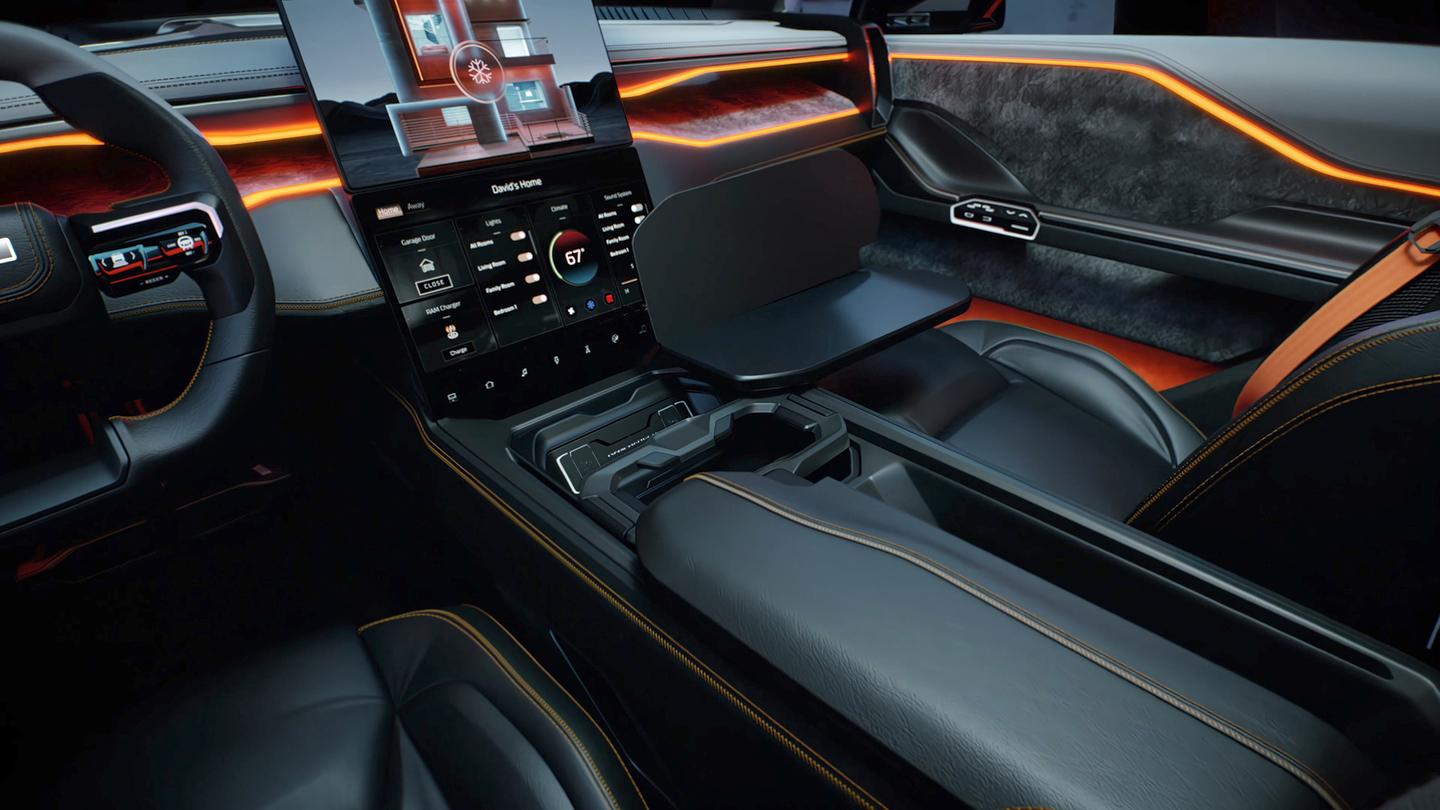 The Revolution concept also comes loaded with the promise of all the latest tech goodies, including an advanced AR head-up display, vehicle personal assistant, smart home connectivity, 360-degree camera system and exterior communicative projection system.
Ram debuted the Revolution at CES 2023 on Thursday and will release more news and details in the coming months. It is currently sticking with its original plan of launching the production model in 2024, at which point each of the American Big Three should be offering electric versions of their top-selling full-size pickups. May the e-pickup wars be long and fruitful!
Learn more about the Revolution concept and its development in the four-minute video below.
Ram Revolution Concept | Reveal
Source: Ram/Stellantis
Source of Article