The spotted lanternfly is a serious invasive pest in some parts of the US, causing considerable damage to crops such as apples, grapes and hops. That's why it's important to destroy the insect's eggs – which is exactly what the TartanPest robot is designed to do.
Created by a team of students at Carnegie Mellon University's Robotics Institute, the device consists of a Ufactory xArm6 robotic arm and a computer vision system mounted on an Amiga electric micro-tractor made by California-based agri-robotics company Farm-ng. TartanPest is in fact the team's entry in Farm-ng's 2023 Farm Robotics Challenge.
As the robot autonomously moves along – conceivably traveling up and down rows of trees or vines in orchards – it uses its computer vision system to look for spotted lanternfly egg masses. That system utilizes a deep learning algorithm which was trained on a database of 700 photos of the masses, which are typically deposited on trees, rocks and other surfaces.
When an egg mass is detected, the robot uses a rotating brush on the end of its arm to dislodge and destroy it. Each mass contains approximately 30 to 50 eggs, which are laid in the fall and hatch the following spring.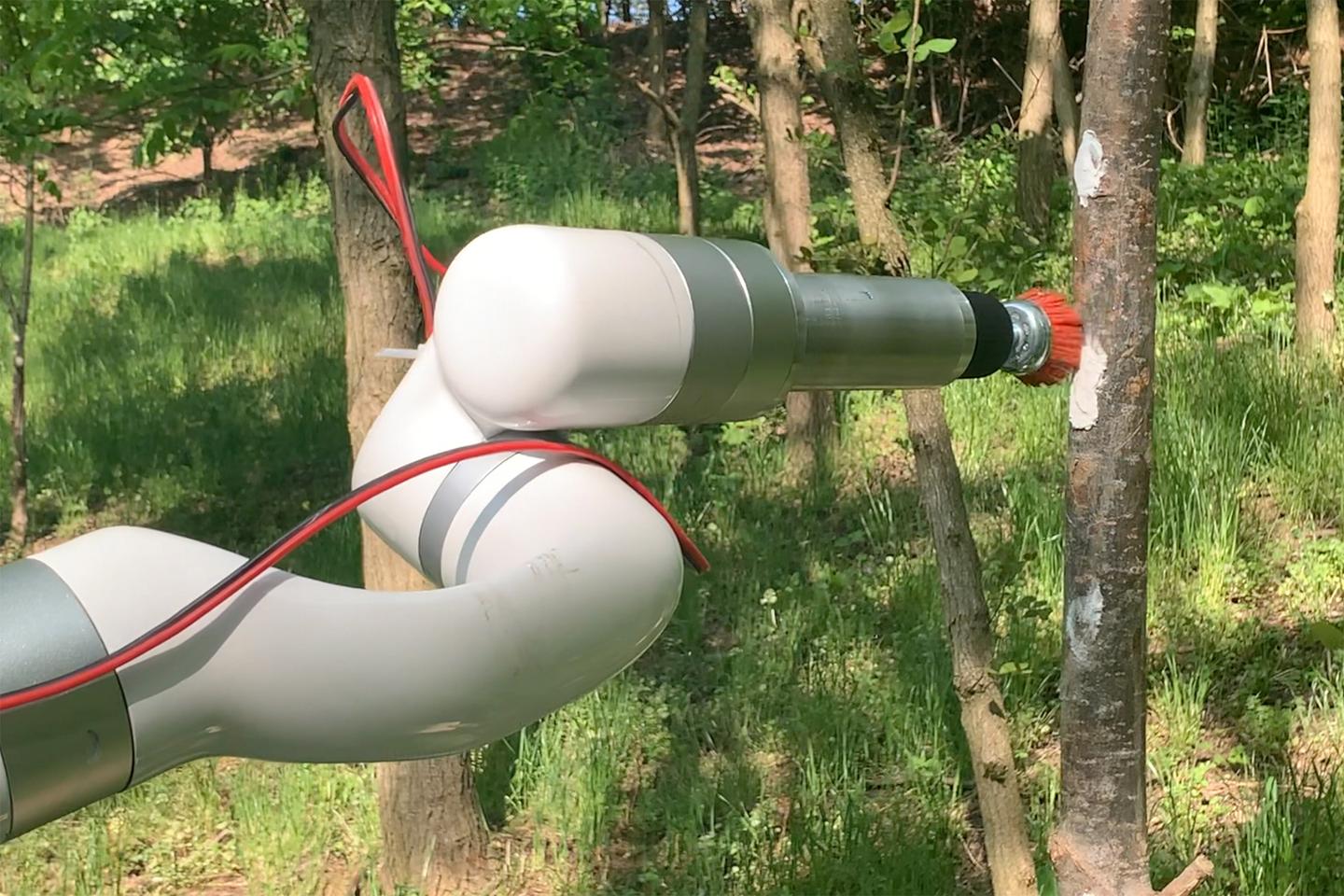 "Currently, spotted lanternflies are concentrated in the eastern portion of the nation, but they are predicted to spread to the whole country," said TartanPest team member Carolyn Alex. "By investing in this issue now, we will be saving higher costs in the future."
Other members of the team, which was advised by agricultural robotics scientist Francisco Yandun, include Simi Asher, Dominic Guri, Cole Herber, RuiJi Liu, Shrijit Singh and Srinivasan Vijayarangan.
The base four-wheel-drive Amiga tractor weighs 320 lb (145 kg), can carry a maximum payload of 1,000 lb (454 kg), has a top speed of about 6 mph (9 km/h) and a battery life of three to eight hours of runtime per charge, depending on usage.
You can see the robot made with it in egg-smashing action, in the video below.
TartanPest : Robotic Solution to Help Seek and Remove Spotted Lanternfly Eggs : Farm-ng Competition
Source: Carnegie Mellon University
Source of Article