Since the ID. Buzz's debut as a concept so many years ago, the most anticipated part of the new electric Microbus – at least for North Americans – has been its return to the continent from which new Volkswagen vans and camper vans disappeared 20 years ago. Americans waited patiently while the adorably retro electric van launched in Europe, but now it's their time. The all-new long-wheelbase ID. Buzz brings three rows of seating, all-wheel drive and the latest in VW tech, promising to become the most stylish, enviable and clean-riding minivan (and camper van) on US and Canadian roadways.
"In the USA, Canada, and Europe, the VW bus has embodied a unique attitude on life for decades," VW Commercial Vehicles board of management member Lars Krause said during Friday's world premiere. "The picture of the legendary T1 Lightbus in Woodstock is unforgettable. The DNA of this symbol of freedom lives on in our ID. Buzz. It is of utmost importance to us that we can now offer the people of North America a modern, all-electric new edition with the ID. Buzz in an iconic design."
About time.
Like that original T1 bus of free-lovin' hippie fame, the ID. Buzz LWB comes with a rear engine as standard. This time, it's Volkswagen's new 282-hp APP550 permanent magnet synchronous (PMS) electric motor, which brings a significant boost over the European two-row van's 201-hp e-motor. The APP550 churns out up to 406 lb-ft of torque and offers an electronically limited 99-mph (160-km/h) top speed.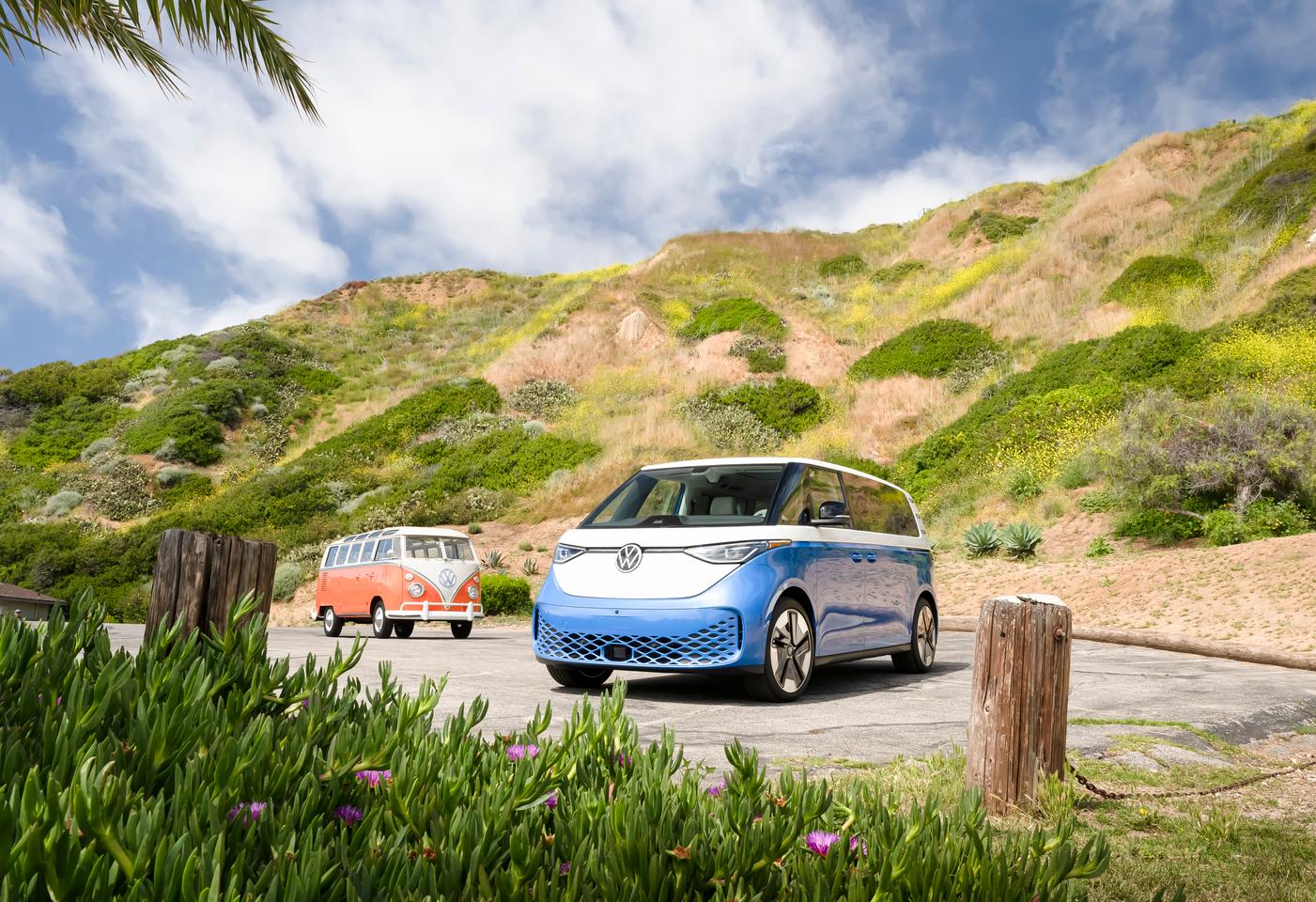 Better still, Volkswagen will offer a dual-motor all-wheel-drive from launch with an estimated 330-hp output. The battery capacity for either powertrain increases to 91 kWh, from the 82-kWh pack on the shorter two-row Buzz, but Volkswagen doesn't yet commit to range or charging time estimates.
By now everyone's familiar with the basics of the ID. Buzz's retro-influenced styling, which we looked at more closely when the two-row model debuted, so we'll just jump into the new details. The LWB will be the ID. Buzz in North America but will launch alongside the standard-wheelbase model in Europe. It measures 192.4 in (489 cm) in total length, nearly 10 inches (25 cm) longer than the standard-wheelbase model currently roaming around Europe as a passenger van, cargo van and camper.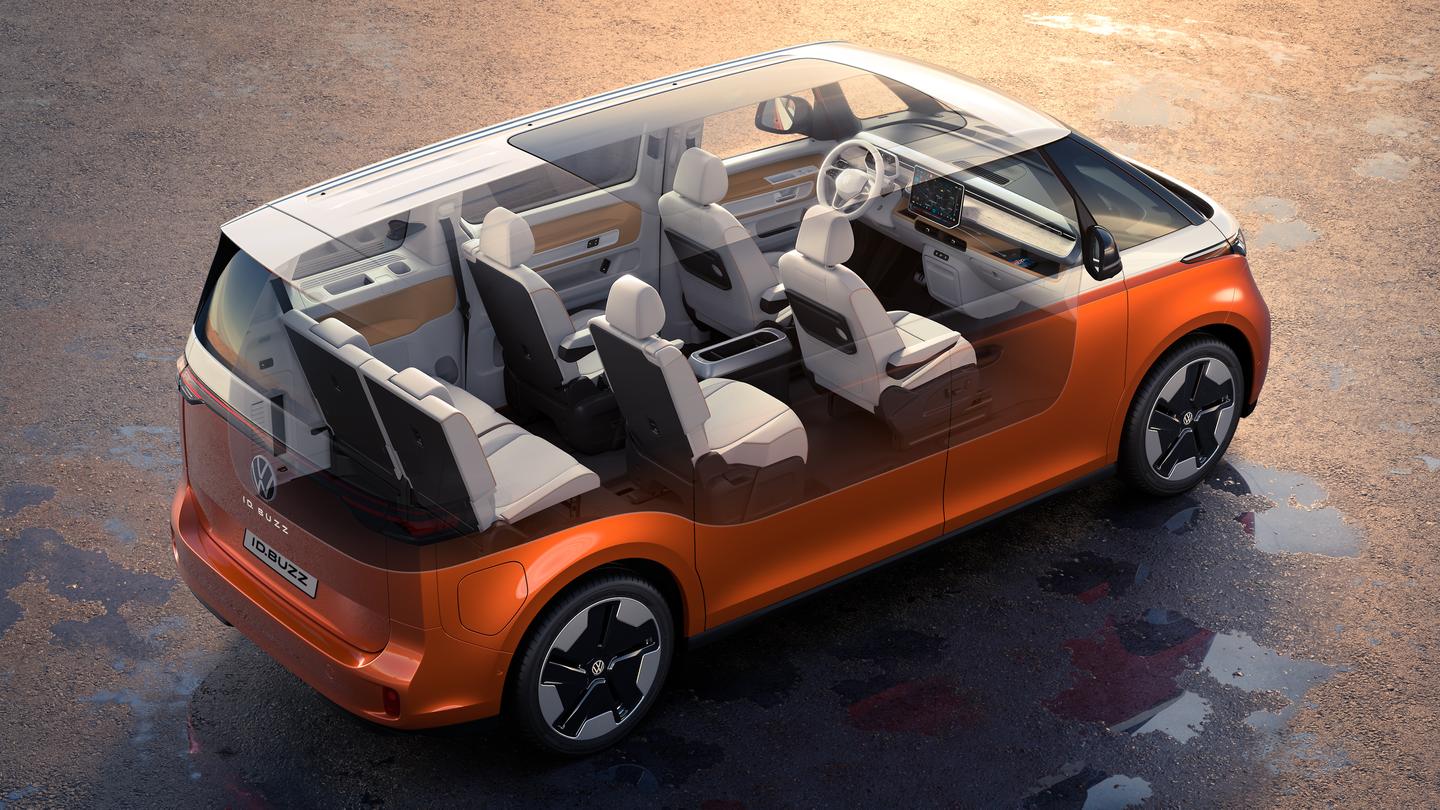 All of the ID. Buzz LWB's extra length comes packaged within the extended 127.5-in (324-cm) wheelbase, and the stretched body makes space for three standard rows with seven total seats. Those rows are split into two front seats, a 60:40 split-folding three-seat second row and a folding two-seat rear bench. Buyers can also choose to run with two center captain's chairs in place of the bench, for a six-seat configuration.
The second and third rows fold flat, which looks to set the van up to become a simple light camper with the addition of an inflatable sleeping pad or two – the all-American VW camper bus trip rides again! And that's before camper converters get their hands on the Buzz. The third row can also be removed entirely when the need for cargo space exceeds the need for seats.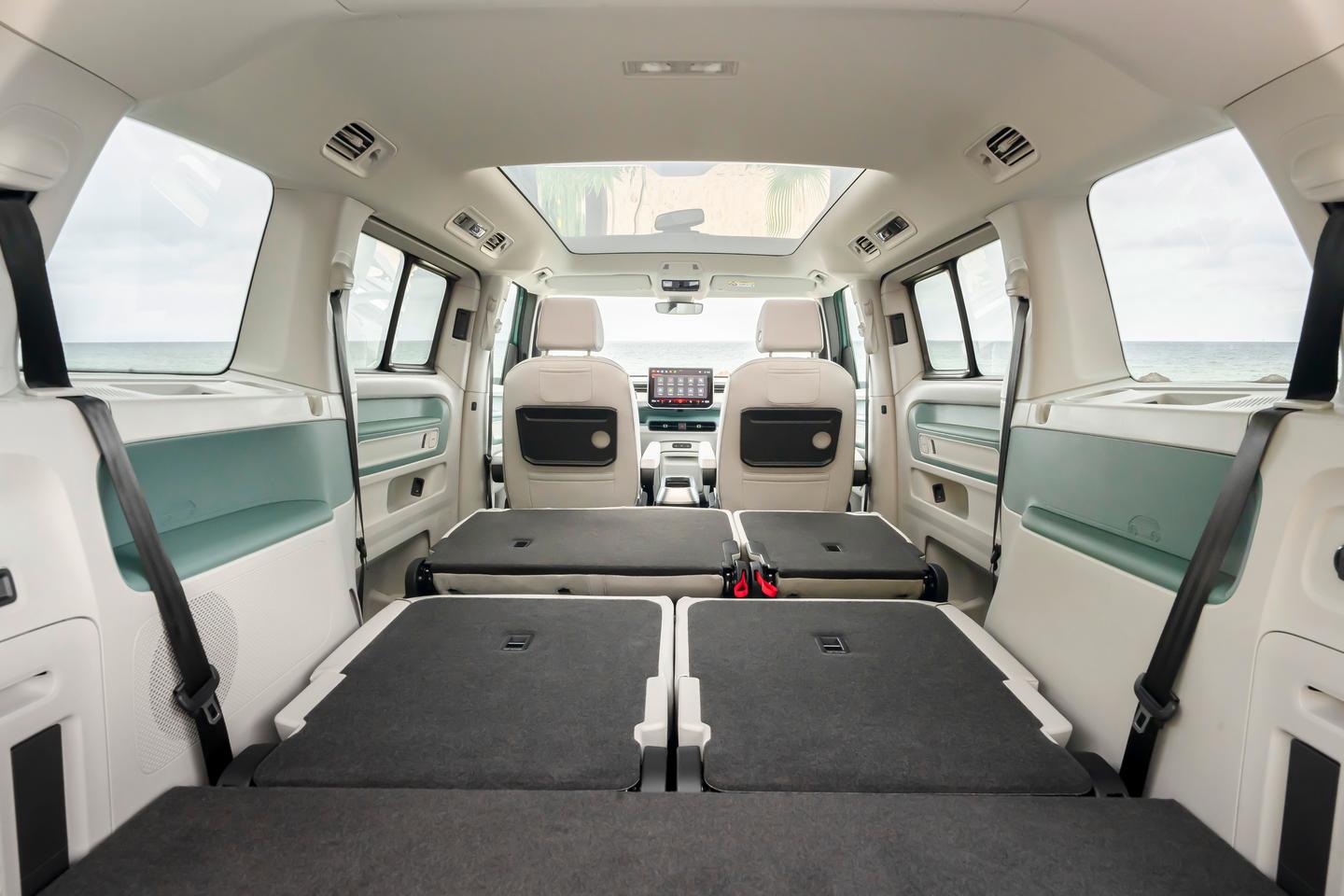 Adding to the interior ambiance in both passenger and camping scenarios is an available panoramic sunroof that measures a full 67.4 x 40.8 in (171 x 104 cm) and uses an electrochromic polymer-dispersed liquid crystal (PDLC) system to seamlessly switch from opaque to transparent. The second- and third-row windows are tinted for privacy and better cabin cooling (and perhaps a later morning of van life sleep). All three rows have dedicated air vents to further ensure a comfortable climate.
The rear rows are easily accessed via dual power-sliding rear doors, and the second row can move forward by 4 inches (10 cm) for easier third-row ingress and egress. Volkswagen's Easy Open and Close feature lets drivers open the power tailgate by simply waving a foot under the bumper, so long as they're carrying the keys in a pocket or bag. Similarly, the front door includes proximity unlocking and keyless entry.
Inside, the cockpit focuses attention on an all-digital combination of 5.3-in ID. Cockpit instrument panel and 12.9-in infotainment display. Also included are wireless App-Connect, wireless charging, eight USB-C ports throughout the vehicle, a 110V outlet under the passenger seat, 12-volt charging in the cargo area, and an available 14-speaker Harman Kardon premium audio system. The ID. Light system uses a pulsing light strip below the windshield to convey information like navigation turn prompts and driver-assistance braking cues.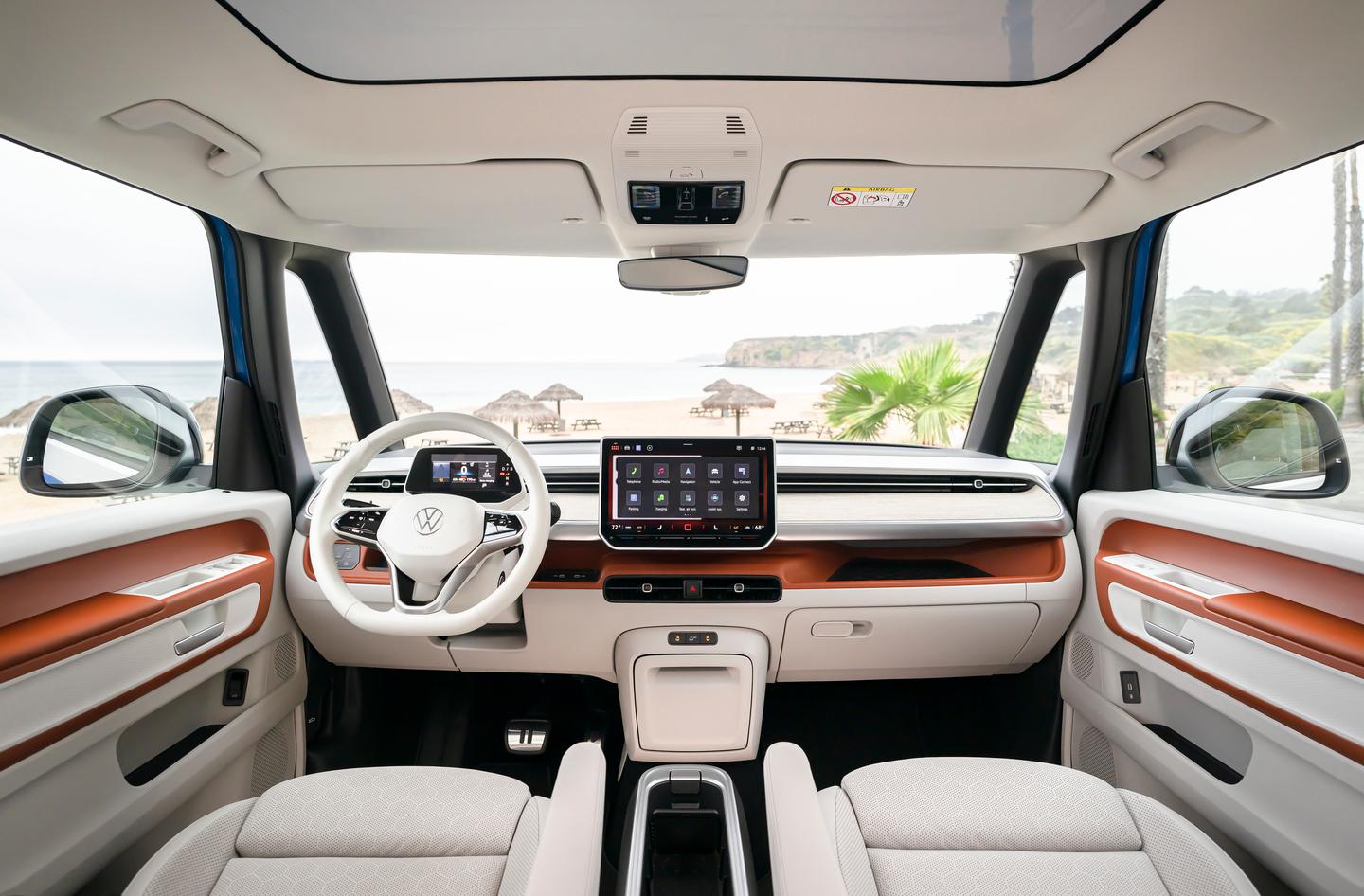 Way back in 2017, Volkswagen imagined the US-debuted Buzz concept as a fully autonomous machine, but reality has relegated the actual American ID. Buzz to Level 2. What Volkswagen calls the IQ.DRIVE driver-assistance system will come standard and bring along features like highway lane centering and a capacitive steering wheel. Park Assist with remote parking, Area View and a head-up display will be available optionally.
Volkswagen debuted the long-wheelbase ID. Buzz in Huntington Beach, California as part of the inaugural "International Volkswagen Bus Day." It plans to launch the new van in both North America and Europe in 2024. Single and two-tone color options will derive from a vibrant palette that includes "Energetic Orange," "Pomelo Yellow," "Mahi Green" and "Cabana Blue." All ID. Buzz models will be built at Volkswagen Commercial Vehicles' plant in Hanover, Germany. More information about the likes of pricing and range will be released closer to launch.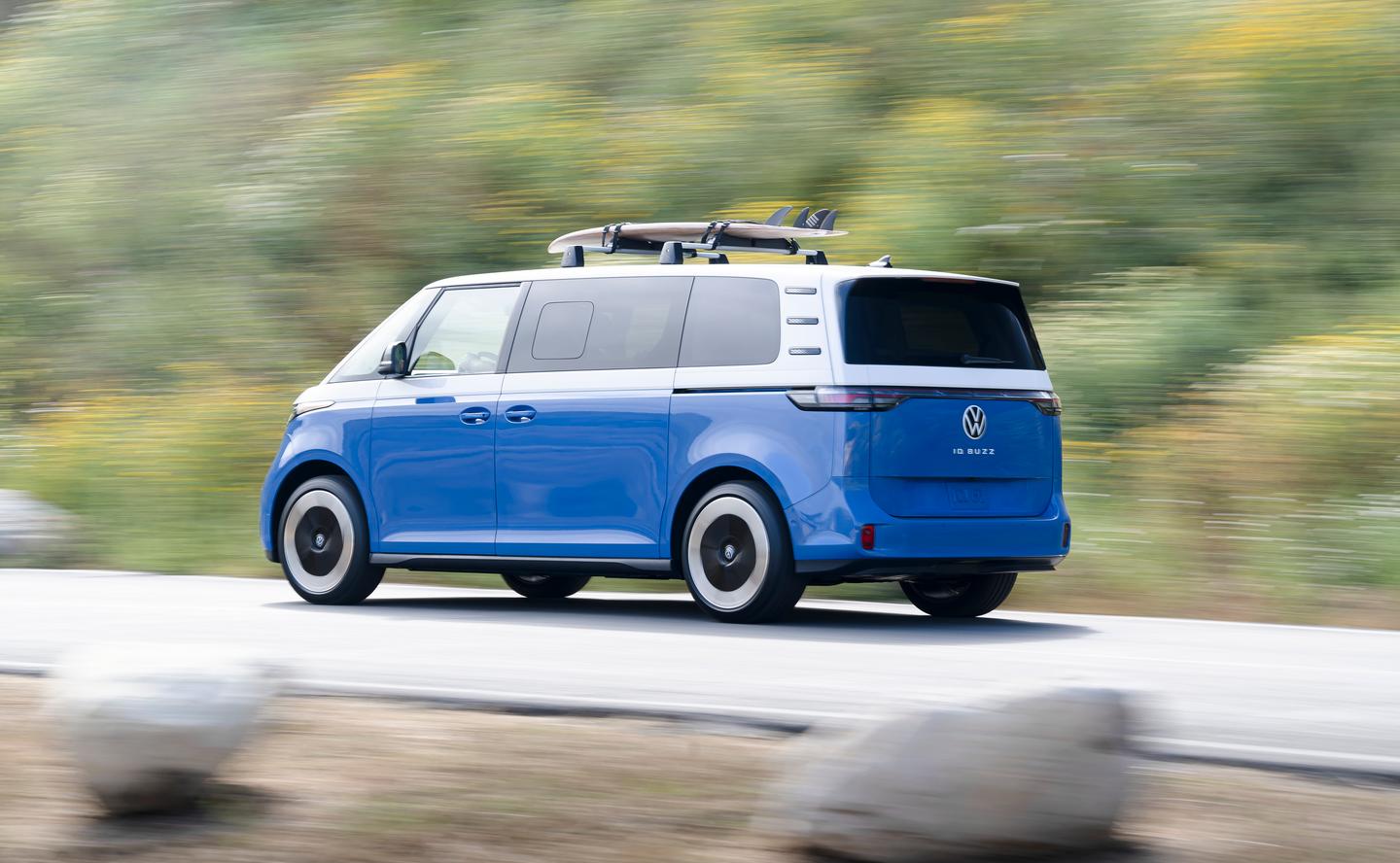 Volkswagen has not yet announced whether the new ID. Buzz will also mark the American return of the sorely missed California camper van, though it has confirmed plans for an all-electric ID. California. The long-wheelbase ID. Buzz seems like the natural candidate to serve as the base of that official VW e-camper, so why not have it arrive in the market where the LWB debuted?
Whether or not that happens, it shouldn't take long for the camper van-loving aftermarket to embrace the Buzz and develop full camper vans, DIY kits and camping accessories for Volkswagen's newest offering. European companies like Ququq have already developed camper equipment for the smaller two-row Buzz, so perhaps they'll take advantage of that head start in quickly readying gear for the larger LWB model.
Source: Volkswagen
Source of Article