Toyota pulled the cloth off an all-new Tacoma mid-sized pickup truck in Hawaii. The latest rendition of the truck follows its larger siblings, the Tundra and the Sequoia, built on the automaker's new TNGA-F truck platform.
Highlights of the fourth-generation Tacoma include a smaller, turbocharged engine, a new high-strength box-and-ladder frame, and a longer bed-length option. Toyota also seems to be putting distinct focus on off-road performance. It is introducing a new Trailhunter trim level to complement the TRD Pro model to further differentiate different off-pavement uses.
The design of the new 2024 Toyota Tacoma follows the design elements of the larger Tundra, using lighting and body cuts to create half-trapezoidal 'caps' over each wheel. A full trapezoid at the front grille finishes it off. The Tacoma's look pulls away from the Tundra at the tailgate, however, where lines are simpler and less angled.
Two versions of the new powertrain will be offered in the Tacoma. Tacoma i-Force models will feature a turbocharged 2.4-liter four-cylinder engine that produces 278 horsepower (207 kW) and 317 pound-feet (430 Nm) of torque. As with the Tundra, Tacoma i-Force MAX models will add a hybrid system to that 2.4L to produce 326 hp (243 kW) and 465 lb-ft (630.5 Nm). The hybrid system adds a 48 hp (36 kW) motor and a 288-volt, 1.87 kWh nickel-metal hydride (Ni-MH) battery. The emphasis for the hybrid powertrain being to add more power and capability without reducing fuel economy.
Two transmissions will be available, with most models utilizing an eight-speed automatic. The i-Force models will have a six-speed manual transmission option. The manual transmission for the Tacoma will be available in the base level SR as well as the mid-level TRD Sport and TRD Off-Road.
Two-wheel drive models will be rear-wheel drive. Four-wheel drive models will have a two-speed transfer case with available electronic locking differential at the rear. The Tacoma Limited i-Force MAX model will have a full-time four-wheel drive system with a locking center differential.
Suspension consists of a double wishbone front setup with rear leaf springs. A few trim models will have a multilink rear suspension as standard or as an option. Ground clearance is 9.5 inches (maximum). Approach, breakover, and departure angles will depend on model chosen, but could be as high as 33.8, 23.5, and 25.7 degrees respectively (TRD Pro model).
Three configurations for the 2024 Tacoma will be offered, depending on the "grade" (trim level) chosen. A two-door XtraCab (extended cab) model with a six-feet (1.8-m) cargo bed, a four-door Double Cab with a five-feet (1.5-m) bed, and a four-door Double Cab with a six foot cargo bed will be offered.
Eight trim levels will be rolled out for the 2024 Toyota Tacoma, starting with a base level SR. Four Toyota Racing Development (TRD) models will be offered, including a TRD PreRunner, TRD Sport, TRD Off-Road, and TRD Pro. Just below the top-level TRD Pro will be a new off-road model, the Trailhunter, which is slotted above the Limited model. Toyota is promising that the TRD Pro model will be a baja-focused off-roader with the Trailhunter differentiating by being more wilderness recreation focused.
Towing and hauling with the new 2024 Tacoma is not yet fully announced, but Toyota is giving a maximum tow rating of 6,500 pounds (2,948 kg) for the truck (SR5 i-Force, TRD PreRunner XtraCab models) and 1,709 pounds (775 kg) in cargo capability (TRD Off-Road model). Total towing and hauling capacities will depend on trim level and engine options. Tacoma models equipped with towing gear will include trailer brake controls and have options for a digital display mirror and trailer backup guidance system.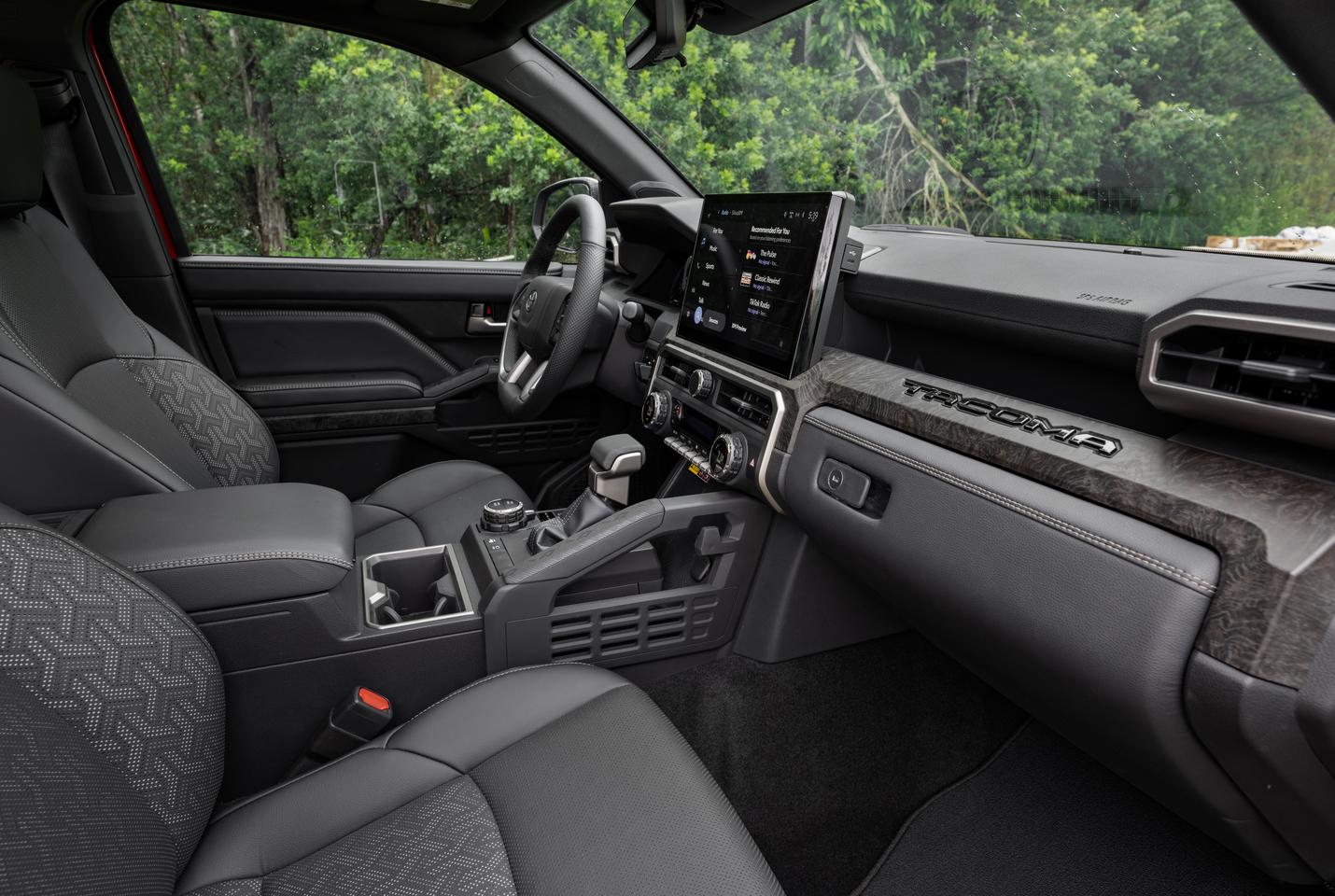 New items featured on the 2024 Toyota Tacoma are plentiful. Bed volume is increased by about seven percent in all bed sizes thanks to changes in height and width. The Tacoma's tailgate is aluminum to lighten the weight of the truck and has an option for power open and close functions via a button on the taillamp assembly. The i-Force models can include a 400W AC inverter outlet in the bed and rear center console of the truck while i-Force MAX models come standard with a 2400W AC inverter. The Trailhunter model includes a high-output air compressor in the bed as well.
Several off-road items are added to various models of the Tacoma as well. Toyota's disconnecting front sway bar is now available for the Tacoma in an all-new design. This adds ten percent to wheel articulation up front when disconnected and is electronically controlled and will be compatible with Toyota-approved lift kits and suspension changes. The TRD Pro model, in addition, will have up to 11 inches of running ground clearance from the factory. A new Multi-Terrain Monitor system places cameras around the truck for viewing obstacles and the trail in real-time via the upgraded 14-inch touchscreen on most of the off-road Tacoma models.
Toyota's Multi-Terrain Select system works in both high and low four-wheel drive settings and allows the driver to select terrain-adapted modes for controlling wheel spin and power delivery. Mud, Dirt, and Sand are standard settings. A new CRAWL Control function acts as a low-speed, off-road cruise control while Downhill Assist Control holds a speed limit during low-speed downhill maneuvers without affecting braking. Manual transmission versions of the Tacoma will include a clutch start cancel button to allow the truck to be started in gear without the clutch being pressed.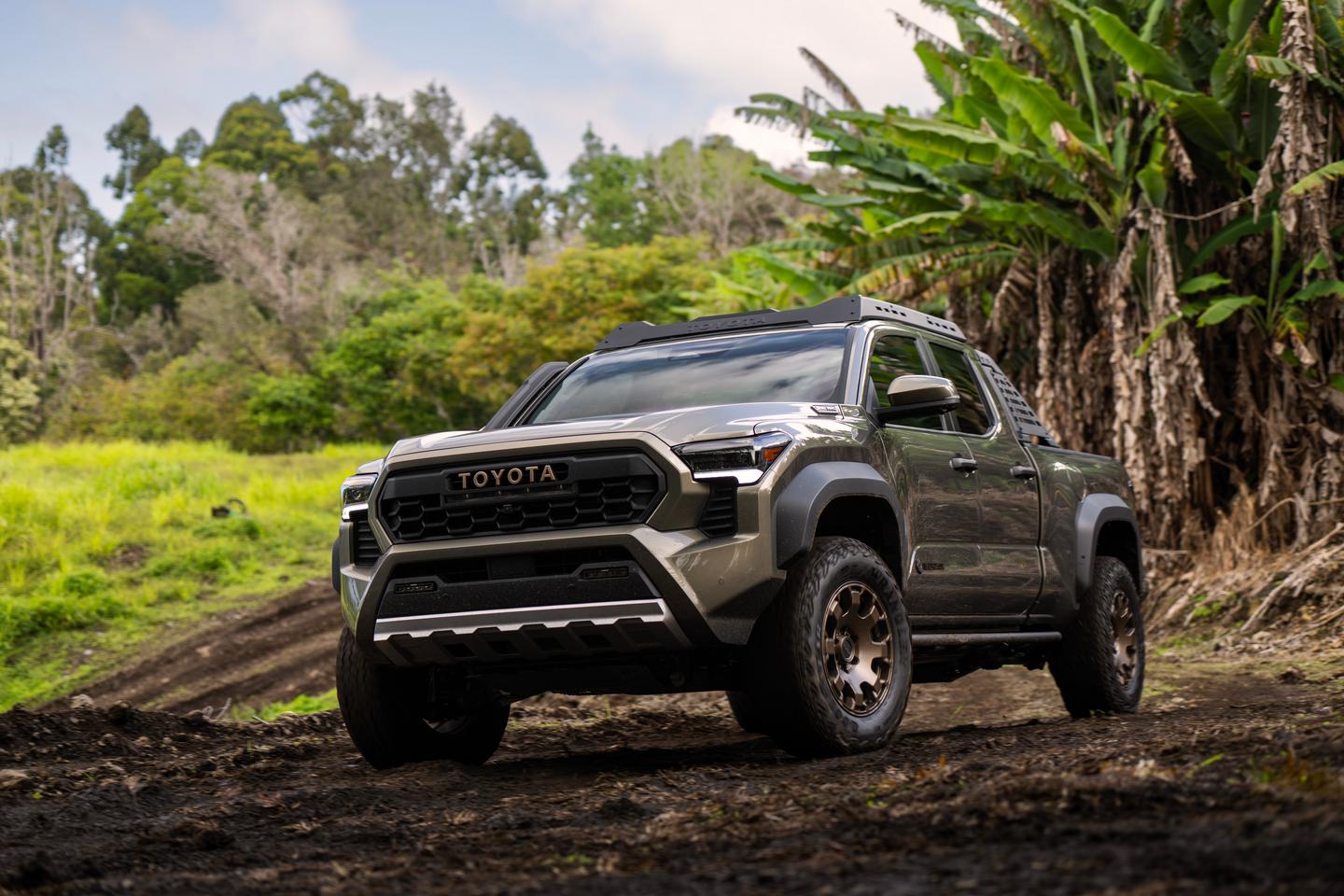 The new 2024 Tacoma Trailhunter model, which is based loosely on the Tailhunter concept shown at SEMA in 2022, includes off-road gear from Australian-based ARB. These include Old Man Emu (OME) position-sensitive 2.5-in forged monotube shock absorbers with remote reservoirs. And a steel rear bumper with rear recovery points as well as a bed utility bar with removable MOLLE panels. ARB has also developed a full bed rack for both bed lengths of the new Tacoma for added gear options. The Trailhunter model includes 33-inch Goodyear Territory R/T tires as standard, resulting in a two inch front lift and a one inch rear lift. A high-clearance exhaust tip is standard on the Trailhunter as is a low-profile, high-mount air intake routed along the passenger-side front pillar. Rock rails and skid plates add protection for for Tacoma Trailhunter models. The Trailhunter model aims for general wilderness off-road and overlanding. Comparatively, the TRD Pro model aims towards speed and baja-style desert running.
The TRD Pro model of the new Tacoma includes IsoDynamic Performance Seat for the driver. This seating system helps stabilize the driver's field of vision during dynamic running. An air-over-oil shock aborsber system allows for vertical and lateral seat movement to dampen body movements while on the trail. The seat itself is shaped to stabilize head and neck alignment. The system is tunable based on body mass and preference and can be bypassed entirely when desired.
Toyota's newest infotainment system will be found in all 2024 Tacoma models with an eight-inch or optional 14-inch touchscreen. Toyota's full suite of Safety Sense advanced, active safety technologies and driver assist technologies are also included in the new Tacoma. Several updates to those have come in the last year as TSS upgrades to version 3.0 to include new sensors to enhance collision and pedestrian detection and a fourth following distance setting for radar-based cruise control to improve at-speed options. Toyota's new Lane Tracing Assist and Lane Departure Alert systems combine into a new Emergency Driving Stop system that can bring the vehicle to a safe stop if the driver is completely inattentive, such as during a medical emergency.
The 2024 Toyota Tacoma i-Force models will enter dealerships in late 2023, with i-Force MAX models coming in early 2024. Pricing will be announced closer to sales launch.
Source: Toyota
Source of Article