With the launch of its new Fetch+ range of cargo ebikes, Trek is aiming to provide eco-conscious parents with the means to leave the car at home when taking the kids for a quick spin into town, to school or the local park.
"At a time when so many people are wondering how they can get out of the car and go green, Fetch+ can help you replace car trips, stop wasting gas and feel better about your carbon footprint," said Trek's Brian Turany when introducing the new cargo ebikes at a virtual launch event.
The Fetch+2 long-tail model has been designed for families with one or two small children. The rear cargo rack can be fitted with aftermarket child seats to transport young ones, and then as the kids get older they can just straddle the frame and plonk their feet on bolt-on foot guards protected by PVC-free plastic paniers either side while safely contained within an all-around safari bar that gives them something to grab onto.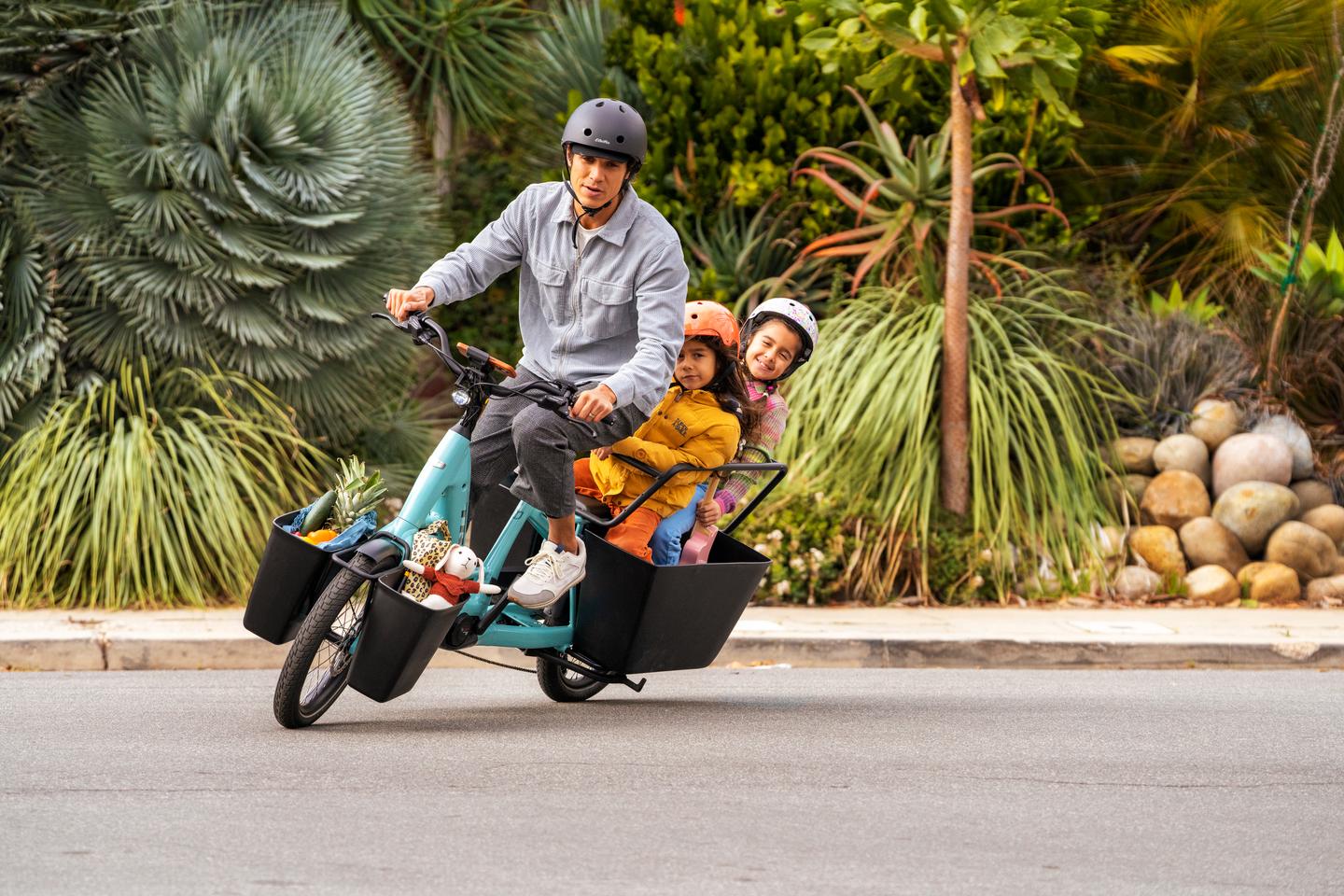 The rear cargo buckets are joined by smaller front panniers for carrying shopping, backpacks and so on. Maximum load capacity for the ebike is reported to be 440 lb (200 kg), with the rear rack rated for 158 lb (72 kg). A double kickstand is included for parking stability.
This model is made available in one low-step frame size with an adjustable handlebar stem and adjustable seat height, sports a Shimano Deore 10-speed gearset, rolls with 20-inch wheels wearing 2.35-inch tires, and comes to a stop with the help of Tektro four-piston hydraulic disc brakes with 180-mm rotors. There's also integrated lighting front and back for improved daylight visibility in traffic as well as after-dark riding.
The Fetch+4 front loader offers room for more kids in the 230-liter bucket, accommodating two strapped into removable foam seating with five-point harnesses and two more on a bench up front to a total weight of 176.4 lb (80 kg).
If the weather's not so good, the kids can be shielded from the elements with an optional TPU rain-fly. And there's space on the back for another family member on the cargo rack, which of course can also be fitted with third-party seating or panniers.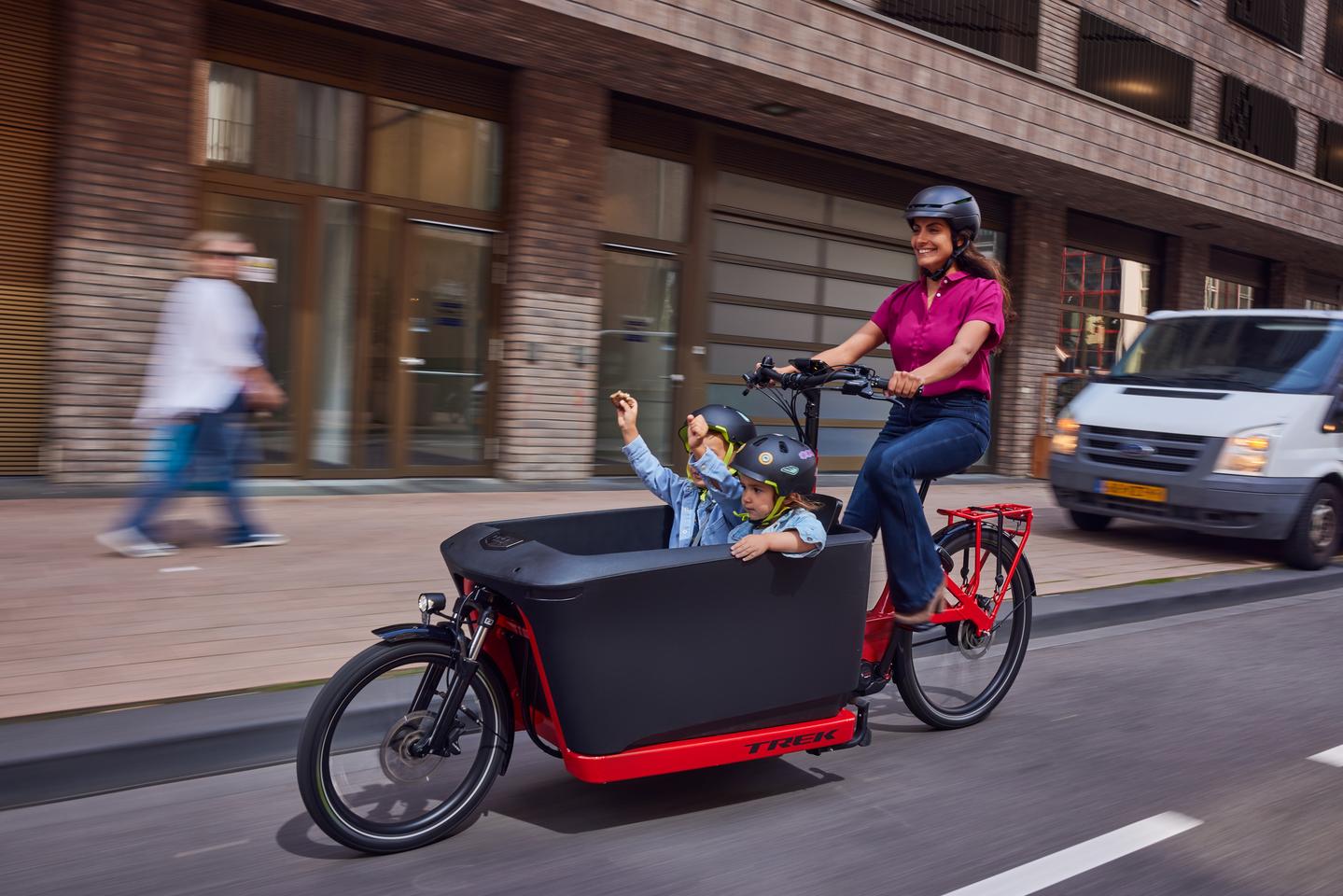 After looking at other cargo bikes on the market, Trek's engineers determined that a steer-by-cable setup offered the best stability and handling for the Fetch+4. This model rolls with a Gates CDX belt-drive and heavy duty Enviolo geared hub to the rear.
There's a 27.5-inch wheel at the back with an included ring-lock and a 20-inch wheel to the front that's mounted to a Suntour suspension fork. Stopping power is provided by Tektro four-piston hydraulic disc brakes specifically designed for cargo ebikes that feature 2.3-mm-thick rotors – 180 mm to the front and 203 mm at the rear.
Elsewhere, front and rear lighting is included, there's a double kickstand too, and the cargo ebike comes with a dropper seatpost for more flexibility when the rider comes to a stop.
Pushing kids and/or cargo around by pedal power alone can be quite a challenge, so Trek has fitted each model with a 250-W Bosch Cargo Line mid-mount motor for 85 Nm (62.6 lb.ft) of torque. Four pedal-assist modes can amplify rider input at the pedals by up to 400%, the motor automatically shuts off when the speed reaches 20 mph in the US or 25 km/h in Europe and elsewhere, and there's a handy hill-hold function to prevent roll back.
The bikes are equipped with Bosch's lockable and removable PowerTube battery banks – 500-Wh unit for the Fetch+2 while its bigger sibling is treated to a 750-Wh unit – but Trek (perhaps understandably) isn't committing to hard figures for per-charge range, but rather says that "the battery's range will be determined by several variables, including terrain, wind, rider weight, and riding preferences. Bosch has a handy ebike range calculator that will help you estimate range for specific riding conditions."
The company is looking to add range extender options at some point for the Fetch+2 model but there are no plans to have the Fetch+4 running in dual-battery configuration.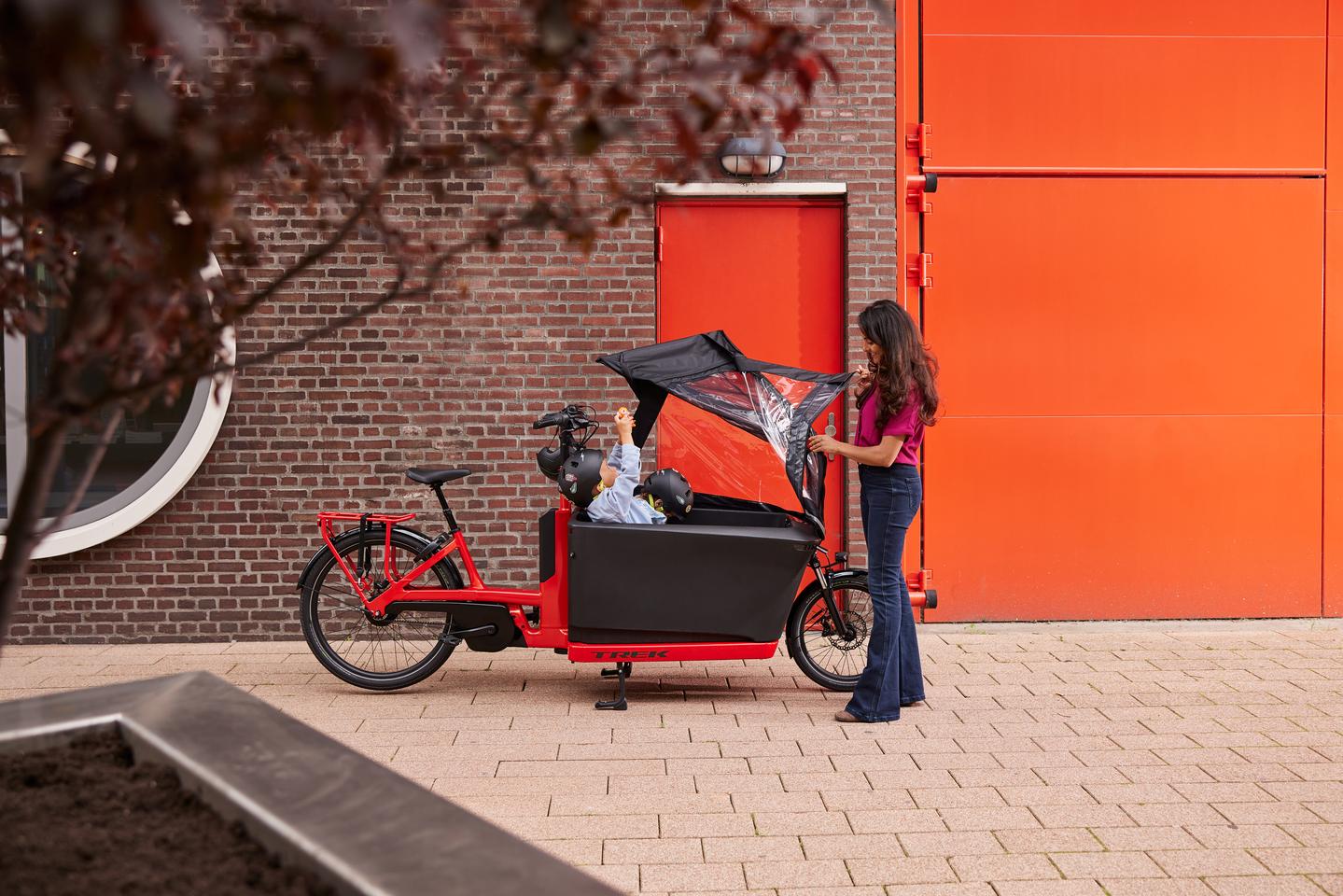 A quick look at the handlebar won't reveal any LCD display, but users can mount a smartphone running the Flow app for at-a-glance ebike metrics, built-in navigation and parameter tweaking. A LED remote to the left takes care of assist-level adjustments and can wirelessly switch between the ride screen and navigation view on the paired smartphone.
The Flow app can be used to remotely lock the motor when parked up, and the Fetch+4 also rocks a connect module that sports an alarm. If the system detects movement when the ebike is locked up and parked, audible and visual alarms are activated and a notification sent to the owner's smartphone. The location can then be tracked on a map in the app.
As you might expect of Trek's new premium rides, the Fetch+2 model is expected to retail for US$5,999 while the Fetch+4 commands a cool $8,499 – making them much pricier than models from the likes of Rad Power Bikes, Lectric, Fiido and even Tern. They both go up for sale from April.
Source: Trek
Source of Article