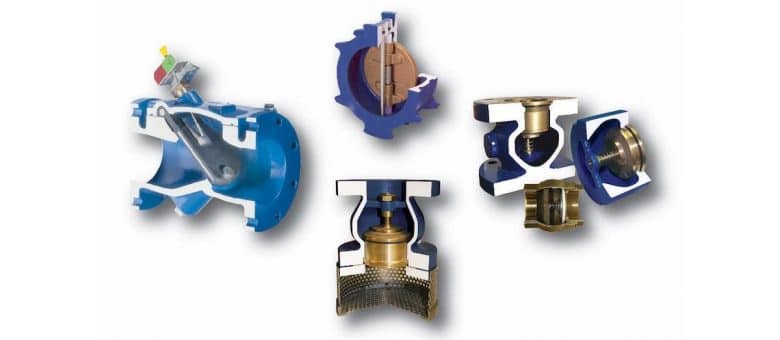 Val-Matic's Surgebuster®, Dual Disc®, Silent Check, and Sure Seal Foot Valve check valves are highly engineered to provide long life and trouble-free performance to meet the valve needs of its customers.
Engineers weigh the importance of slamming characteristics as one of the factors when selecting a check valve. All Val-Matic Check Valves are designed with non-slam characteristics such as the seat angle of the Surgebuster®.
The Surgebuster® also uses the addition of the Disc Accelerator™ to prevent slamming in the most severe applications. The compact wafer design has made the Dual Disc® a popular choice when space is a concern. The short linear stroke and spring return action of the Silent Check Valve combine to effectively eliminate surges and water hammer that can be associated with the sudden stoppage of a reverse flow.
The versatile Foot Valve can provide positive seating action at both low and high pressure without slamming.
Click here for additional features and informationClick here for related articles and newsSearch for valve manufacturers in our equipment guide
Sign up for Process and Control Valves E-Updates

Val-Matic Valve & Mfg. Corp. is a leading manufacturer of Air Valves, Check Valves and Quarter Turn Shut-Off Valves for water/wastewater, power, industrial, fire protection and HVAC applications. Val-Matic is respected worldwide for products with superior design and quality and is dedicated to providing complete customer satisfaction. Our corporate …
Source of Article