There are already a few legit camping couches on the market, even after eliminating inflatables, multi-seat quad-fold benches and loungers, and indoor couches hauled to camp in a pickup truck. But the few we've seen, including the Snow Peak Campfield Futon, are aimed entirely at RVing and car camping, certainly not meant for lugging up a mountain or down a riverside singletrack by foot. The all-new Camp Couch bucks that trend, folding into a carry-ready form meant entirely to hike-and-lounge. It even includes integrated backpack straps to make the carrying a little easier.
Along with the aforementioned Campfield, we've also seen the Metolius Crash Pad Couch, a collapsible frame that works with a bouldering crash pad to create an impromptu wilderness sofa. While that 22-lb (10-kg) frame does pack fairly flat and portable, we're not sure it's the most convenient thing to carry down the trail or approach, along with the pad itself and myriad other climbing and outdoor gear. Like Snow Peak's futon, it seems best used close to the car or camper van, if not in the backyard.
The Camp Couch, on the other hand, is all about getting exercise on the way to some well-earned lazy lounging. Designed in Denver, within clear sight of the enticing Rocky Mountains, it's made for pushing farther into the wild while ensuring no creature comfort is left behind.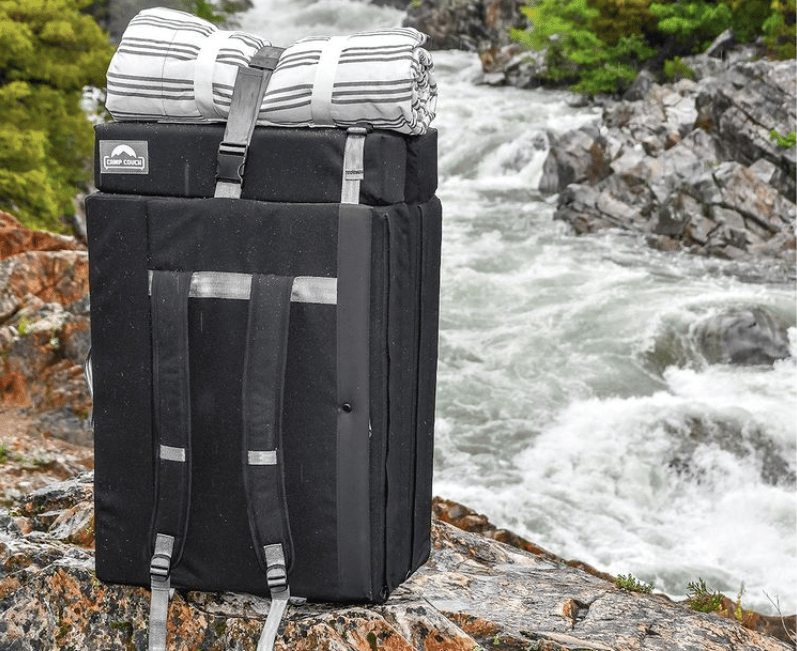 The foam-cushioned love seat folds down to around a fourth its full-sofa size, traveling as a 28 x 18 x 11-in (71 x 46 x 28-cm) package. That's not small enough to fit into a regular backpack, so the Camp Couch turns into its own backpack, complete with integrated adjustable shoulder straps. It's not particularly lightweight at 18.3 lb (8.3 kg), but it's light enough for a sporty outdoorsman or woman to carry while they hike, whether they're simply walking from the parking lot to the water's edge or putting in miles to a scenic overlook.
While the Camp Couch looks too large and heavy for overnight backpacking – unless the other person is willing to shoulder the rest of the gear and provisions – it looks like a natural for RVing and car camping. It's even lighter and more portable than the other sofa options mentioned and can transport easily in a pickup bed or trunk. It also looks like it would be good for fishing or simply relaxing on the beach, providing a cozy place to sit the day away. By reclining all the way to lay-flat position, it becomes the perfect platform for stargazing.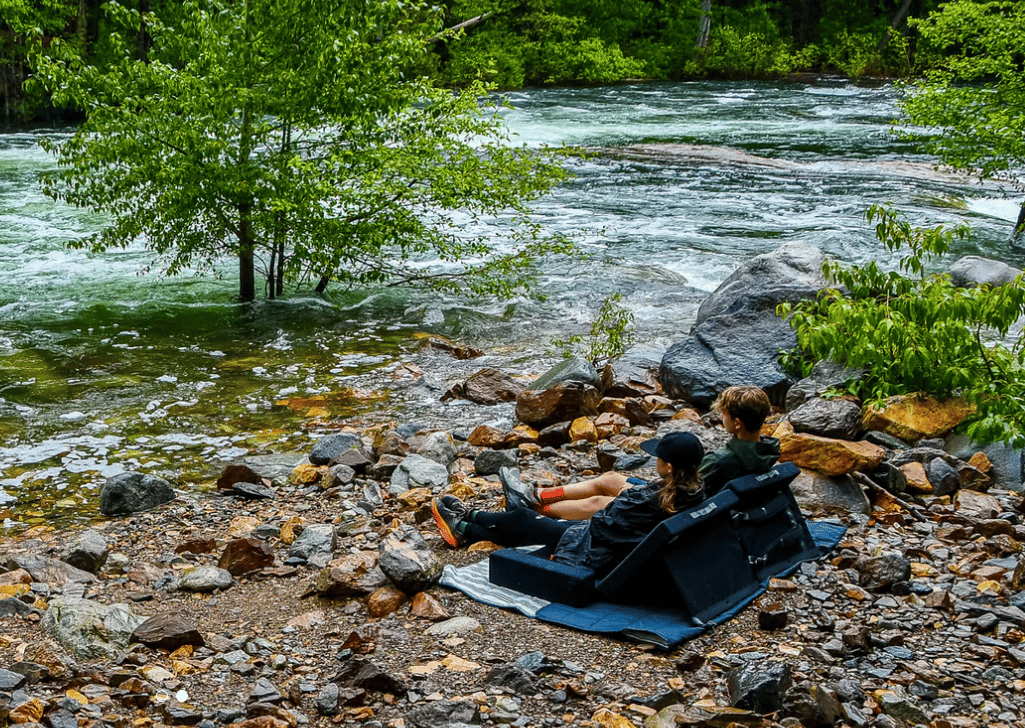 Along with outdoor enthusiasts, Camp Couch markets its sofa at festival goers and tailgaters. When not traveling the world and wild, the couch could easily double as a backyard, deck or indoor kids lounger at home.
The Camp Couch has a simple design that unbuckles and unfolds into a two-seat ground cushion with individual reclining seat backs supported by kickstand-style panels. It's made from tough 900D weatherproof polyester designed to hold up to the unpredictable terrain and weather of adventuring. The kickstand edges are reinforced with Hypalon.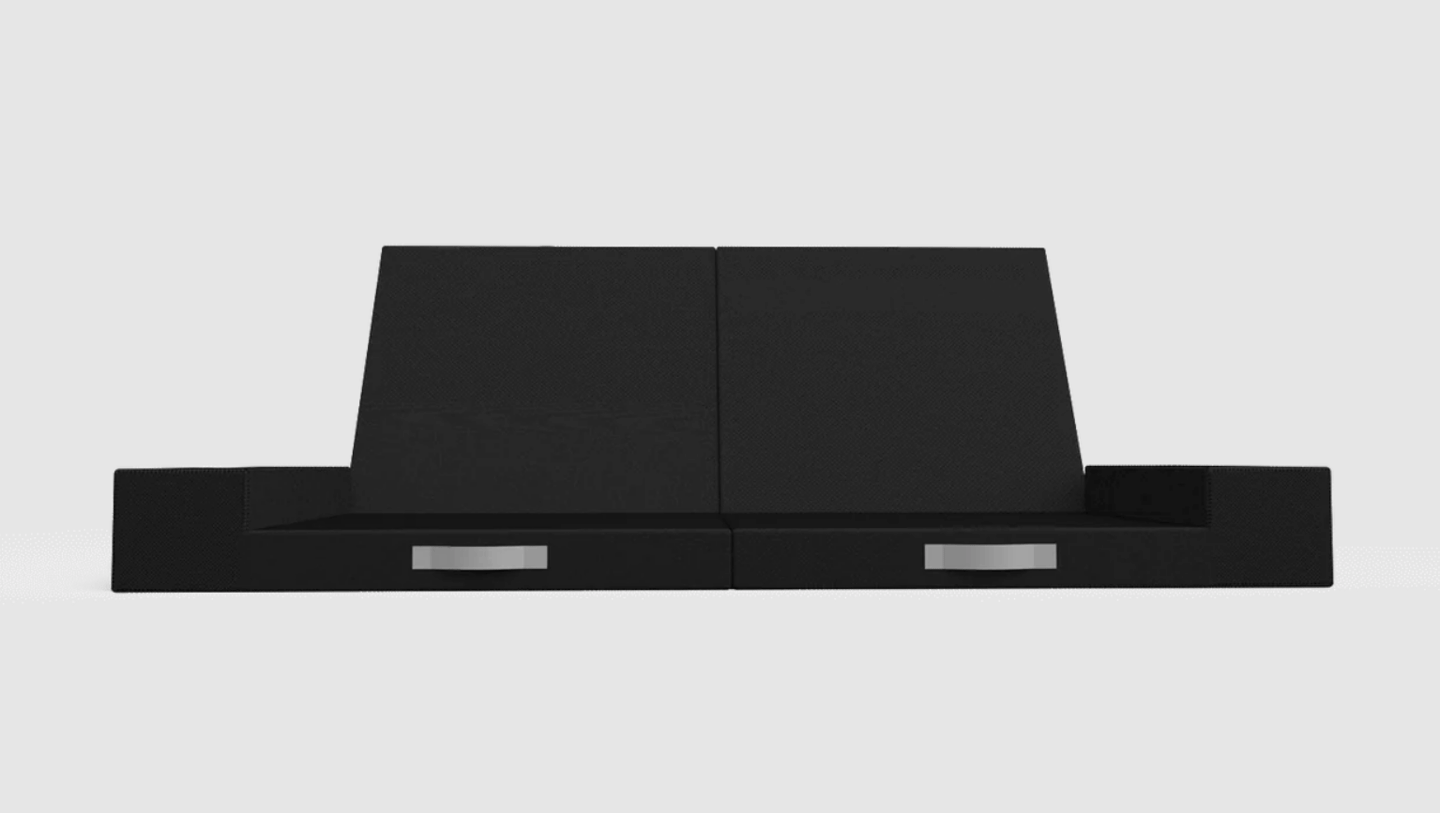 The Camp Couch looks like it could bring glamping to new heights (and new remote places) and is available for preorder at $299.95. The first deliveries are planned for the end of July.
Source: Camp Couch
Source of Article