Mr Daddy Bujitu Mukadi, Airtel Africa Chief Regulatory Officer (CRO), has been named Chair of GSMA Sub-Saharan Africa Policy Group and Member of its Global Policy Group.
Daddy's experience in commercial legal and regulatory professional combined with his exceptional leadership will come in useful in his new role as the new Sub-Saharan Africa Policy Group Chair, GSMA, the global body for mobile operators says.
"The Policy Group, the global mobile group says in a statement, is an advisory body formed by the GSMA Board whose primary purpose is to provide advice to the Board on specific issues relating to public policy, regulation, spectrum management, reputation, advocacy and the use of mobile technology to achieve scale in delivering developmental and social goals."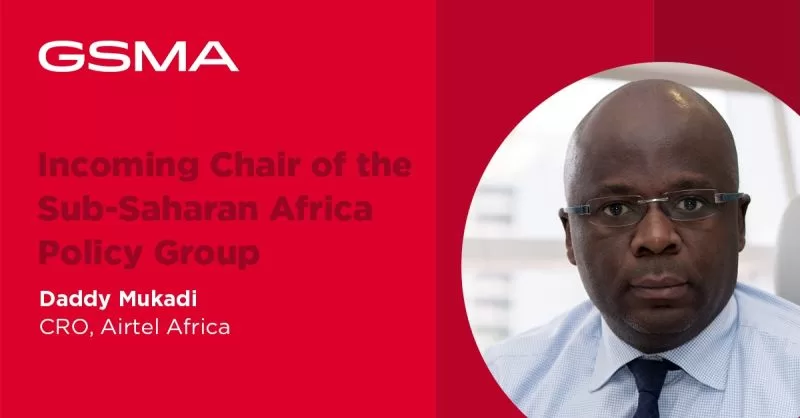 The GSMA, in a message congratulating the incoming Policy Group Chair, says that "Daddy is an inspirational leader with a flair for creating innovative solutions that deliver superior results across the African continent. We look forward to working together and making great strides within the #mobile industry."
On his part, the Airtel Africa CRO looks forward to participating in the GSMA Global Policy Group discussions in Barcelona at the upcoming MWC Barcelona 2023.
"I am honoured to have been elected as the GSMA Sub Saharan Africa (SSA) Policy Group Chair. I am also pleased for the opportunity to be part of the membership of GSMA Global Policy Group. As GSMA SSA Policy Group Chair, I hope to drive the enhancement of policy and regulatory discussions across the SSA Region with a view to accelerating digital and financial inclusion, Daddy says.
Daddy Bujitu Mukadi: A Bio of GSMA Policy Group Chair
Daddy, according to his bio, is an experienced commercial legal and regulatory professional with exceptional leadership skills specialising in telecommunications/broadcasting and carrying a wealth of knowledge regarding the African continent with the ability to operate both in French and English.
He had/has the privilege to successfully engage with various regulators and ministries regarding a number of telecoms/broadcasting regulatory matters. Additionally, Daddy has in-depth knowledge on multijurisdictional agreements and international commercial legal projects.
Daddy holds a Master of laws specialising in Communications Law from the University of WIts (South Africa) with special expertise in space and satellite communications, broadcasting, telecoms and media laws.
He also holds an Executive Dev. Programme from Wits Business School, a Strategy / Leadership Certificate from INSEAD(France) and an LLB from University of L'shi (DRC).
Whilst at MHA Attorneys, he co-authored with Ms Justine White (Visiting Professor at Wits University and ICT law Consultant) " SADC Media Law Book, an handbook for media practitioners Vol 2 and 3.
Source of Article