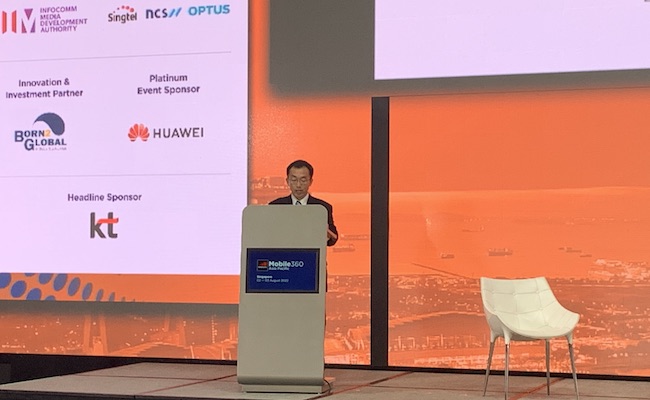 LIVE FROM GSMA MOBILE 360 ASIA PACIFIC, SINGAPORE: Japan prepared for an expected surge in demand for data traffic once full 5G deployment is reached by upping its near-term coverage targets and outlining plans for further spectrum allocations.
In a keynote, Atsushi Umino, deputy director-general for International Digital Infrastructure Promotion at Japan's Ministry of International Affairs and Communications (pictured), set the target of achieving 98 per cent 5G population coverage nationwide by end-March 2024.
Japan plans to begin assigning spectrum in the 2.3GHz band later this year and triple allocations across all compatible bands in 2025.
Umino added the government will also introduce a process for prioritising remote areas currently unsuited for commercial base station deployments and provide financial support to promote 5G development, with the aim of closing the coverage gap.
In addition, it will promote infrastructure sharing by setting subsidy requirements for operators.
The government also laid out plans to decentralise data centres to improve resilience and add redundancy.
Tokyo houses 60 per cent of Japan's data centres: the government plans to build more than 12 regional data centres over the next five years.
The initiatives are part of efforts unveiled in March to boost cooperation between the public and private sectors to revitalise rural economies, which have faced depopulation as people migrate to major cities for employment, Umino explained
Subscribe to our daily newsletter
Back
Source of Article