As Season 9 of the ABB Formula E World Championships comes to a close in London, a modified Gen3 electric race car has smashed a two-year-old indoor speed record set by Porsche with a top speed of 218.71 km/h.
The 2021 Guinness record was set by Leh Keen driving a Porsche Taycan Turbo S at the New Orleans Convention Center, blasting past the previous 2013 record of 140 km/h (86.99 mph) by a huge margin to reach 165.20 km/h (102.65 mph).
For the latest record attempt, NEOM McLaren Formula E driver Jake Hughes went head-to-head with Lucas di Grassi from team Mahindra Racing in a 346-m (1,135-ft) straight sprint at ExCeL London's novel indoor/outdoor track. Each had three practice runs, all of which blazed past the Porsche record, with di Grassi topping out at 218.18 km/h (135.57 mph).
When it came to the official record attempt though, Hughes emerged victorious with 218.71 km/h (135.9 mph) while di Grassi clocked 217.65 km/h (135.24 mph). Those figures were recorded by a "sophisticated speed trap system" that clocked the vehicles five meters (13 ft) before the drivers hit the braking zone.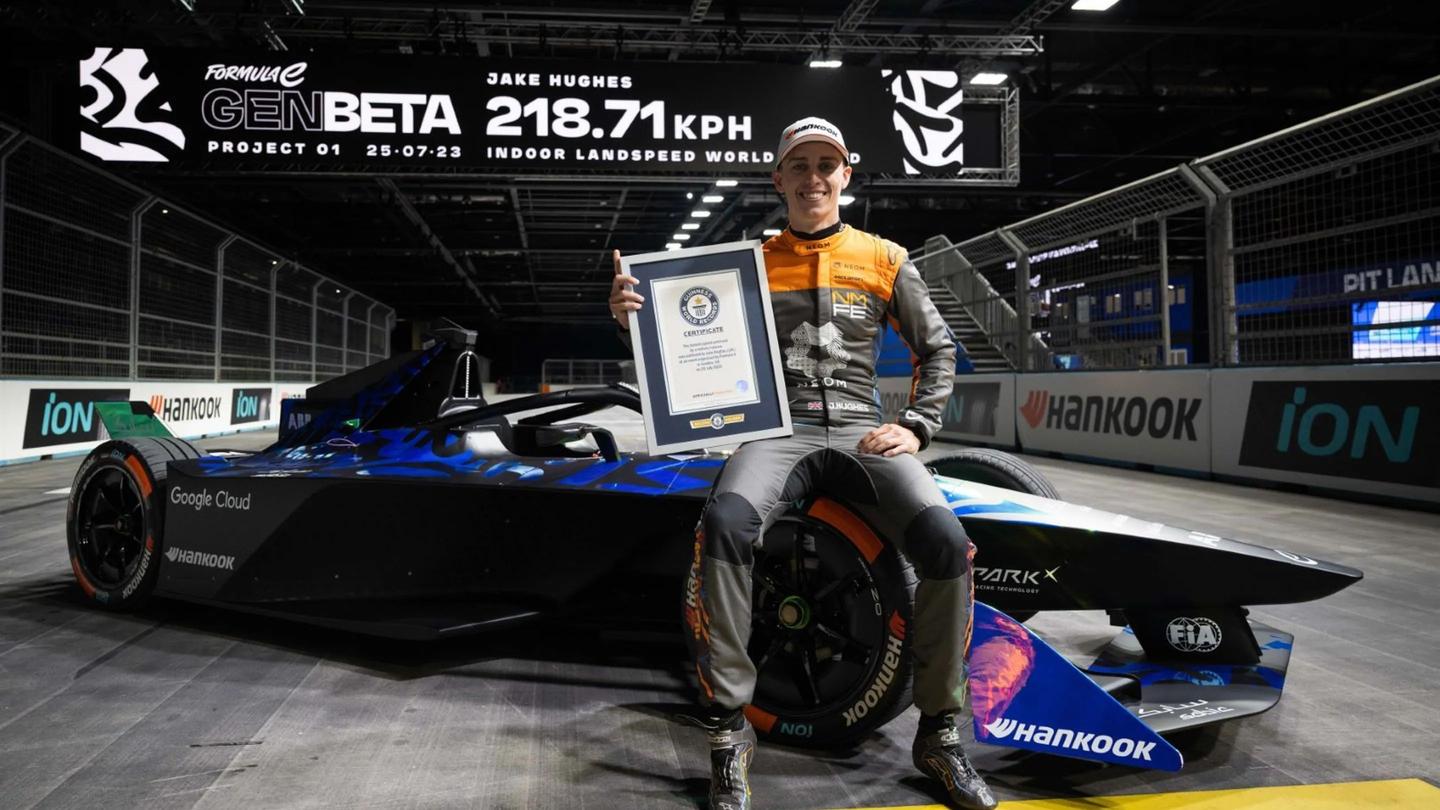 The race-spec Gen3 vehicle is already pretty zippy, with a top speed of 322 km/h (200 mph), but the record-breaking car was tweaked as part of Formula E's GenBeta project. Modifications included a boost to the power output from the race-ready 350 kW to 400 kW and engaging all-wheel drive for the first time.
The car was also fitted with softer Hankook tires for "faster warm-up and better peak grip." Aero upgrades in the shape of 3D-printed front-wing endplates, wheel fins and wind deflector were installed. Formula E reports that AI was employed to help the drivers fine tune their record attempts. Neither driver had been behind the wheel of the modified GenBeta car before.
"Driving the GenBeta car and setting the Guinness World Records title for the fastest speed achieved by a vehicle indoors was a really special experience. I feel very honored to have been asked and to be involved in such an exciting project," said Hughes.
"It wasn't something I ever imagined I'd have the opportunity to even attempt, so now to hold the record is pretty incredible, especially in a Formula E car. I didn't realize how much I wanted this record until I saw Lucas [Di Grassi] trying to break the record after me. When it was announced I was the record holder I felt a massive sense of pride."
The video below has more.
World record SMASHED! | Formula E achieve Guinness World Records title
Source: Formula E
Source of Article