British firm Giles Miller Studio recently completed its first residential project. Named Woven, the remarkable home is wrapped in an intricate screen made up of a recycled thermoplastic polymer and will become almost totally covered in greenery over time.
Woven is located in Kent, England, very close to the beach, and serves as a family retreat. The residence's trellis-like screen is quite complex and draws inspiration from the twisted patterns of rattan weave. It wraps almost the entire home, helping to shade its very generous glazing, and has several plants on it that will continue to cover it over time.
To create the screen, the architect used recycled ABS (acrylonitrile butadiene styrene) modules. The material was sourced from waste recovered from the production of electronic components.
"Woven's external surface is a sculptural artwork which brings an architectural functionality to the building by encouraging jasmine, clematis and other planting to grow up through the sculptural latticework and bring nature visibly into the building through the largely glass exterior," explained Giles Miller Studio. "The facade makes the building look at home within nature, brings the beauty of those natural surroundings visually into the building for the inhabitants benefit, and also enables the extensive use of floor to ceiling glass by creating natural shading."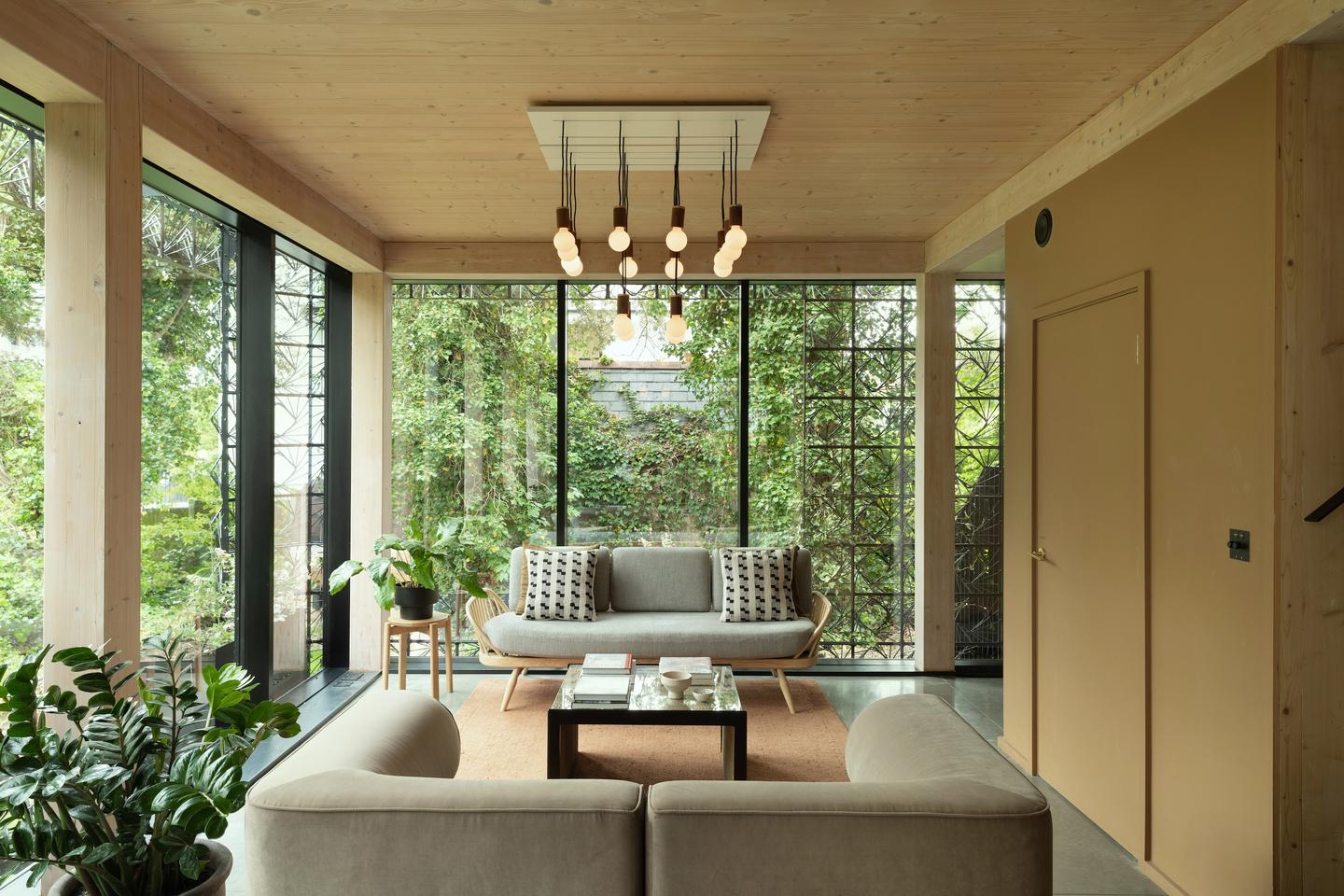 Structurally, Woven consists of steel and CLT (cross-laminated timber), as well as some concrete in the foundations. Its interior is very nicely done and the understated color palette puts the focus on the natural beauty of the unfinished wood.
It's furnished with natural materials, including horsehair, cotton and Shetland wool, as well as luxurious silk and cashmere. The lighting is all energy efficient and all water fittings in the kitchen and bathrooms are designed to use minimal water.
The upstairs area contains four bedrooms, each one with an en-suite bathroom and a view of the greenery. There's also a large terrace area up there and some seating, allowing the owners to enjoy sitting among the trees and plants.
Source: Giles Miller Studio
Source of Article