Located in Ho Chi Minh City, Vietnam, Room + Design & Build's Secret Garden project is a townhouse that allows its owners to escape from the bustle of city life with a lush light-filled garden at its center.
The Secret Garden has been built on a rather awkward irregular plot that's squeezed between two alleyways and some other buildings, and posed a challenge to the architects. It's spread over four floors and is home to a family of four.
Admittedly, there's nothing very secret about all those plants that adorn the home's exterior, around its windows, and its rooftop garden, however there's even more inside too. Room + Design & Build focused on maximizing natural ventilation and daylight throughout the residence and its layout is arranged around an inner garden, which also contains an elevator and stairs. The area is topped by a skylight, ensuring that daylight permeates throughout the interior.
Elsewhere in the home lies a courtyard entrance, which opens onto an open living area and a kitchen. The upper levels contain multiple bedrooms, some of which boast access to their own terrace areas, as well as the rooftop terrace.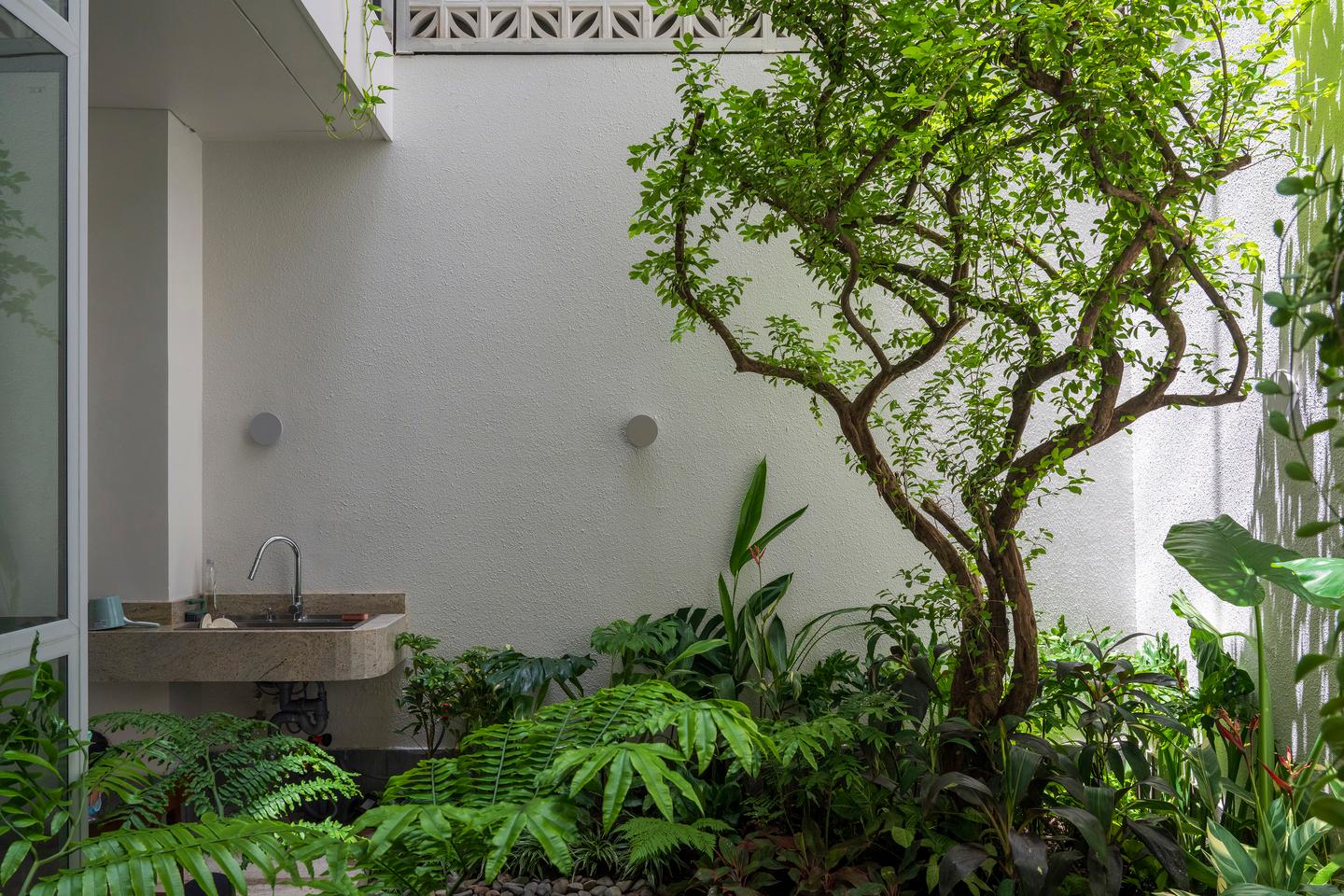 "As one comes inside, he or she would surprisingly find a charming 'secret garden' with a big acerola cherry tree and diverse types of plants hiding at the furthest corner of the site," said the firm. "The garden brings soft daylight and cool breeze into the heart of the house while also providing protection and privacy thanks to the decorative hollow-brick walls. A high-end hydraulic glass elevator and two internal balconies are placed aside the secret garden.
"Moreover, as one uses either the elevator or the partly-opened staircase to go up to the top level, he or she would be surprised one more time by a wonderful rooftop garden with countless trees, planting and flowers. These vibrant gardens give to the occupants a relaxing and peaceful sanctuary right in the center of the busy city."
In recent years there has been a concerted effort by several architecture studios to re-green Vietnam's concrete jungles, including projects by Vo Trong Nghia Architects and Sava.
Source: Room + Design & Build
Source of Article