Learning to play guitar is tough, and though there's no replacement for hard work and practice, technology can lend a helping hand. The mu6label is the latest gadget in the space, a bendy AI-powered device that attaches to a guitar's upper edge and includes a virtual teacher, chord library and scales training, a metronome and tuner, and backing tracks to jam along with.
The mu6label was developed to address some issues often encountered by folks learning to play guitar. For example, even if beginners employ a guitar teacher, tuition is not available 24/7 and mistakes made between lessons can go unchecked and become difficult to unlearn. Setup time can eat into available practice windows, and players may not remember where they're at in a lesson or be unsure of what kind of stuff to practice.
The project has now launched on Kickstarter to raise production funds. The device sports a flexible silicone housing with silicone gel on the bottom face that can mold the mu6label to the contours of the upper surface of a flat-topped guitar (though an optional adapter is available for more shapely models), which of course means that you don't have to invest in a brand new smart guitar.
A learner is treated to two 240 x 280-pixel color touchscreen displays to interface with the device, there's an integrated piezo sensor for tuning, and for error detection during practice, and a built-in speaker. The onboard battery is reckoned good for up to 15 hours of use between charges.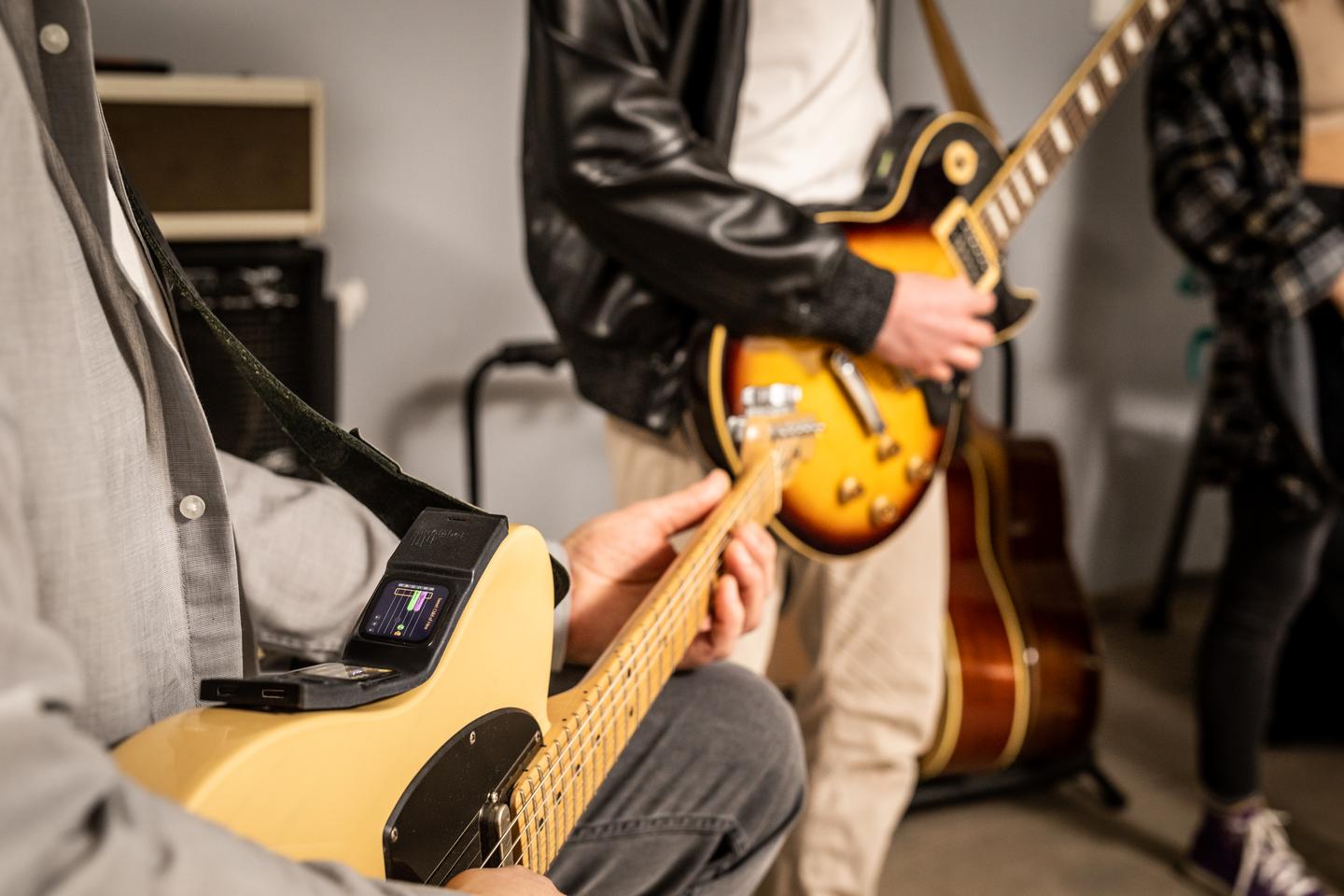 Handy features include tuners for four-to-seven-stringed instruments, a chord library, modal scales maps, a versatile metronome and customizable rhythm generator, a decibel meter for hearing health and temperature/humidity sensors to help keep your guitar in tip-top condition.
There's a special mode for learning chord-based songs, or players can follow onscreen tabs, adjusting the tempo and repeating sections as needed to nail chops. A solo mode is available that shows future shredders where (and when) to place fretting fingers for fluid noodling, and a selection of backing tracks can help hone jamming skills.
The device can also analyze what you're playing and tap into AI algorithms to identify mistakes and poor technique, providing recommendations to remedy such problems while suggesting exercises for improvement as well as tracking progress.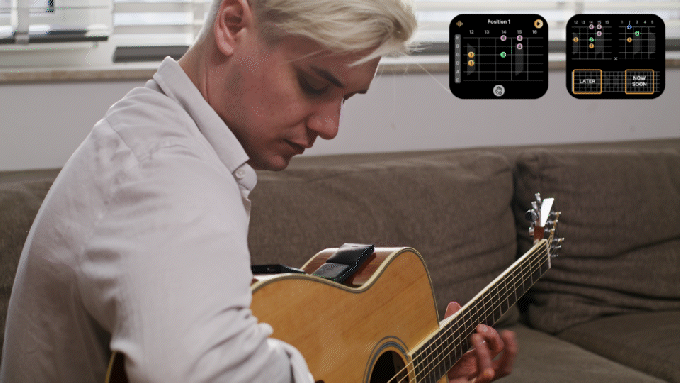 The mu6label works as a standalone learning multitool out of the box, but features Bluetooth 5.0 and Wi-Fi and is compatible with iOS and Android smartphones, like the Roadie Coach for example.
It certainly looks like a comprehensive learning packing to take players from beginner to at least intermediate level and perhaps even beyond, though we've not tried it ourselves. Kickstarter pledges currently start at £119 (about US$149), which includes free shipping for UK, EU and US backers. The usual crowdfunding cautions apply, but if all goes to plan for the remainder of the already funded campaign, shipping is estimated to start in December. The video below has more.
Source: Music AI Tech
Source of Article