When laptop computers first began to proliferate in the early 1990's, workers were suddenly freed from the confines of their desks and could take their tasks to coffee shops, hotel rooms and other remote work spaces. Since the time of those early brick-like portable computers, laptops have of course dramatically improved in terms of their weight and performance, yet one issue has always remained: when working remotely, users are confined to a single, smallish screen.
While portable screens do exist, they just add more weight to the laptop bag, and start to challenge the idea of having a truly mobile office.
Seeking to solve this issue, an Israeli company named Sightful has just announced a laptop that detaches the screen entirely from the laptop and puts it up in the air – wherever the user looks – using a pair of connected AR glasses.
Known as Spacetop, the glasses will project up to 100 inches (254 cm) of screen onto any environment in which the user is working. Accomplished through the use of two tiny 1080p displays, the illusion that is created is that of a full 2K display. Using a proprietary operating system known as Spacetop OS, the setup will allow multiple windows to be open side-by-side on a virtual screen called the "Canvas" – it eliminates the need to have multiple windows laying atop each other, as is the case on a traditional laptop screen.
Because the screen can only be seen by the user and no one else, Spacetop also offers a new level of privacy while working in public spaces, even when they're as cramped as an airline seat. Plus, because the glasses are see-through, there is no risk of missing what's happening in the world around you while using the system.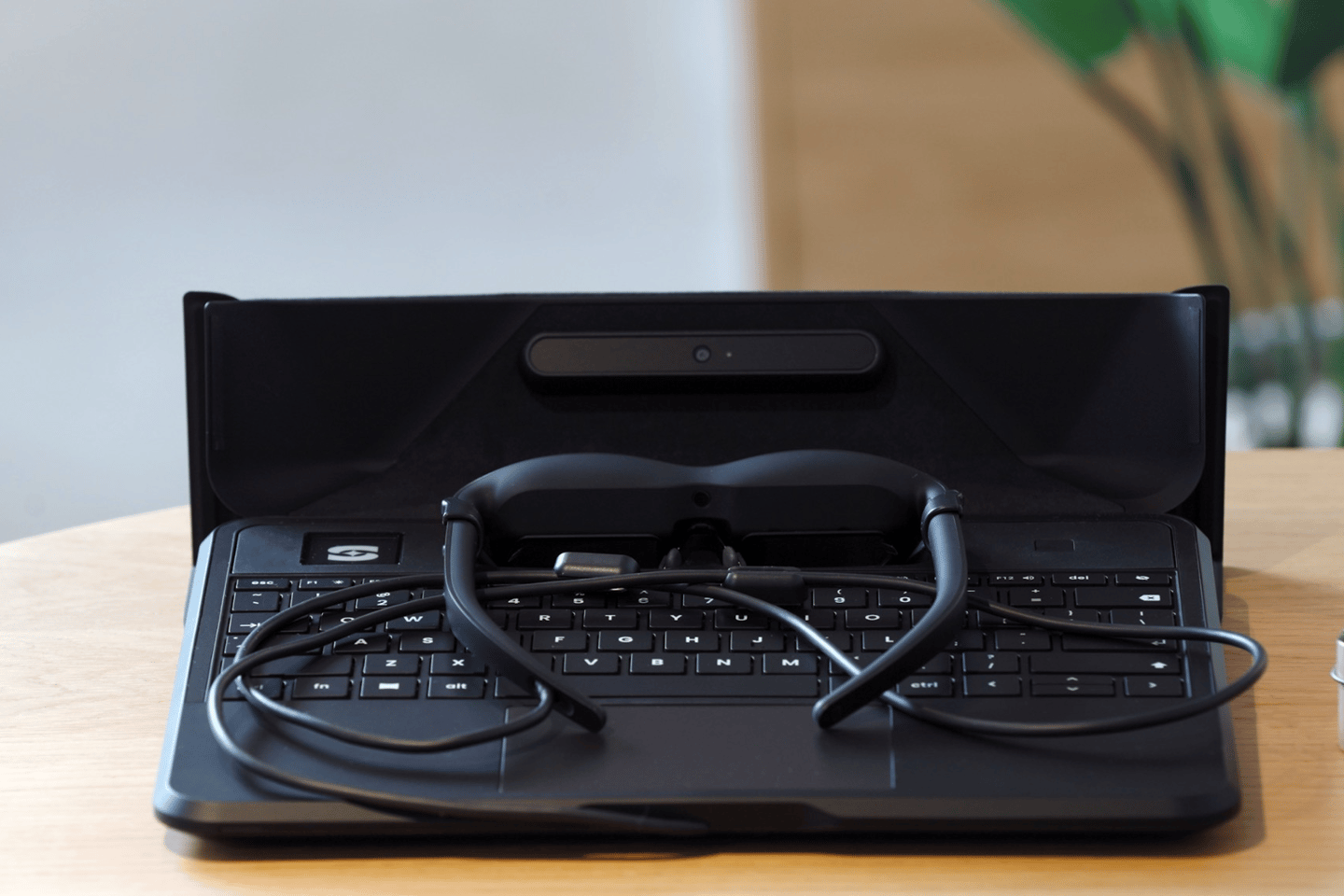 "Sightful focused on an immediate utility which advances human productivity, a personal passion of mine," said Eden Shochat, equal partner at Aleph, a venture capital firm that provided part of the $61 million raised by Sightful. "Rather than trying to convince the world that we need to live in a metaverse or create an entirely new way of working, they focused on building a product people can use now."
The following video gives you an idea of what the Spacetop's virtual screen will look like.
In terms of specs, Spacetop will utilize the Qualcomm Snapdragon 865 chipset featuring an Aredeno 650 GPU. This combo is normally used to drive mobile phones, which makes sense considering that Spacetop OS is based on an open-source Android variant. It will have an 8 GB memory and 256 GB of onboard storage; Wi-Fi 6 and Bluetooth 5.1 baked in; and two USB-C sockets, one of which can be used to charge the machine from 0 to 80% in less than two hours, say the makers.
The keyboard-and-glasses combo weighs in at 3.3 lb (about 1.5 kg) and the system measures 1.57 inches (4 cm) in height, 10.47 inches (26.6 cm) in width, and 9.8 inches (24.9 cm) in depth. The goggles feature built-in headphones.
You can see how the tech unpacks in the following video.
Sightful is currently offering 1,000 people interested in owning one of the first Spacetops the chance to sign up on its website and, while the company's press materials don't make mention of the price, Seth Weintraub at 9to5Mac – who got to take the gear for a spin – has reported that it will come in at $2,000.
During the signup process, you'll be asked a series of questions not only regarding your use of laptops generally, but also about your vision. When I indicated that I wear multifocal glasses, I was told that I wouldn't be a candidate for the first release of the system. However, the sign-up process did indicate that accommodations will be included for those with corrected vision in the form of custom lenses on the glasses.
While signing up doesn't require any expenditure, if you're leery of dishing out US$2,000 for a somewhat experimental laptop, you might be encouraged to know that Sightful not only has that heavy-duty venture capital cash behind it, but the founders also have significant experience working in spatial computing. Tamir Berliner worked for MagicLeap and PrimeSense, which was acquired by Apple, and Tomer Kahan also worked for MagicLeap as well as Broadcom and N-trip, which was acquired by Microsoft.
There is no word from the company as to when the Spacetop glasses will begin shipping, so to stay in the loop, signing up for the early release would be the way to go.
The promotional video below gives you further insight into Spacetop.
Source: Sightful
Source of Article