A student team from TU Delft presented the latest Eco-Runner in May, a hydrogen-powered city car concept designed to be more than a hundred times more fuel-efficient than modern fossil-fuel vehicles. Now the car has set a Guinness distance record.
Though battery technology has dramatically improved per-charge range performance for electric vehicles over the last few years, drivers looking for a truly long-range solution may currently be left wanting. That's where green hydrogen might come in, and Delft's Eco-Runner team set out to prove its potential with a world record distance attempt.
Like the university's impressive solar cars, the Eco-Runner project is an annual collaboration of students across different faculties. It all began in 2005 with the three-wheeled Eco 1, which placed in the top five at the Shell Eco-marathon in 2006 and achieved an efficiency of 557 km/liter of petrol.
The next bullet-shaped version switched to hydrogen as a fuel source, where H2 is routed from a storage tank to a fuel cell for an electrochemical reaction that generates an electric current – with the only waste being water. This outing managed the equivalent of 2,282 km/liter of petrol to take the Dutch fuel-efficiency record.
Subsequent designs continued through the years until the first urban class concept appeared in 2020, sticking with three wheels but significantly shortening the vehicle length. The next iteration added a fourth wheel and managed to travel for 36 hours non-stop on a tank of hydrogen for a distance of 1,195.74 km.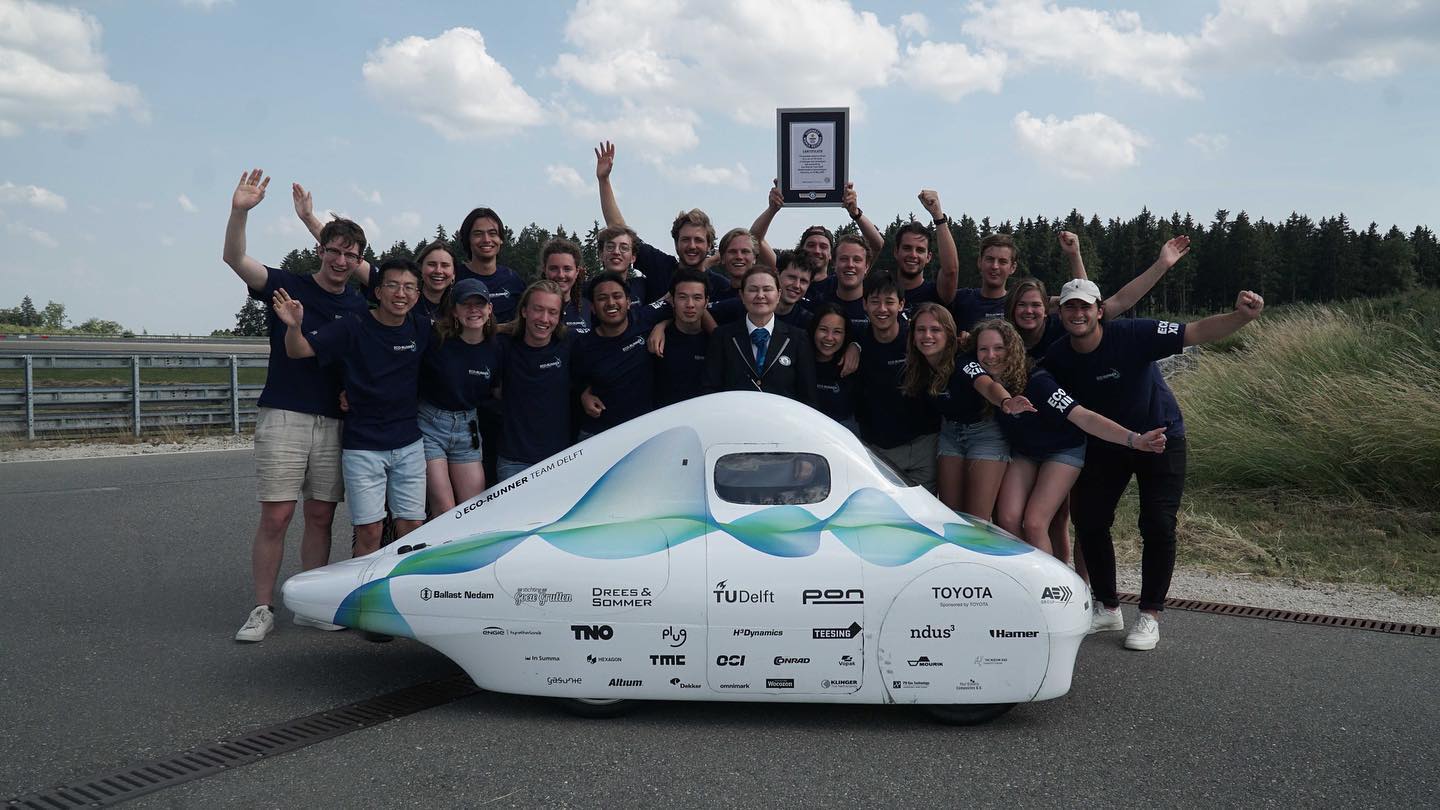 Last year's design team drove to first place in the Hydrogen Efficiency Challenge but for 2023, the bar was raised again for 2023 with a redesign focused on securing a new distance record.
The current 24-strong student team set about building a more robust vehicle with a refined aero shape and weight-saving construction in February and presented the results of its labors in May, the Eco-Runner XIII.
The team then headed to the Immendingen test track in Germany for the record attempt. Testing was undertaken on June 22, and, after a 4 am start the next morning, the car began its epic circuit five hours later.
The vehicle traveled at 45 km/h (28 mph) during the record run, almost double the speed of last year's prototype, and the previous record of 2,056 km was broken on the Sunday. There was still some fuel in the 300-bar tanks, so the Eco-Runner kept on going.
It finally came to a stop at 8:26 am on June 26, clocking up 2,488.45 km (1,546.18 miles) on 950 g of hydrogen to set the new Guinness World Record for "the greatest distance driven by a car on full tanks of hydrogen fuel (prototype)."
The project continues, and the next team now has its target to beat.
Source: Eco-Runner Team Delft
Source of Article