Air-operated double-diaphragm (AODD) pumps used in the manufacture of hygienic or sanitary products in the food-and-beverage, pharmaceutical and personal-care industries are required to meet a wide range of strict regulatory standards. However, while some pump brands are able to operate in a way that help them gain regulatory compliance, they can have a number of design shortcomings that can hamper their overall performance and reliability, chief among them product-trap areas that can compromise the quality of the final product.
Wilden® has addressed and overcome these shortcomings with its Saniflo™ Hygienic™ Series (HS) AODD Pump. The unique design of Wilden Saniflo HS pumps incorporates a free-draining flow path that optimizes performance and enables clean-in-place (CIP) capability while lowering the risk of cross-contamination or compromised finished product that may lead to costly recalls.
Free-Draining Flow Path
Saniflo HS pumps have been specifically designed for superior drainability thanks to the free-draining flow path. The pumps can quickly and easily be drained without the need to disassemble the pump. With these state-of-the-art design features that help simplify cleaning, HS pumps are the only US manufactured pumps in the industry to have earned 3A certifications for CIP operations.
CIP Stand
For ease of maintenance and cleaning, Wilden offers an optional swivel pump to be drained by rotating the pump so that the fluid can flow out of the discharge and into a suitable container. The swivel stand also permits the pump to be drained without disassembly.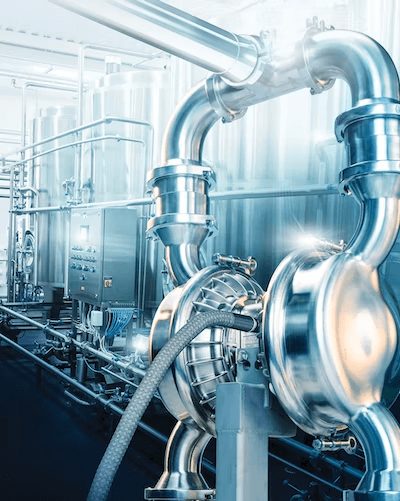 Valve Options
Saniflo HS pumps have multiple valve options, which give them added versatility when handling products ranging from beverages, prepared sauces and poultry products to cosmetics, soaps and pharmaceuticals. They can be fitted with either a mushroom valve, which is made for use with more viscous products, a traditional ball-type valve that is good for shear-sensitive products, or flat-valve style for handling large solids up to 46 mm in size (1-7/8″).
Tri-Clamp® Fittings
Tri-clamp-style fittings that have been designed with an eccentric cartridge check valve assembly, allowing for ease of maintenance by ensuring liquid chambers and pump manifold alignment.
Pure-Fuse Diaphragms
Additionally, Saniflo pumps can be equipped with Wilden's innovative Pure-Fuse Integral Piston Diaphragm (IPD). The Pure-Fuse IPD features a one-piece design that eliminates trap areas between the outer piston and the diaphragm while also putting an end to typical abrasion wear caused by the outer piston. Other benefits of Pure-Fuse IPDs are superior flow and suction lift, up to 50% less expensive than PTFE-laminate diaphragms and the use of sanitary materials that meet FDA CFR 21.177, 3A and 1935/2004/EC regulations.
Other features of the Saniflo HS pumps include:
Wash-friendly clamp bands with wetted path material of 316L stainless steel with an Ra 0.8 µm (32 µ-in) interior polish for ease of cleaning
DIN and SMS connection options
Status as the only U.S.-manufactured pump to have 3A certification for CIP operations
Center section/air chamber/air valve/muffler plate: available in nickel-plated aluminum and stainless steel
Optional pulsation dampener with a Tri-Clamp connector that bolts right onto the Tri-Clamp fitting
This article is published by
Jim Wilden revolutionized the pumping industry when he invented the air-operated double-diaphragm (AODD) pump in 1955. Since that time, Wilden® Pump and Engineering Company has been at the forefront of bringing AODD technology into the future by building its extensive infrastructure, knowledge base and intellectual capital. Wilden offers a comprehensive …

Source of Article