Slacklining enthusiast Jaan Roose recently took a vertigo-inducing walk across a thin line stretching from one of the amazing Katara Towers to the other. The Estonian completed the feat at a height of 185 m (606 ft) above the streets of the Qatari capital Doha.
Slacklining was born from the climbing community in the 1980s and, a bit like tightrope walking, requires proponents to maintain their balance on a flat band suspended between two points. Roose is a major name in the sport and has won the Slackline World Championship three times.
The stunt, which set a new record for the world's longest single-building slackline, took place on June 20 and involved Roose walking unaided for 150 m (492 ft) on a line that measured just 2.5 cm (1 inch) in width and had integrated LED lighting. One of the major challenges was dealing with the desert heat and winds along the way.
"The desert's fluctuating heat and wind conditions required spontaneous adjustments while I was on the slackline," explained Roose. "Additionally, the LED lights' weight introduced a different dynamic to the line's behavior under my weight. It felt somewhat like skateboarding on a heavy tree trunk, rather than a lightweight board."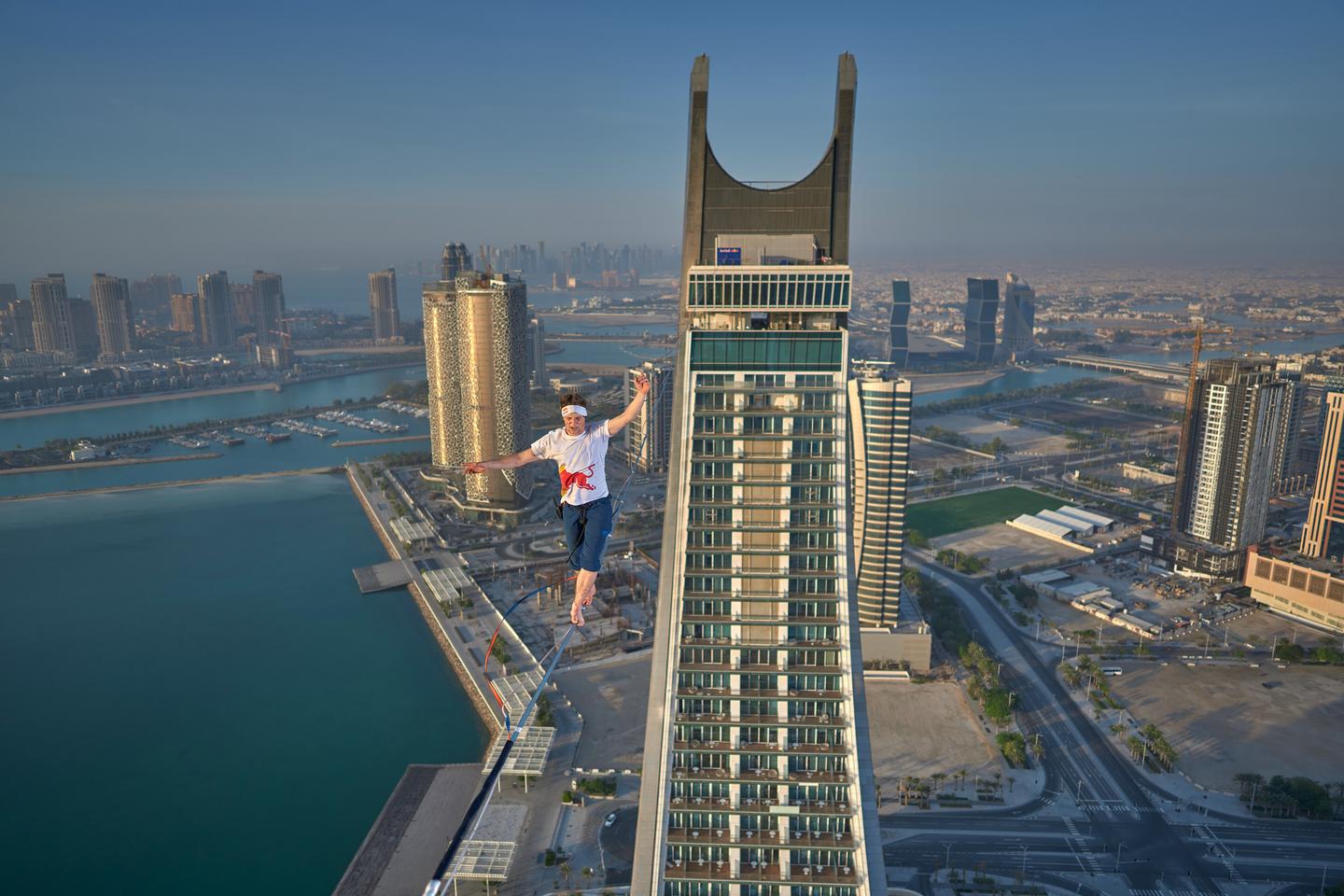 The towers that hosted this extraordinary feat are noteworthy in their own right. Rising to a maximum height of 211 m (692 ft), the Katara Towers were designed by Dar Al-Handasah, which is the firm behind the world's third-tallest building and the more recent tent-shaped Qatar World Cup stadium. The build was completed in late-2022.
Structurally, the project consists of two symmetrically arched concrete towers that form a crescent-like shape on the Doha skyline, which is actually a nod to the country's sword-crossing emblem. The towers are linked by a podium building. Inside, they each contain 36 floors, and are split into two separate ultra-luxury hotels, as well as apartments, offices, leisure facilities and restaurants.
Sources: Red Bull, Dar Al-Handasah, Doka
Source of Article