A UX design agency controls the process before, during and after a product is created. You should collaborate with an agency which is experienced in user experience design.
It is vital for your brand to work with the perfect digital agency who can understand your brand culture, knows your target audience's expectations, analyze their behaviour and update your designs according to the user experience.
If you seek to survive successfully in the digital marketing industry, you need to make sure that your product and website or application are appealing to your target audience in terms of user experience design.
What are the best user experience design agencies in Los Angeles?
We have compiled the list of best UX design agencies in Los Angeles:
Lounge Lizard Worldwide
Vrrb
RNO1
Deepend
9th Wonder
Bookmark
Creative27
Social Media 55
Bold+Beyond
Edenspiekermann
Established in 1998, Lounge Lizard Worldwide is an award-winning digital marketing agency with the offices in Los Angeles, New York and Washington DC.
They focus on overall usability, ease of use, and the interaction between the user and product. Because they believe that overall experience is the main reason why a user would revisit a website. The result is engagement, social interaction, and sales.
Their experience spans across all industries and speciality areas. Canon, Dylan's Candy Bar, Reuters, The Walt Disney Company and Isuzu Finance are just a few of their clients.
Vrrb Interactive is a digital creative studio with studios in Los Angeles and San Francisco. They plan, design, and build user experiences for both web and mobile.
If you plan to work with a user experience design agency, you should make sure that they are good at it just like Vrrb. They consist of an agile team of experts dedicated to taking your business where you want it to go. Driven to understand your brand, understand your users, and understand your goals, they'll help you construct the vehicle that brings it all together.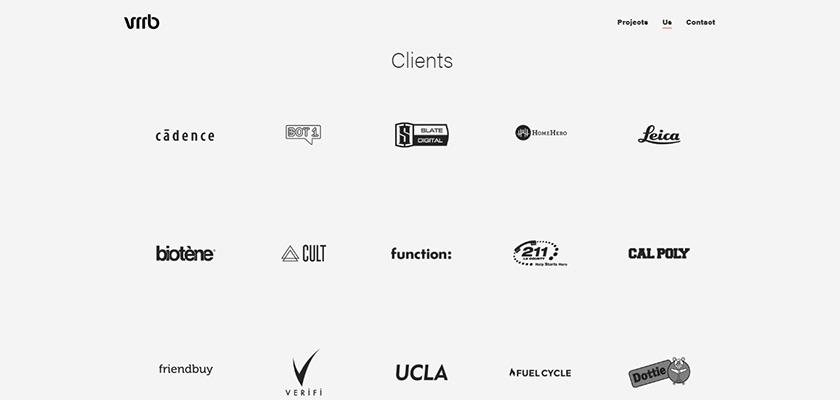 You can rely on Vrrb as your UX design agency just like these brands above have trusted them.
RNO1 is a west coast digital experience agency. They're west coast change-makers in a complex world with offices in Los Angeles, San Francisco, and Seattle. They design digital platforms to empower users and your brand's tribe.
Thanks to this deep understanding of what motivates them, they forge and fine-tune the most powerful strategies that generate rapid ROI for your business. UX design agency RNO1 has collaborated with brands such as Loliware, Wand, Opus9 and Spring Labs.
9thWonder is an ambitious, independent American marketing agency composed of diverse thinkers. They have employees in 7 cities in the USA, which are Dallas, Denver, Houston, Los Angeles, and New York.
Through their website, you can reach out to their successful case studies with very significant brands from all different industries. For example, so far they have collaborated with YMCA, Nestle, Samsung, Honda, Dole, and American Heart Association.
Bookmark is a global content and communications company. They are experts at engaging consumers, driving sales and transforming brands.
They partner with large, established brands as well as new, disruptive ones, especially in the travel, hospitality, retail, luxury and lifestyle industries. Some of them are Skyscanner, British Airways, Cadillac, Bombardier, and KPMG. If you are still not convinced to choose Bookmark as your UX design agency, you can check out their well-designed website.
With offices in Los Angeles, Sydney and Brisbane, Deepend is a digital agency specializing in digital experience and product development. They combine their creativity with their user experience design, which brings very inspiring and successful outcomes.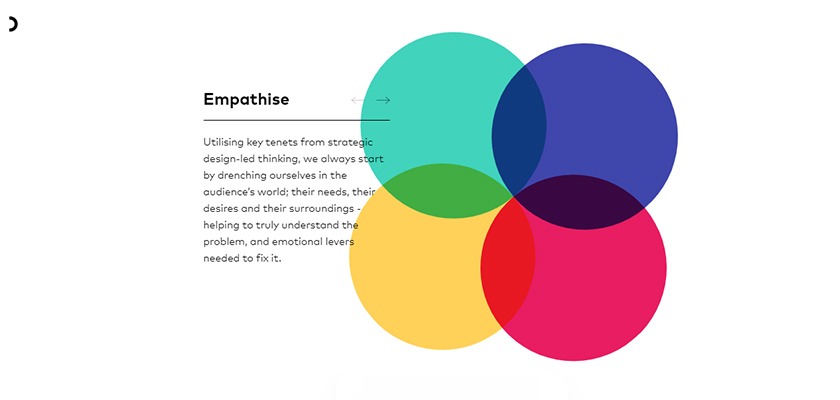 The key to Deepend's approach is empathy, understanding the needs and desires of the user. Therefore, the result is something which immediately resonates with its audience. They also have a lasting effect on their behaviour.
Creative27 is a Los Angeles digital design and development agency that moves digital forward. They are specialized in user experience design of applications.
Creative27 finds the best possible digital pathways to take the user from point A to point B effortlessly, efficiently and with maximum ease. User experience design is a critical step in the process of app design as it enables us to create products specifically designed to be intuitive to use and pleasurable for users to engage with. Intuitive and joyful interaction boosts adoption, engagement and recurring use once an app goes to market.
They have been in collaboration with high-profile brands. BBC, Bose, Sony, Adidas, Verizon, and Samsung are just a few examples of their clients.
Social Media 55 is an award-winning full-service digital marketing agency located in Los Angeles, Toronto, and Montreal.

You need a dedicated team to draft a user-centric experience and interface that will take your online presence to the next level. Social Media 55 is there for you with their specialized UX design team, who would also consider UI, SEO, content and every other details needed.
Bold+Beyond is a Los-Angeles-based consulting and creative agency. They offer their clients effective and innovating communication experiences.
They create disruptive ideas based on the brand's DNA to inspire customers and help brands stand out and leverage competitive advantage. They develop innovative customer-centric strategies to connect with ever-changing customer behaviors.
Some of their partners are Forever 21, L'oreal, Guerlain, Reuters, and Canal+.
Edenspiekermann is an international multidisciplinary design and communication agency focused to innovate brands and design smart, meaningful brand experiences.
You can truly rely on them when it comes to user experience design for your product or brand. They have been helping clients for over 30 years. Some examples of these brands are The Economist, Amsterdam Airport Schiphol, Rabobank, Allianz Insurance, Google and Mozilla.
---
After reading this article, you know which options you have before selecting your UX design agency in LA. All these agencies will be pleased to guide you through your journey in digital marketing.
If you are wondering about other agencies for different types of services, you can see our list for digital marketing agencies in Los Angeles.
Source of Article